Barbers are no strangers to making small talk with their clients, but Courtney Holmes, a hair stylist from Dubuque, Iowa, cut through the chit-chat at a recent community event, rewarding children who read books to him while he worked with a free haircut.
Holmes is a member of the Dubuque Black Men Coalition (DBMC,) an organization that works to improve the quality of life within their community by providing support and leadership to programs that seek to make a difference in the lives of African-American youth.
The DBMC recently hosted their second annual Back-to-School Bash, an event designed to provide educational resources, school supplies and support to families with children about to start a new school year.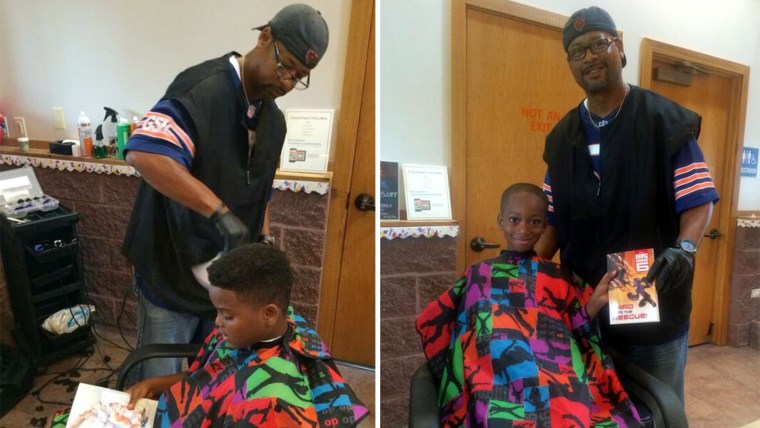 Holmes, who has two young boys of his own, said when he was approached by Anderson Sainci, who organized the event, and asked to provide free hair cuts to kids who read books to him, he immediately knew he wanted to participate. Through the course of the event, Holmes gave out nearly 15 haircuts to kids attending kindergarten through middle school, all while his tiny clients read him books about everything from "Big Hero Six" to sports and superheroes.
RELATED: How Barbershop Books is getting young boys excited about reading
"They were excited. They wanted a haircut and they didn't have a problem reading to me," Holmes told TODAY Parents. "And the parents — they liked what I was doing. They, of course, wanted their kids' hair cut, but they also liked that we were having them read."
"And that's what we wanted to do — to reach not only the kids, but the parents," he added, "to let them know that we are there for them and have support systems for their kids who may not have access to reading assistance or books."
Sainci said the DBMC partnered with another local organization, Every Child, Every Promise, to not only provide books kids could read at the event, but also to offer books for children to take home. He said this part of the event was designed to address a critical need in their community — to get kids reading on the appropriate grade-level.
"We know kids in low-income areas and kids of color — they are a part of the ones who are not having access, who are not aware of how important it is to read," Sainci said. "So, everyone in our organization has a personal interest — as fathers, as leaders — when it comes to this."
RELATED: Meet the woman who soothes shelter dogs by reading to them
Holmes said he wanted to encourage his young clients to not only read, but to understand and learn from what they were reading.
"At the end of the haircut, I'd ask them, 'What's the book about?' I made sure they read the cover of the book before they started, so they would know what they were reading — and afterward I'd make them answer questions and tell me about what they'd read," said Holmes.
Holmes, who has been cutting hair for 15 years, said the success of the event has led to talks of holding similar monthly events at the salon where he rents a chair, Spark Family Salon.
"We are overwhelmed with joy right now," said Sainci of the partnership. "We're trying to not only impact our community, but to really impact the kids who are low income, and try to paint this picture to them where you can be successful through reading."