For a group of Boston Marathon bombing survivors, when they finish the 26.2 miles on Monday, that will be just the beginning of their journey.
That's because after the 120th running of the Boston Marathon on Monday, they will begin a 3,000-mile trek across the country as a way of saying "thank you" to those who helped them recover.
"What we wanted to do we wanna bring those people into some of the cities and towns along the trek," said Dave Fortier, a Boston marathon bombing survivor who is helping lead the journey.
Among those who will be joining Fortier on the One World Strong Trek are Heather Abbott and Celeste Corcoran and her daughter, Sydney, who were all injured when the bombs went off three years ago.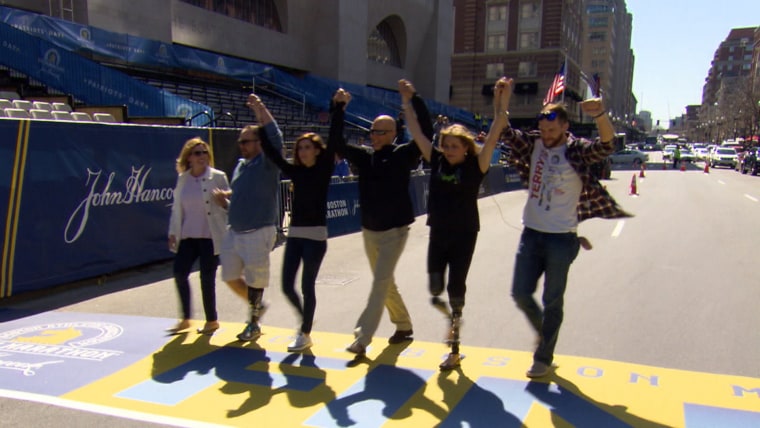 Celeste and Sydney were at the marathon to watch Celeste's sister run the race.
"We had signs, everyone was cheering. And everything just changed in the blink of an eye," Celeste told TODAY's Dylan Dreyer for "Sunday TODAY with Willie Geist." "Then, you know, my husband's tying tourniquets around my legs."
Abbott was meeting friends at a restaurant when the explosions happened.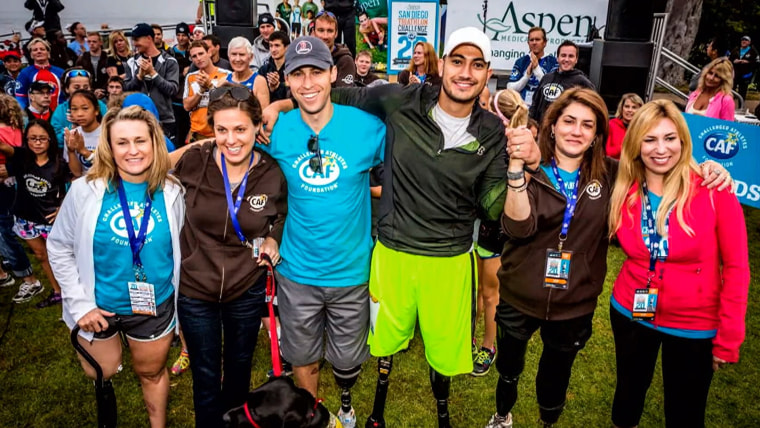 "My foot was so injured that I couldn't even stand up," she said. "So I thought I might die."
As the scene played out on live television, former Marine and amputee B.J. Ganem rushed to the vistims' bedsides.
"Heather was one of the first that I talked to," Ganem said. "And she had to go through a similar situation of trying to decide if they wanted to take it at the ankle or below the knee. And I said, 'You know, I suffered through that.' And then she looked at me, and she's like, 'Will I be able to wear high heels?'"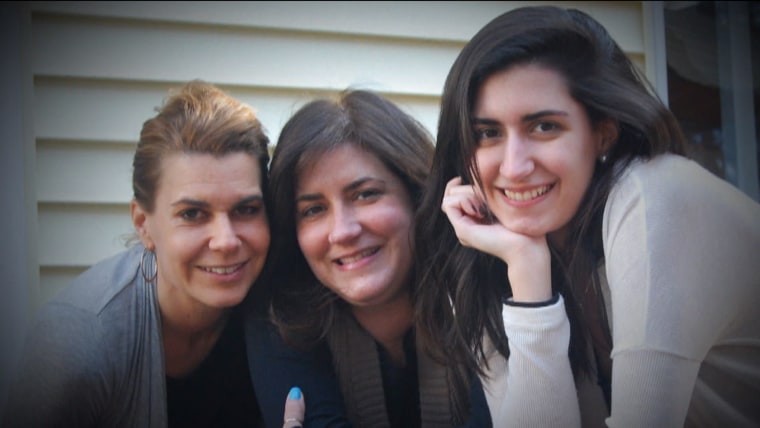 Together, the group was able to get back on two feet.
"As a family, we're all healing together, all of us have post-traumatic stress," Sydney sad.
As for their 3,000-mile journey, it's not a race and they have no time limits. Rather, it's just a way to personally thank all those who helped in the healing process during those critical first days after the tragedy.
"We want people to come out," Fortier said. "We want them to join us."
You can read more about their journey at One World Strong Trek.