In 1967, a group of five friends decided to fly to Los Angeles and buy $10 tickets to check out something called the AFL-NFL World Championship Game in a stadium that was barely half full.
Vince Lombardi's mighty Green Bay Packers beat the Kansas City Chiefs 35-10 that day in front of 61,946 fans. The five guys had enough fun at what is now known as Super Bowl I that they decided to go to the next year's game. They haven't stopped attending the big game since.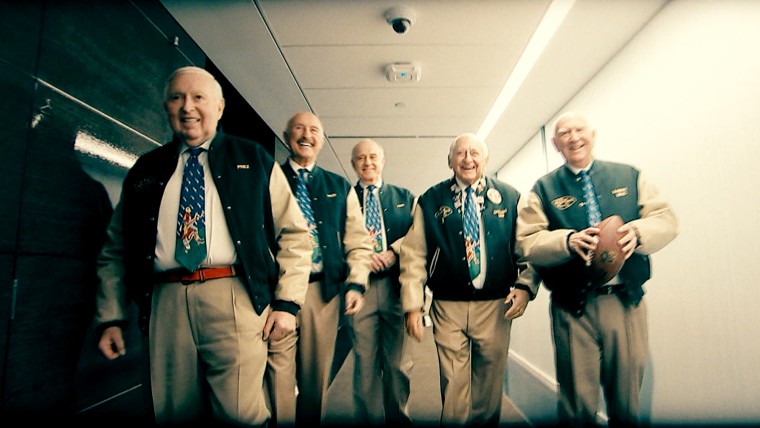 On Sunday, that same group of friends, known as the "Super Bowl Five," will be in attendance at Super Bowl 50 in Santa Clara, California, when the Panthers take on the Broncos. Sylvan Schefler, Lew Rappaport, Al Schragis, Larry McDonald and Harvey Rothenberg will have attended all 50 Super Bowls since the game's humble beginnings in the Los Angeles Coliseum nearly a half-century ago.
RELATED: Peyton Manning's 4-year-old son makes adorably shy appearance at press conference
The Super Bowl Five, who range in age from their late 70s to early 80s, sat down with Savannah Guthrie on TODAY Friday for their first collective interview about their unique experience.
"Nothing is forever," Schefler said. "We all understand that. But we've been blessed to have had the opportunity to say this is 50 years."
"We're devoted to each other, and we're devoted to the Super Bowl,'' Rothenberg said.
The group has their own "Super Bowl Five" jackets and rings, and even a racehorse they named "Super Bowl Five." They go by the nicknames Prez, Prof, Chicago Lew, Larry Mac and The Fog when they're together. The men also have adhered to one rule all this years: No wives with them at the game.
"One or two times my wife would come (on the trip),'' Rothenberg said. "While we were at the game, she'd come and go into my hotel room and wait for me to come back."
"That was your wife?" McDonald joked.
"That wasn't your wife,'' Rappaport said. "Who you kidding? We were there. Your wife has red hair?"
The friends have witnessed every iconic Super Bowl moment, from Joe Namath's Jets stunning the heavily-favored Colts to John Taylor's winning touchdown catch in the final seconds for the 49ers to Scott Norwood's missed field goal late in the game against the New York Giants.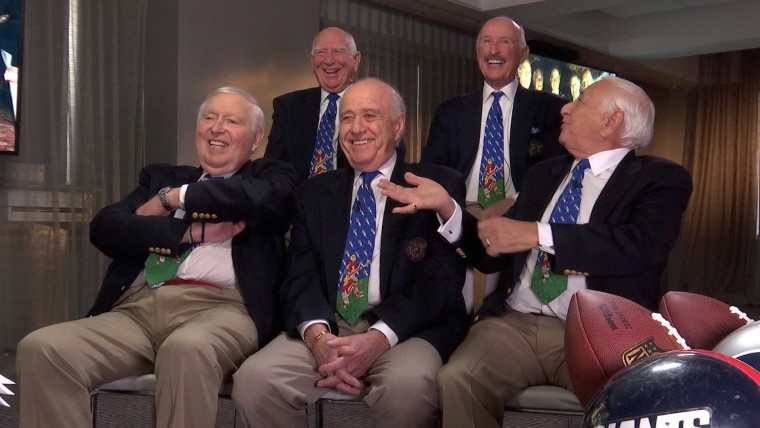 While the Giants' 20-19 thriller over the Bills in 1991 was sweet for the group, four of whom grew up in New York, it was the Giants' 17-14 upset of the previously undefeated New England Patriots in 2008 that stands out for them. That game featured the famous "Helmet Catch" by Giants receiver David Tyree.
RELATED: Twin with autism forms special bond with brother, on and off the football field
"To me, that was the best of all to beat the Patriots,'' Schefler said.
The five buddies have also seen the halftime show metastasize from a marching band at the first game to the Katy Perry-led spectacle of last year's game. They also witnessed Janet Jackson's famous "wardrobe malfunction" with Justin Timberlake during halftime of the 2004 game.
"Lew said to me, 'Prez, look at this!''' Schragis said. "I said, 'What?' I almost missed it. But I saw it."
There also have been some solemn moments for the group, notably the 1991 game in which Whitney Houston memorably sang the national anthem during the height of the Gulf War. All five of the men are military veterans.
"There was not a dry eye in the whole stadium,'' Schefler said.
"That was the most emotional time I think we've ever had,'' McDonald said.
The Super Bowl Five have kept their tradition despite personal hurdles over the years. Rothenberg's father died only a week before the game one year.
"They all insisted that I have to go,'' Rothenberg said. "And I went, but you know, with a lot of pain in my heart."
McDonald couldn't afford to go one year in the 1970s when the construction business was experiencing a downturn, but the others pitched in to pay for him to make the trip.
"Wait a minute,'' Rothenberg said to McDonald. "You still owe us money!"
Throughout it all, they have created an amazing tradition, one they don't plan on breaking any time soon.
"I've been thinking about 60,'' Rappaport said. "Super Bowl 60 and where we're gonna go, and if we're gonna still play golf. That's what I've been thinking about."
Follow TODAY.com writer Scott Stump on Twitter.