Right about the time most kids his age are wrapping up fourth grade, Tanishq Abraham, a 10-year-old from Sacramento, California, is celebrating his high school graduation. 
The home-schooled wunderkind marked the big day in a special ceremony on Sunday at the California Automobile Museum in Sacramento. Abraham completed California's early-exit high school exam in March, and has been taking classes at American River College, a local community college. His family decided to celebrate his milestone with an event attended by about 200 people. 
"It turned out to be a very nice ceremony,'' Abraham's mother, Taji Abraham, told TODAY.com. "He loves home-schooling, but he had said that the only thing that made him sad is that once he gets a diploma, he would want to be able to walk in a cap and gown. That's something every child should have. It's not like we were trying to brag. We just wanted to give that honor to him."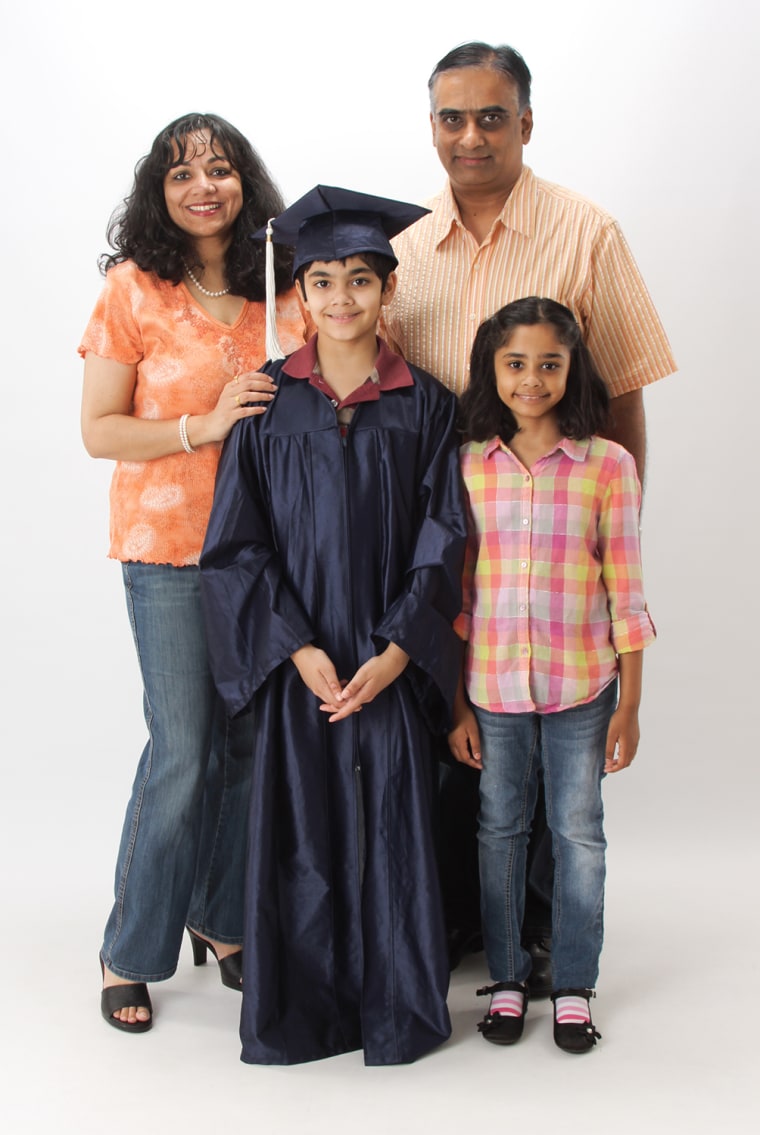 Tanishq began his home-schooling when he was seven years old and was one of the youngest Americans ever to be admitted to the high-IQ society MENSA when he was only four. 

"The word 'off' is not in his vocabulary,'' his mother said. "He always needs something to work on. He just can't sit idle." 
He received a congratulatory message from President Barack Obama and was also commended by congresswomen Doris Matsui and Dianne Feinstein in addition to several state senators and officials. 
At the ceremony, his younger sister, Tiara, 8, who is also a MENSA member, honored him by singing "Somewhere Over the Rainbow." Tanishq also gave a speech in which he thanked his mother, a veterinarian, and his father, Bijou, a software engineer. Bijou worked extra hours at his job in order to get time off to take Tanishq to science conferences and events across the country and also served as his son's teacher in math, physics, engineering and programming.

Bijou and Taji have also worked to ensure that Tanishq doesn't miss out on being a kid amid all his academic accomplishments. 

"He doesn't get fazed by all this (attention),'' Taji said. "He is just a happy-go-lucky kid. As parents, we try to keep both kids grounded and give them a childhood. We try to balance everything out." 
The 10-year-old is part of the San Francisco Boys Chorus, where he has several friends close to his age. "We had a few of them come for his ceremony, and they are excited and proud to have a friend like Tanishq,'' his mother said. "They are amazed how a 10-year-old can do that." 
Tanishq has been taking classes at American River College since he was seven years old. He is about five classes shy of earning his associate's degree and expects to graduate from a four-year university by the time he is 12 or 13. 
His mother also enrolled in classes at American River College when Tanishq began studying there. The other students originally thought he was just there with his mother, and didn't realize Tanishq was enrolled himself.

"He started asking questions and looking for more information,'' she said. "Being a child, he didn't have any fear." 
That seems to run in the family, as his little sister also started taking classes at American River College at age seven. 
"They were classmates last summer, and they did well,'' Taji said. "It was a little bit of relief knowing she would have a big brother in the class." 
Follow TODAY.com writer Scott Stump on Twitter and Google+.