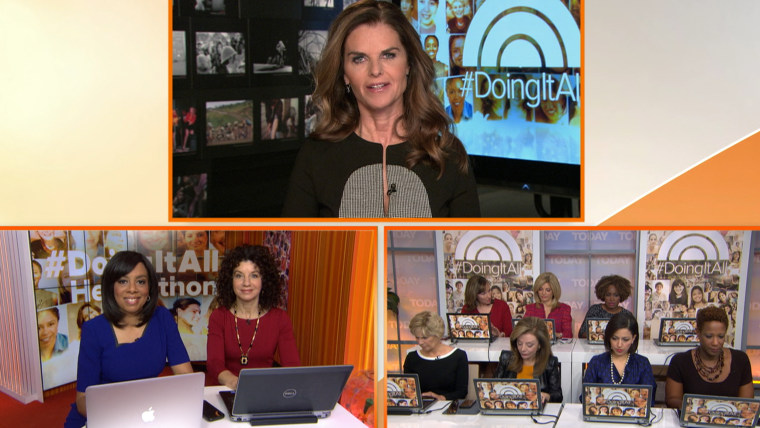 In conjunction with #DoingItAll, a special series highlighting the challenges women face today, Maria Shriver launched her digital Help-a-thon Wednesday morning, with more than a dozen experts taking your questions and concerns on Facebook, Twitter and live on TODAY.
Advice was given on a wide range of topics: multivitamins, finding "me time," budgeting your money, searching for a new job and more. 
The #DoingItAll experts span many fields: 
Here are a few of the viewers questions and responses from our TODAY experts.

Tracie L asked on Facebook: I have developed high anxiety since I've been an at home mom for 11 years. I get really anxious about the thought of leaving the house for more than several hours. I was never like this before. Is this anxiety from being at home? Or had I always had it, but suppressed it. Thank you. Plus battle depression, and the medication I've taken doesn't work 100%.
Psychiatrist: Dr. Gail Saltz gave the following advice:  Being at home doesn't cause anxiety but you may have developed this fear as an adult and it gets reinforced by rarely challenging it because you stay home. The more you can get out and challenge the fear the more it will decrease. However, if its so anxiety producing you find you cannot, see a mental health professional who can treat this.
Victoria L asked on Facebook: How bad is it having to use bribery with your 3 year old to get them to do what you need them to and is there any better way to cope with a defiant non listener?
Psychiatrist: Dr. Gail Saltz gave the following advice: It will only escalate. instead use positive reinforcement if he does what you ask, "You did amazing!", and negative reinforcement if he doesn't, "I am very disappointed" or even a time out. Over time this will be more effective.
Nina K. asked on Facebook:  I have a newborn and a 16 month old. I stay at home but I struggle to just get through the day. Even before my newest came along I had trouble. Getting myself going, having a cleaned house; but I made it through each day with mostly success. My husband hates having a dirty house and it drives me a little bit crazy but I don't have energy to deal with all the mental and physical demand through the day. Is something wrong with me or is there a way that I can make it happen without being literally warn out?
Psychiatrist: Dr. Gail Saltz gave the following advice: Whats "wrong" is that your husband isn't pitching in at all at home and you aren't asking him to. 3 hours is not enough sleep. if he would like a quality hour with you at night, explain you need some help around the house which will put you more in the mood for intimate time too

Kristen N asked on Facebook: I am a single women that have had the ups and downs of being in the real estate world. Back to paycheck to paycheck and getting back in debt. What is the best way to lower your bills and save money without feeling more stressed about not having enough money?
Financial expert Sharon Epperson gave the following advice: I think it always help to talk to a real person about what you're going through and get some concrete advice about your finances. Find a non-profit credit counselor through the National Foundation for Credit Counseling at Debtadvice.org
Jeff F. asked on Facebook: When starting out, what type of credit card is best to get?
Financial expert Sharon Epperson gave the following advice: There are so many credit cards to choose from. A student credit card is often a good place to start. Best to compare them based on your needs. Go to Bankrate.com, Creditkarma.com or Credit.com.
Kristen H asked on Facebook: I rolled an old 401k account into an IRA years ago but i haven't done anything with it since. Do you have any suggestions what i should do with it?
Financial expert Sharon Epperson gave the following advice: Yes! Make sure you have your investments in the IRA allocated properly. You definitely want to make sure you're investing in stocks and bonds and that you become more conservative with your investments as you get closer to retirement. If you invest in TARGET DATE MUTUAL FUNDS that will take some of the guess-work out. These funds automatically allocate to more conservative investments -- adding more bonds to your stock funds - as you get closer to your desired retirement age. For more guidance, go to Retirement.CNBC.com. You can also check out more on how to plan for retirement at YourMoney.CNBC.com 
Eliza O. asked on Facebook: Budgeting advice?I am awful at following a budget and find it hard to get started especially when you feel like you always start in the red.
Financial expert Sharon Epperson gave the following advice: Start by collecting all receipts so you know where your money is going. You can track your expenses and set up a comprehensive budget online. There are many tools to help you. I like Mint.com.
A lot of people were also seeking advice on how to get back into the workforce after several years. 
Careers and workplace expert Sylvia Ann Hewlett offered this tip on TODAY: Go through your network. Have coffee with your high school classmate. Make sure that you connect with people in the community that have small business. Start with a paid internship. 
Throughout the help-a-thon, financial expert Jean Chatzky says she saw an overarching theme that she thought was beneficial for women to remember: Maybe you can't do it all but you can prioritize and figure out what you need to do today — that will help you get on with your life.
We hope that our panel of experts will be able to address your most pressing questions, but what they say should not be taken as a substitute for seeking the advice or counsel of a professional who knows your history and will continue to work with and guide you in the future. There is no substitute for seeking professional guidance, and we hope that the information we provide will encourage you to seek help and ask the right questions.
The Help-a-thon comes on the heels of the Sunday release of "The Shriver Report: A Woman's Nation Pushes Back from the Brink," done in partnership with Center for American Progress and focusing on women in economic peril. Maria is also hosting an conference from 9 a.m. to 5 p.m. ET in conjunction with The Atlantic. Watch the panels and participate here.