Olympic gold-medal gymnast McKayla Maroney says she was molested "hundreds" of times by former USA Gymnastics team doctor Larry Nassar, starting with her very first visit with him when she was 13.
In an NBC News exclusive interview airing Sunday on "Dateline," Maroney opens up about the years of abuse she said she suffered at the hands of Nassar, who has been accused of sexually molesting more than 200 people.
"He told me he was going to do a checkup on me and that was the first day I was abused," Maroney told TODAY's Savannah Guthrie about the very first time she was examined by Nassar.
Maroney, now 22, said that first incident happened when she was 13.
"He said that nobody would understand this and the sacrifice that it takes to get to the Olympics, so you can't tell people this," she recalled. "He didn't say it in a way that was mean or anything like that. I actually was like, 'That makes sense. I don't want to tell anybody about this.' And I didn't believe that they would understand."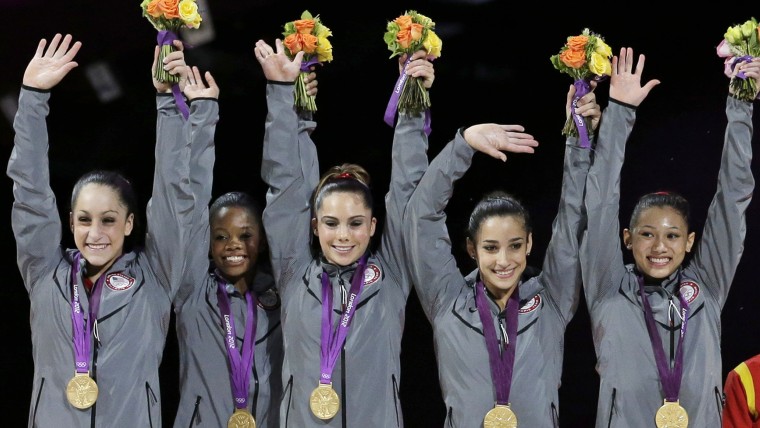 Maroney, who was part of the U.S. gymnastics team during the 2012 Summer Olympics in London, said the abuse continued "hundreds" of times over the following years.
"Every time I saw him," she said.
Nassar has since been sentenced to spend the rest of his life behind bars after admitting he molested some of his patients under the guise of medical treatment.
This weekend's "Dateline" special titled "Silent No More" also features interviews with Bela and Martha Karolyi, the former USA Gymnastics national team coordinators who are speaking for the first time on the sex abuse scandal. The interview takes place at the couple's Texas ranch, which until recently was the site of the national team training center and the site where many gymnasts say they were abused by Nassar.
In a statement to NBC News, USA Gymnastics praised Maroney for her courage and commitment to speaking out.
"We are doing everything possible to prevent abuse, and we hope everything we do going forward makes this very clear," the organization said in a statement.
The U.S. United States Olympic Committee did not comment but has previously apologized to Nassar's victims and announced reforms to help prevent future abuse.