When American Girl first launched in 1986, the company sold a small selection of dolls, designed to look like real girls. Each character had her own book series, wardrobe and a host of accessories, from beds to pets.
Recently, the Mattel-owned business started selling a new "accessory" — one a lot of kids can't live without: a diabetes care kit ($24).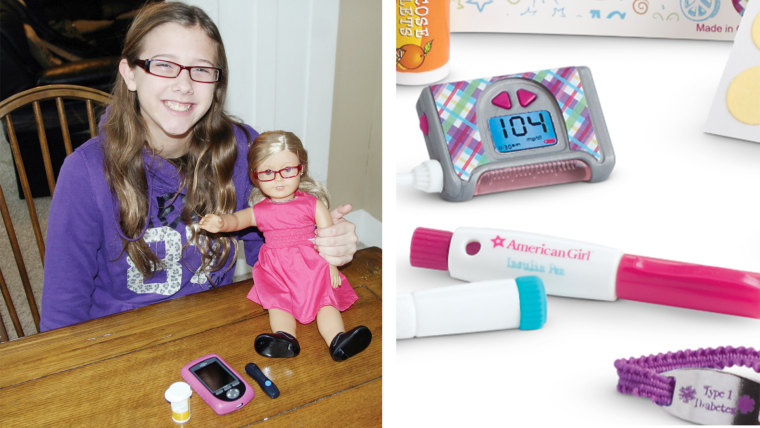 According to the American Diabetes Association, approximately 1.25 million American children and adults have Type 1 diabetes, formerly known as juvenile diabetes. It's diagnosed in kids and young adults when their bodies don't produce enough insulin.
RELATED: Meet Melody: American Girl's newest doll celebrates civil rights
The American Girl diabetes care kit comes with everything a child with Type 1 diabetes would need: a blood-sugar monitor and lancing device, an insulin pump (that can be clipped to the doll's waist), an insulin pen, medical bracelet, glucose tablets, a log book and a case for all of these tools which can be decorated with stickers.
A New York photographer spends more than a year exploring what it's like to be a young woman in a consumer-driven culture.
Two years ago, Anja Busse, then an 11-year-old recently diagnosed with Type 1 diabetes created a petition on Change.org for American Girl to create diabetic accessories for her doll.
RELATED: Mom transforms American Girl doll into a boy for her son
"I'm 11 and I just got diagnosed with diabetes a little over three months ago. I feel so different now and my whole life has been turned around. I want to have diabetic accessories for my American Girl doll so she is just like me," she wrote at the time.
Today, Busse and other American Girl fans are happily celebrating the new accessory that makes their dolls more like them.
RELATED: Barbie's beau Ken gets 'Dad bod,' hipster makeovers
"My granddaughter was three years old when she was diagnosed...This diabetes care kit will go a long way in helping her feel 'part of the gang,' by giving her an opportunity to talk about and teach others about her diabetes," one woman wrote in a product review.
The move follows Mattel's recent efforts to broaden its line of dolls and create empowering messages for kids. Earlier this week, its Barbie line celebrated "Sheroes" including ballerina Misty Copeland, actress Emmy Rossum and director Ava DuVernay. And in January, Mattel released three new body shapes for Barbie — curvy, tall and petite.