Matt Lauer really is a morning person by nature, but did you know that Ariana Grande helped boost his standing with his kids, or that he's not as big of a germaphobe as he's made out to be?
Find out what else we learned Thursday about Matt — the man can sing! he sees a likeness to Kevin Hart! — during his latest Facebook chat.
1. He's definitely a morning person.
Karlene Pilcher Gillen: Matt, when you retire are you going to finally sleep in?

Matt: I think I was born a morning person. I hope that my hours will become a little more bearable, but I have a feeling I won't sleep past 6 a.m.
Alicia Fortner: Its only human nature to not always be in a good mood. How do you manage to always be happy go lucky every morning on the show, even when you might be in a bad mood?

Matt: It's hard. But I always figure that people don't tune in to see somebody acting grumpy. Viewers have their own challenges and problems. They don't need to look at me and see mine written on my face. Plus, my life is great. I have very few complaints. I'm incredibly lucky.

2. He enjoys the company of his colleagues off camera, too.
Kim Fenne: Do you spend time with the other anchors outside of the job?

Matt: We all see each other at events and appearances for the company, and occasionally one of us will throw a party and we all get together then.
Shirley Rollo: I really enjoy you and Al Roker. I assume you are very good friends outside of work? What are your favorite activities after work ?

Matt: We both love food. Al likes to cook, I like to eat.
Cathy Perloff: Matt, ever think you will have your own show someday?

Matt: I don't think so. I really enjoy the ensemble nature of TODAY.

Julie Wood: Matt, I have watched you since 1998 and have heard a lot of buzz that you are hard to get along with...... You seem and act so nice on tv. My question is are the rumors true? Are you a hard to get along with male diva? I just don't see it, you and Al make my mornings great and you all seem like a family. Either way I hope you are on Today another 20 years, at least!

Matt: That pisses me off!! Kidding!!
3. He can carry a tune!

Linda Rod: Hi Matt, do you sing?

Matt: It's funny. I think I have one of the worst voices ever. And Savannah keeps trying to convince me that I don't. In fact, she wants us to record my favorite song together. I need to give that more thought.

Savannah Guthrie: Hi Linda. Savannah here. Matt sings great. He is always in key — even in the morning before the show when I'm barely croaking. I am learning the chords to the song. Watch out world!

3a. Speaking of music…..
Gary Uzmack: Chicago or Earth Wind N Fire?
Matt: With apologies to Chicago, Earth Wind and Fire in concert was one of the great music experiences of my life.

4. He really isn't that obsessed with germs.
Kathleen Byrnes: When did you become a germaphobe? Are you as bad as Howie Mandel?

Matt: On a scale of 1 to 10, I'm a 5. I think my cohorts like to make more of it than that.

Mary Pursley Kitchens: Favorite hand sanitizer?

Matt: I'm an old-school Purell guy. But, the germaphobe aspect of my persona is a bit overblown. Remember, I have three kids.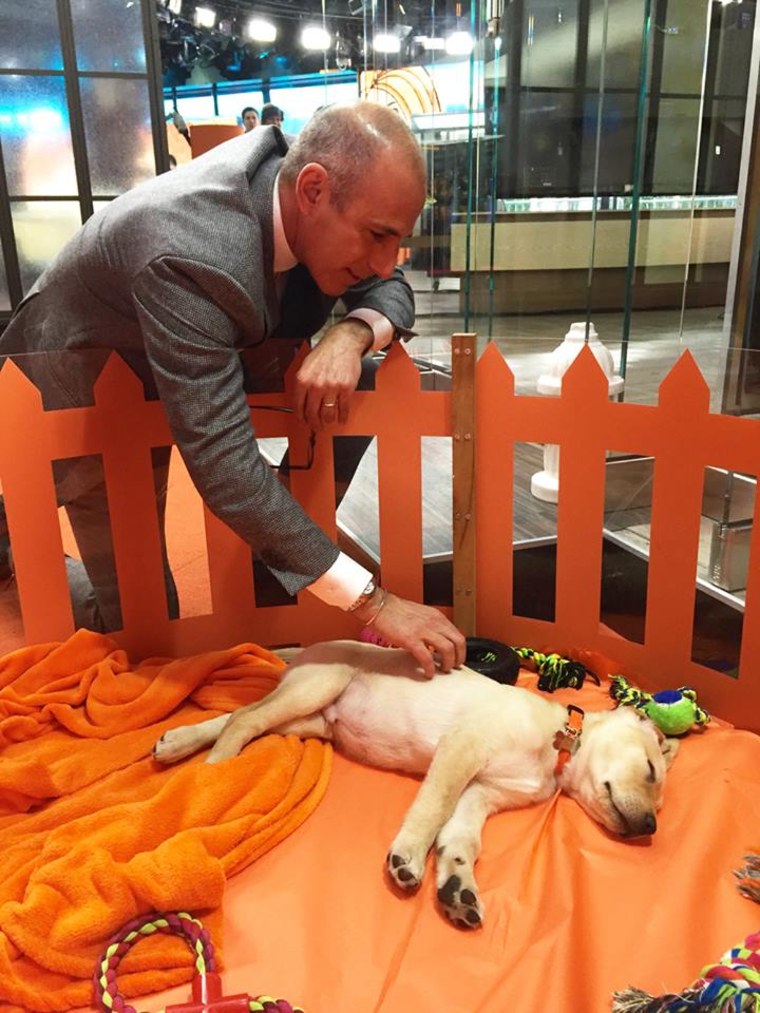 5. But he does enjoy going to the gym.
Lisa Abramson: How do stay so fit?

Matt: I'm one of those people who actually loves working out. But I do it as much for the mental outlet as I do for the physical exercise.

6. Matt truly is out of this world. 
Sandi Siler: Are you related to a lady that used to teach kindergarten in Romeo Michigan about 50 yrs ago?

Matt: I get a lot of questions about other Lauers across the country. There are a lot in upstate New York and I have heard rumors about the Michigan Lauers as well. But I don't believe I'm related to any of them. I came from another planet.

7. He lives for family time. (He's taking his older son to this weekend's Super Bowl for a father-son trip!)
Cynthia Purcell Costa: How do your children handle their dad being famous?

Matt: To be honest, I'm not famous at home. I'm just Papa. But when they get a taste of it out in public, I think it bothers them a little bit.

Michelle Koth Mason: How old are your kids?

Matt: I have a boy named Jack who's 13; I have a daughter named Romy, who's 11; and a son named Thijs, who just turned 8.

Kathleen Mayo: How often do your children get to come to work with you?

Matt: When they have a day off from school, they'll stop by the show in the morning and I'll go to breakfast with them after. And during the summer concert series, if they have a favorite singer performing, they tend to sneak in and mix with the fans.

Meg Aguilar: Who would your kids want you to interview?

Matt: I'm lucky because I actually get to interview most of the people my kids become obsessed with. I was a very popular dad when Ariana Grande was on the show last summer.

Ann Bennett: What is your favorite thing to do with your family ? 

Matt: On the weekends, we are all about family lunches and dinners. It's the best time of my day.

Grace McCarty Hare: How do you share work and home time?

Matt: It's a challenge for me just as it's challenging for everyone else. There are times when the schedule of this job interferes with things I want to be a part of at home. I have understanding bosses who let me take time for family events when I need it. Yesterday, for example, I was with my family digging out from the snowstorm.
Sherry Nowacki: Your favorite part about being a dad?

Matt: The hugs at bedtime.

8. He prefers the slopes over sand for family getaways.
Christine Whidden Duckels: Where is your favorite vacation destination?

Matt: Each year our whole family goes skiing in Colorado. There are very few things I like more than standing at the top of a slope with Annette and the kids.

9. He has retirement plans, but not necessarily for the immediate future:
Carolyn McKay: When you retire, where do you want to live?

Matt: Annette and I talk about spending some time in Europe because she's from the Netherlands. Which means our kids are half European. We'll probably split our time between here and there.

Tina Day: Do you plan on retiring soon? And will you name your successor? If you do I say Willie Geist! 

Matt: That will not be my decision.

10. Although he anchors a live program, there's one live assignment that terrifies him.
Andy Imlay: Would you ever host Saturday Night Live?

Matt: I think that would be one of the most nerve-wracking assignments ever. Having said that, if asked, I would certainly serve. But don't hold your breath for them asking.

11. He loves the classics.
Yvette Jacobson: What is your favorite movie Matt?

Matt: The Godfather. With Patton a close second. "Rommel, you magnificent bastard. I read your book." Classic.
Gaye Walker Rosser: What's your favorite novel?

Matt: I'm a Hemingway fan. Loved "Death in the Afternoon."

12. He knew the "shock jock" when he was barely a bolt. 
Andy Holloway: How long have you and Howard Stern been friends?

Matt: We've known each other for 25 years. But have become dear friends in the last several years. He and Beth are two of my favorite people.

13. He has no regrets about shaving his head.
Kelsey Lindsay: When I went to New York in 2nd grade we went to the Today Show one morning. David Bowie was performing, but even more memorable was that it was the last day Matt Lauer had hair before he embraced the bald and got rid of his hair. Lol my mom was devastated.

Matt: I remember walking into the studio the morning after I cut it all off, and seeing the expression at Katie's face. She looked like she wanted to scream out laughing, but luckily controlled herself. For me, it's the best thing I ever did.

14. He plans on keeping his day job because he's horrible at math.
Becky Boughan: If you could do anything else besides being an anchor for TODAY, what would you be doing?

Matt: I'm fascinated by architecture. I drive or walk down the street, constantly looking at buildings that I either love or hate. My biggest problem is that I'm awful at math. So the engineering part would be a complete bust for me. Nobody would live in a building I designed.

Stephanie Richards-Stremlow: Do you ever have dreams of any news you have reported on?

Matt: Sometimes I'm haunted by stories. The Newtown school shooting has stayed with me for a very long time. I think because I have children the same age as the victims of that tragedy.

Lisa Gower: Which news event has personally impacted you the most?

Matt Lauer: Clearly it was Sept. 11. We were on the air live, watching the world change in front of our eyes. It was the most emotional 6 hours of broadcasting I've ever done. You kept closing your eyes, hoping when you opened them again it was going to go away.

Erica Seitzman: What was your favorite broadcast to date?

Matt: There are so many over the years. But a little more than a year ago, I got to be on top of the new World Trade Center as they attached the spire that made it the tallest building in the Western Hemisphere. Having covered both attacks on that building, it was tremendously gratifying to see it rise again.
15. In case you missed it, Matt's already a Hollywood screen star.
Elizabeth Cook Riebe: How often do you hear,"Matt Lauer can suck it!" from Land of the Lost? Cause that was funny! 

Matt: Luckily most people don't walk up to me on the street and say it. But I get it on Twitter a lot. And on emails. That was one of my favorite things to shoot outside of the show. Will Ferrell made me laugh the whole time.

Lana Kay Dotson: Who would you like to be you in a movie of your life?

Matt: I want Kevin Hart to play me.

Check out these other Facebook chats: