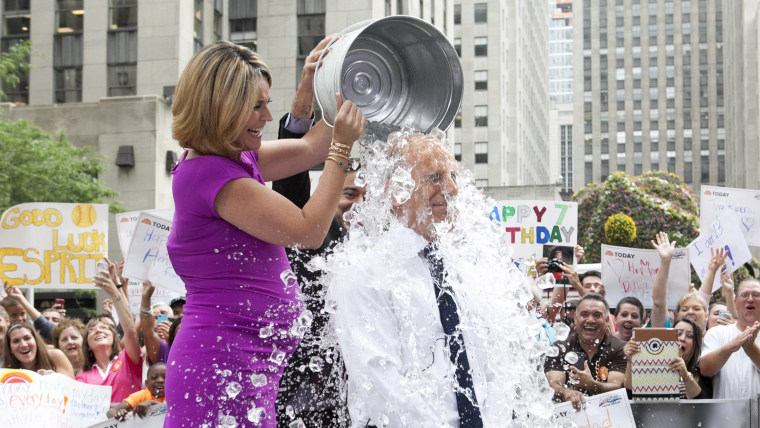 It may be the middle of summer, but it was a chilly morning for Matt Lauer.

The anchor participated in the "ice bucket challenge" after having it issued to him by Hall of Fame golfer Greg Norman. The challenge involves dumping a bucket of ice water on one's head while being recorded on video and calling on three friends to do the same stunt. If those called out don't follow through, they have to donate $100 to charity.
Norman invited Lauer to the challenge and on Tuesday, at the hands of Savannah Guthrie and Carson Daly, he followed through with the ultimate social media dare — but not before calling out Brian Williams, Martha Stewart and Howard Stern to do the same. 

"Is my hair messed up?" Lauer joked after being doused in the ice water.
Norman joined Lauer via FaceTime from his home in Colorado to support the anchor as he took on the frigid water. "You are a champion," Norman said. 
While Lauer complied with the golfer's demand, he also donated to the Hospice of Palm Beach County and invited Williams, Stewart and Stern to donate to the organization if they choose not to accept the challenge. 
Stern may be considering that donation, as he told Savannah and Matt when they visited Stern at his SiriusXM studio later Tuesday morning that he wasn't too keen on the idea. 
Watch Matt Lauer complete the "ice bucket challenge"
"If someone poured ice on me, I would behead them," Stern said. 
The ice bucket craze first gained steam in late June after pro golfer Rickie Fowler drenched himself in ice water and called on fellow golfer Keegan Bradley to do the same. Bradley complied, but not without making his own callouts. The chain was thus set in motion — and has now made it all the way to the TODAY plaza.