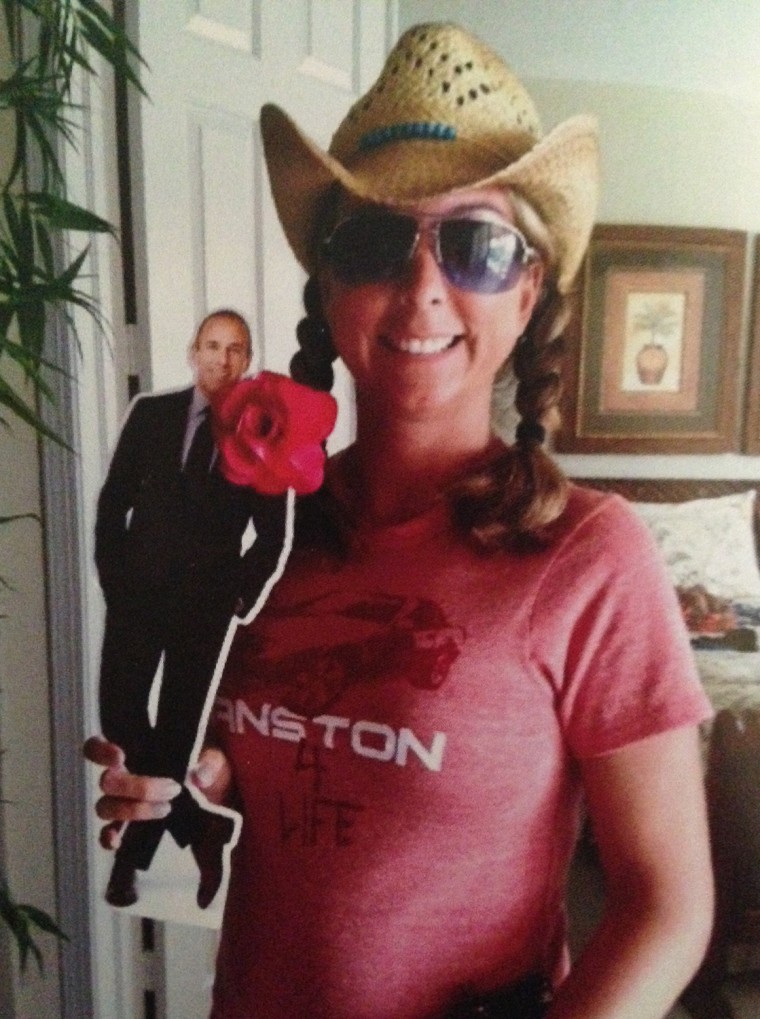 Kerrie Crins-Driscoll calls it "Flat Matt,'' and it has journeyed with her everywhere from the local bar to her annual trip with friends to Florida. 

The mother of four from Cranston, Rhode Island, has been a dedicated Matt Lauer fan since she was 12 years old, and she has taken a little piece of the TODAY anchor on all types of journeys. Four years ago, she was in New York City when a woman was walking down the street with a pair of small cardboard cutouts of Lauer. After the woman gave her one, she dubbed it "Flat Matt," in reference to the children's book "Flat Stanley,'' which has inspired kids to take pictures with a cutout of the character Flat Stanley in different places and document their experiences.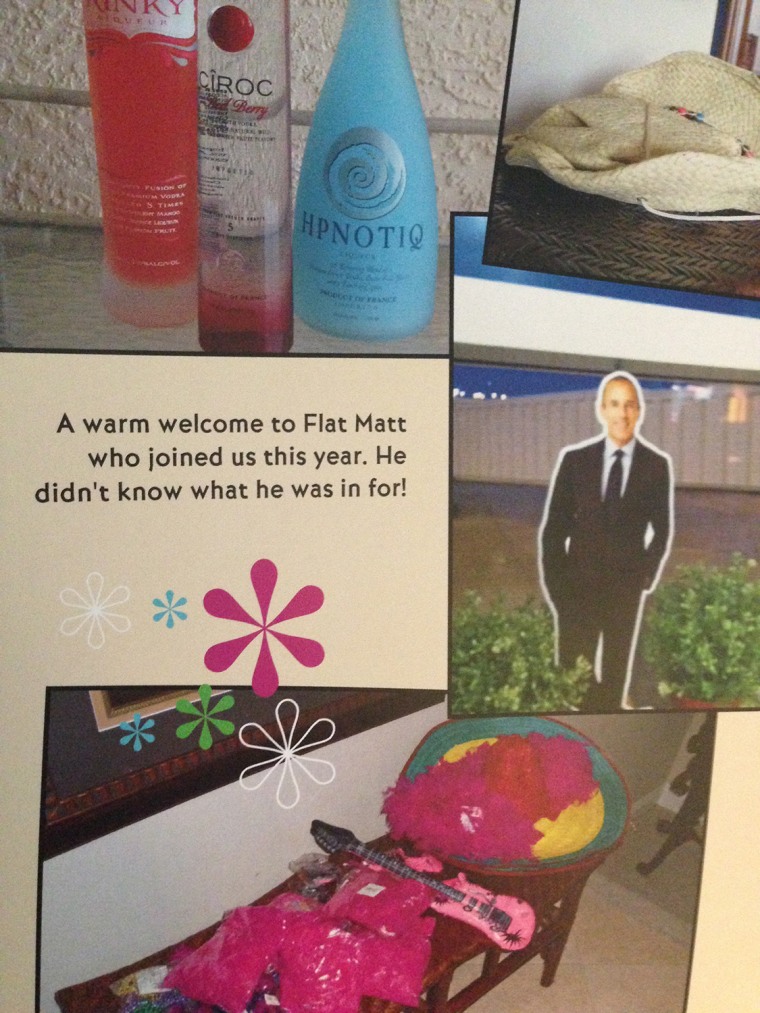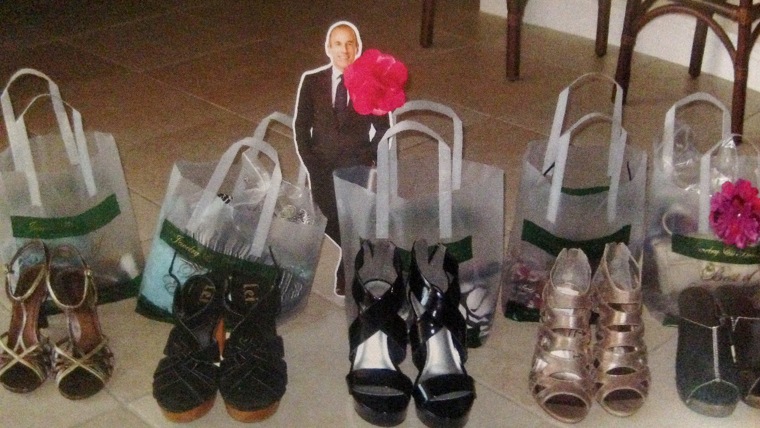 "All my kids did the Flat Stanley thing, and now mom takes 'Flat Matt' everywhere,'' Crins-Driscoll told TODAY.com. "It's a big joke with my kids, my family and my girlfriends. We go to the beach and we have 'Flat Matt' in the sand, we go out for Cinco de Mayo and we have him all dressed up — he's been coming with me to all kinds of places for about four years. It's kind of like doing our own little version of 'Where in the world is 'Flat Matt?'" 
Crins-Driscoll comes to Manhattan once a year to the set of TODAY on Rockefeller Plaza in hopes of meeting him, but said it hasn't happened yet. She also has had her picture taken with a life-sized cutout of Lauer during a tour of the NBC studios, but was disappointed to learn it was not for sale.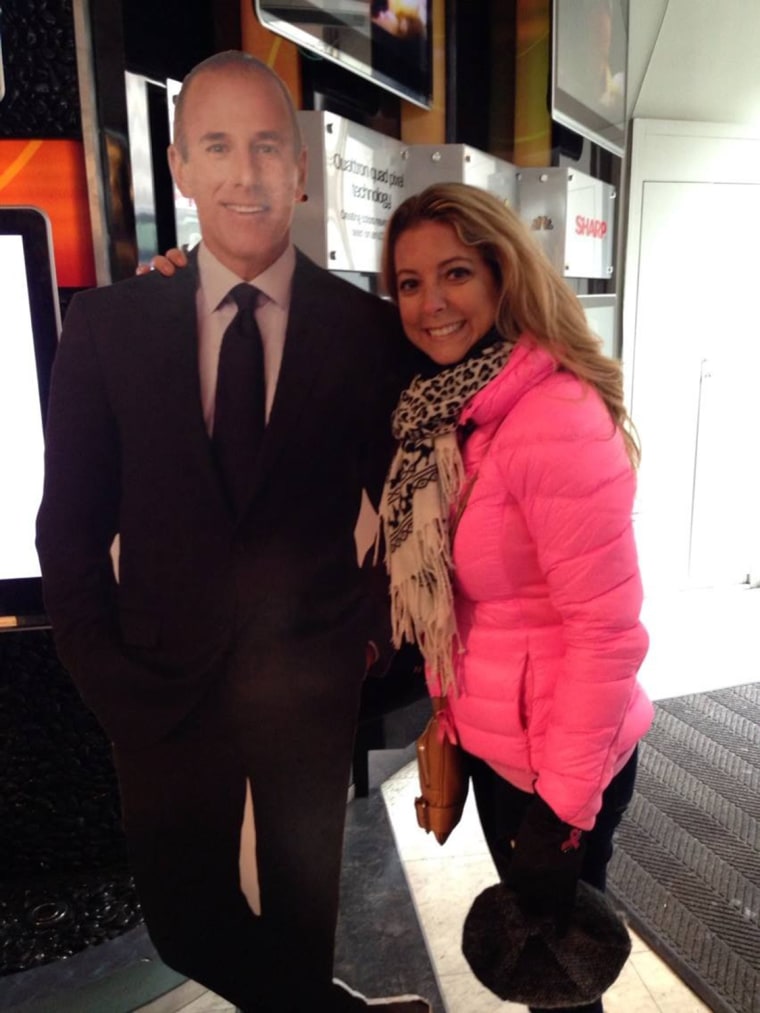 "My husband knows I'm crazy, so it's OK,'' she said. 

Crins-Driscoll has been a Lauer fan for 30-plus years and can remember watching him on the show PM Magazine in Providence, which he hosted from 1980-86. She can remember her daughter, who is now 18 years old, having a copy of TV Guide with Lauer on the cover in her crib as a baby. 

"Whenever he is interviewing some young person, I always joke with my kids, 'Really kids, you couldn't have done that great thing so that Matt could interview you and I could meet him?''' she said. 

Due to some wear and tear, cutout Matt's travels have slowed down recently.
"I didn't take him on the last trip because he's getting a little ruined since I've had it so long,'' she said. "It stays on my dresser now. If I lost it, I would be so upset." 
Follow TODAY.com writer Scott Stump on Twitter and Google+.