There's a lot of pressure on moms to be perfect, and a lot of books dispensing high-minded wisdom. But what about the real world? In "True Mom Confessions," Romi Lassally compiles tales from moms in the trenches — their secrets, shortcuts and mommy misdemeanors. An excerpt.
Introduction: 'I was hoping the dog would eat it'
Last March, my six-year-old son, Owen, stumbled out of his bedroom and vomited all over himself and the hallway carpet. He cried for help and I dashed downstairs — maternal sensors on high alert. When I reached him, as if on cue, he proceeded to throw up all over me. Now I'm no stranger to middle-of-the-night barfing, but I must admit that even after fifteen years of mothering, I wretch at the sight and smell of it and I've never, ever mastered cleaning it up. To avoid all of the above, I whisked my little man away from the scene of the crime, sponged him off as best I could and took us both up to my bed. What of the throw up you might ask? I left it there in all its steamy, goopy glory. I was hoping the dog would eat it.
                     ***
Later that week I recounted the story of my parental/housekeeping "DON'T" to a girlfriend who winced in disgust but also gave me kudos for my ingenuity. Turns out every mother can appreciate a shortcut now and then. She then blurted out her own mommy misdemeanor, something she'd been mortified to admit to anyone: recently on a long plane flight, she'd dosed her three-year-old with Benadryl to get her to fall sleep.
"Am I awful to have drugged her for a few hours of peace at thirty-five thousand feet?"
Our shared secrets and support of each other opened the floodgates and we sat there baring our conflicted, guilt-ridden and shame-filled souls. I followed the vomit story with my most recent transgression — reading my teenager's IM chats — and she offered up another burning secret: she was thinking of leaving her job but didn't know if she had the stomach or the bank account to be a stay-at-home mom. Ah, the truth.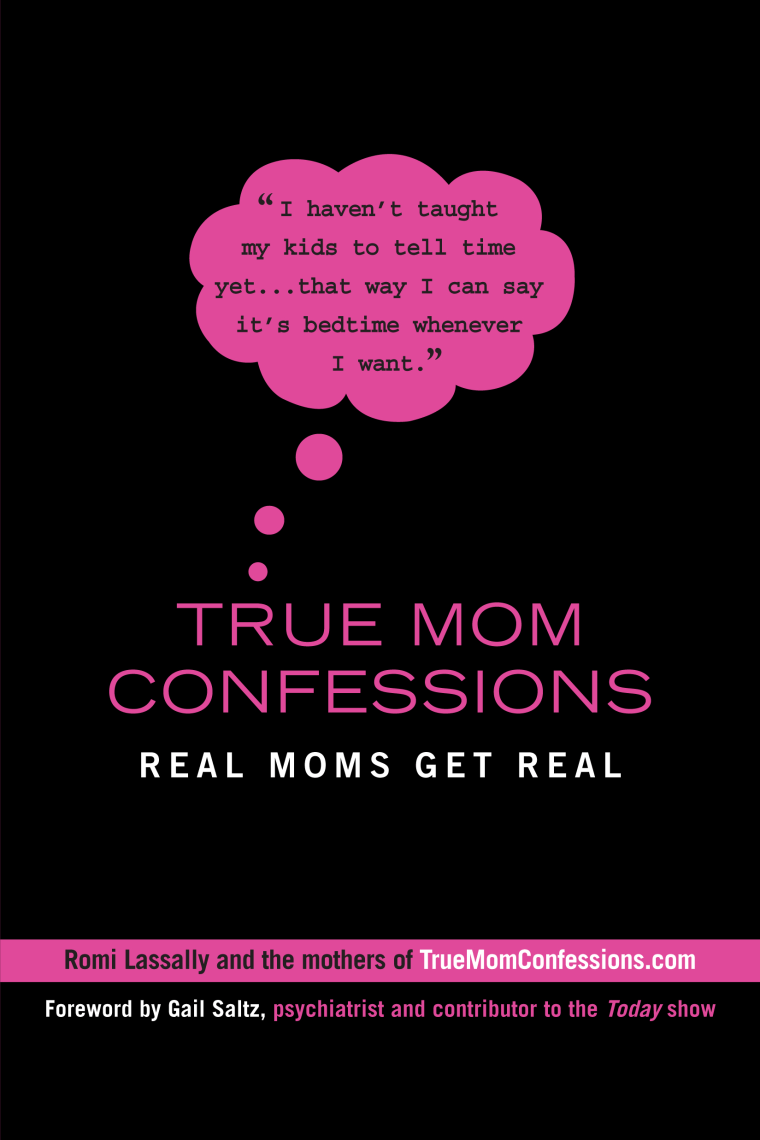 What I recognized from this exchange (but really had known in my gut for most of my life as a mom) was that the mere act of confessing to a less-than-perfect motherly moment provided quick and much-needed relief, with the added bonus of prompting another mother to tell her own tales from the trenches. So why not figure out a way for more mothers to do this all the time? Wouldn't we all be better for it?
Being realistic, I acknowledged that most women didn't have the confessional gene that I did; that the fear of judgment, criticism, or worse — rejection — might keep them from sharing the gritty details of their lives face-to-face. And even if they did, the frenetic lives of mothers don't always offer up the time, place or the Sex in the City-type girlfriends ready to lend an ear (or a cocktail) when we moms need it the most. But online, under the veil of anonymity and with 24/7 accessibility, I believed the conversation about the REAL not the IDEAL of motherhood could flourish.
So TrueMomConfessions.com was born. Finally, an outlet for women to spill their secrets: what they did (and didn't do) and what they thought about but were afraid to talk about during their daily trials and triumphs as mothers.
The experiment was a rousing success, with women coming from across the globe to "confess themselves" and to revel in the heartfelt and hilarious admissions of others. Being honest makes us stronger mothers and sharing our stories helps us learn from one another. It's just that simple. It has been so satisfying to see that a website encouraging candor could spark so many conversations and build a community of unabashedly frank women all doing their best, making a mess and finding a lot of reasons to laugh (and cry) along the way.
So why publish a book? Because we all live hectic, harried lives and logging on isn't always an option. I thought I could take the wisest and most liberating of the confessions and put them in a portable package to be snacked on anytime, anywhere. These pages are clustered around themes that emerged from hundreds of thousands of bite-sized entries. So whether you've got five minutes stuck in traffic or an hour in the tub, you can open a chapter and find shared experiences, diverse perspectives, or some simple solution you hadn't thought of before.
I hope this book provides solace, guidance, and a healthy dose of humor. Above all, I hope it's good company — honest and authentic voices that paint a portrait of motherhood today — to remind you that we are all struggling with the idea that being a "good" mother means being good enough.
P.S. The dog did eat the throw up but then threw up himself. That I did clean up myself.
Excerpted from "True Mom Confessions" by Romi Lassally. Copyright (c) 2009, reprinted with permission from Penguin Group. For more from this book, click here.