If you or someone you know is in crisis, call 988 to reach the Suicide and Crisis Lifeline. You can also call the network, previously known as the National Suicide Prevention Lifeline, at 800-273-8255, text HOME to 741741 or visit SpeakingOfSuicide.com/resources for additional resources.
The husband of a Massachusetts mother accused of killing her three children said his wife was having "one of her best days" since she was prescribed multiple medications and committed herself to a psychiatric hospital for postpartum depression, prosecutors said.
Prosecutors revealed disturbing details about the killings as Lindsay Clancy made a court appearance on Feb. 7 from her hospital bed, NBC Boston reported.
Clancy has been hospitalized since the Jan. 24 incident, where she is accused of killing her three children before cutting herself and jumping out of a window of her Duxbury, Massachusetts, home.
Clancy, 32, allegedly tied exercise rope around each child's neck and strangled them for several minutes while her husband was running two errands. She asked him to complete the errands after looking up online how long he would be out of the house, prosecutors said.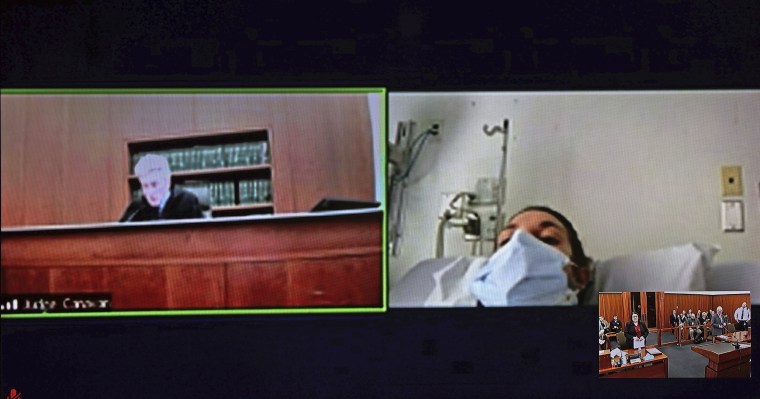 "She planned these murders, gave herself the time and privacy needed to commit the murders and then she strangled each child in the place where they should have felt the safest, at home with their mom," Plymouth County Assistant District Attorney Jennifer Sprague said.
Clancy has been charged with two counts of murder, three counts of strangulation and three counts of assault and battery with a dangerous weapon, the Plymouth County District Attorney's Office said. She has pleaded not guilty to the charges.
Prosecutors said Jan. 24 was a normal day for Clancy until she texted her husband, Patrick Clancy, asking him to pick up medicine for the children and takeout for dinner. Clancy had searched online "so she would know how long someone would be gone if they ran that errand," Sprague said.
Clancy's husband left around 5:15 p.m., and returned around 6:10 p.m. to find the home empty and unsettlingly quiet, NBC Boston reported. As he called his wife to ask where she was, he made his way into a locked room on the second floor and found blood on the ground.
He later found his wife outside of the home with cuts on her wrists and neck, prosecutors said. He asked her, "What did you do?" and she replied, "I tried to kill myself and jumped out the window," Sprague said.
He then asked where the children were, and Clancy told him they were in the basement. He waited with his wife until first responders arrived, and then found Cora, 5, and Callan, 8 months, in the den and Dawson, 3, in his office, NBC Boston reported.
"She had to strangle each of them to unconsciousness and then make sure the bands were squeezing their little necks for several minutes. She could have changed her mind at any point during that time and removed those bands from their necks and she did not," Sprague said.
Sprague said on the 911 call Patrick Clancy could be heard "screaming in agony and shock," before he removed the bands from their necks "and begged them to breathe."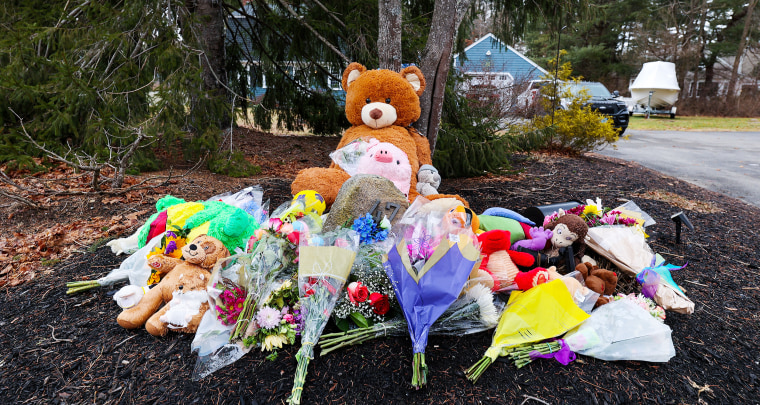 Cora and Dawson were pronounced dead at Beth Israel Deaconess Hospital, according to the Plymouth County District Attorney's Office. Medics were able to restart Callan's heart, but his brain activity never returned, and he died on Jan. 27, NBC Boston reported.
Prosecutors alleged it was on Jan. 27 that Clancy, "using an erasable white board, because she was still temporary intubated," asked, "Do I need an attorney?" showing she had "the clarity, focus, and mental acumen to focus on protecting her own rights and interests."
Kevin Reddington, Clancy's attorney, told the judge what happened was "clearly was a product of mental illness."
"This is not a situation, your honor, that was planned by any means," Reddington said.
Reddington said Clancy had been prescribed more than a dozen medications in four months for postpartum depression, which she did not experience after the births of her first two children. Reddington alleged his client was overmedicated.
Clancy was prescribed the pills and told "she would be able to sleep, she would be able to feel, she would be able to emote once these medications kicked in," Reddington said. "It's easy to say, come on you have a healthy baby, a wonderful husband … you're lucky. Take the pills, you'll be ok."
Reddington also said Clancy had checked herself into a psychiatric hospital three weeks before the killings. "This really is a tragedy, this case," he said.
Reddington asked that Clancy be able to stay in a medical facility while she recovers, noting she is unable to walk and is not expected to regain function in her legs.
Judge John Canavan ordered Clancy to be held in the hospital until she is cleared to move to another facility for rehabilitation, where she will remain except for medical care.
Patrick Clancy said in a Jan. 28 statement that he felt "completely lost" without his children, but he hoped the public could forgive his wife.
"I want to ask all of you that you find it deep within yourselves to forgive Lindsay, as I have," he said. "The real Lindsay was generously loving and caring towards everyone — me, our kids, family, friends, and her patients. The very fibers of her soul are loving. All I wish for her now is that she can somehow find peace."