A martial artist who helped a tearful 9-year-old make a breakthrough — physically and emotionally — is providing inspiration far beyond the students of his Detroit studio.
In a video that has gone viral, young Bruce Collins III struggles with the final moments of his initiation test. He has broken a wood board with his right hand, but several attempts to punch through another board with his left have failed.
That's when Jason Wilson, founder and lead instructor of Cave of Adullam Transformational Training Academy, gets down on his knee to speak with Bruce at eye level.
"I don't mind you crying. I cry a lot, too," Wilson says. He then tells Bruce "you're pulling your blow," perhaps from fear or uncertainty, and encourages the boy to push through the resistance.
"Being a black man in this country, you're going to need mental fortitude. You're going to have to be strong here," Wilson says, pointing to his head, "more so than here," he says with a fist.
"You can do it, you just have to put your mind to it."
The boy goes on to break the board in two. It's a single board, but it's symbolic of the hurdles Wilson's young students will face as they grow up and become men, he told TODAY.
"You have to have follow through when you're facing a barrier in life. You may have a little resistance at the beginning, but go all the way through. Complete the task," he said.
RELATED: Rabbi uses martial arts to teach kids 'inner power' in fight against cancer
Wilson, whose students call him "Sharath," the Hebrew word for "servant," said he was glad for the opportunity to talk to the boy in front of his peers about the importance of being emotional.
"I wanted him to know, it's OK to cry, but the key is knowing why you're crying," he said. "What that does for a young boy, regardless of his ethnic background, is say, 'Now I can shake off this false masculinity I've been taught, that it's not human to be this way.'"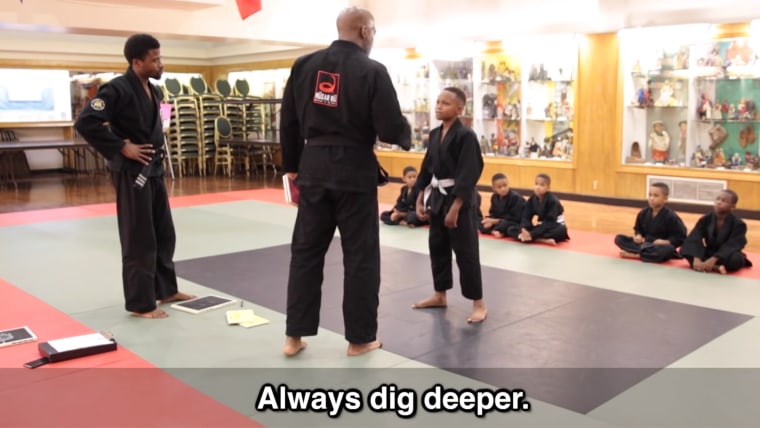 Wilson said he knows too many young men who have been encouraged to choke back their emotions.
"I joke with a lot of them, 'You need emotional enemas, because you're clogged up with feelings,'" he said with a laugh.
The video also includes an exchange with the boy's father, who was asked to carry his son on his back after performing a series of push-ups. Wilson then slaps the man's arms with a stick as he continues to hold up his son. He said the exchange is symbolic of the idea that, as a father, "you do not drop and fall, even when things get tough."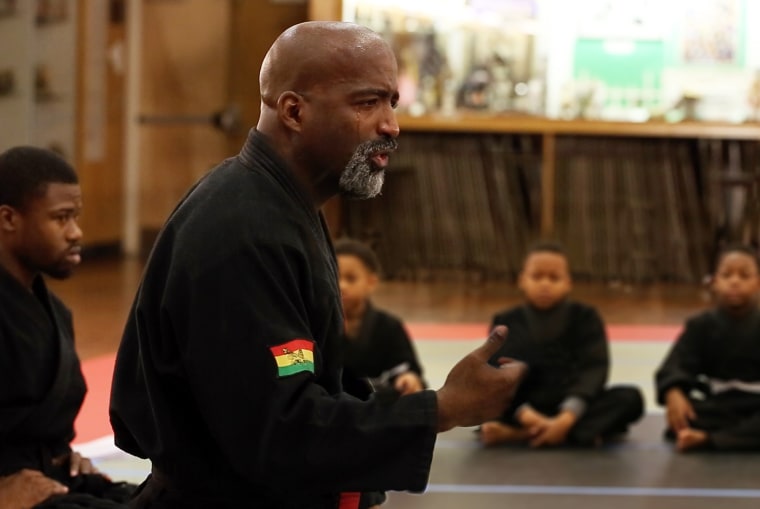 Wilson said he's been encouraged by the response to the video, which takes place athis martial arts academy, where he teaches Musar Ru, or "Discipline of the Spirit." The style is a combination of Aikijutsu, Brazilian jujitsu, combat boxing and other styles Wilson has studied.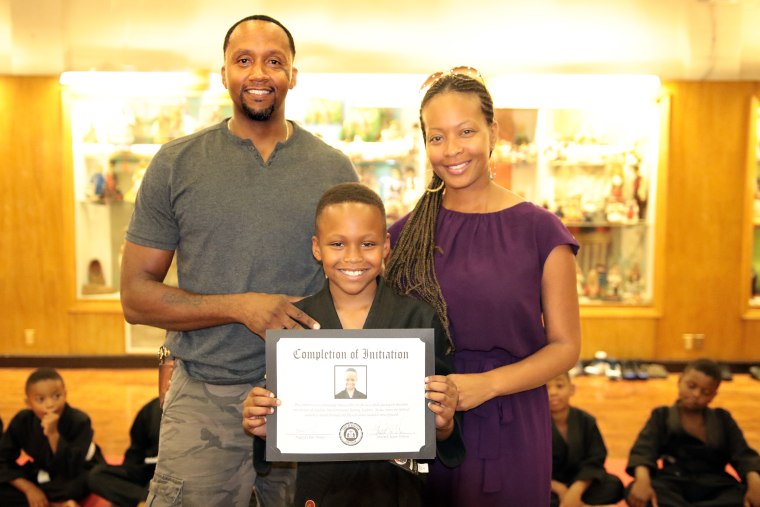 "This is an introspective training program. The goal is to create a generation of men who are consciously and spiritually strong enough to navigate through the pressures of this world without succumbing to their emotions," he said.
"We have an opportunity to spread hope and love and free a generation of boys who can finally be emotional. That's powerful. Do you know the type of men they can grow up to be in society?"