More than 1,000 men asked to meet her, but only two actually did.
Click here to weigh in on Martha's matches on Facebook!
Martha Stewart came face-to-face Thursday with two suitors who responded to the personal ad she posted last week on Match.com.
The 71-year-old media mogul received more than 20,000 page views within days after loading her profile on to the site. She then weeded through 1,000 date requests before singling out a pair of possible matches: Larry and Stan.

"I'm slightly apprehensive, but not nervous," she said before meeting both men on the TODAY set Thursday.
Both men are 68, divorced, and work out regularly. One lives in New York, the other in New Jersey. Both say they feel equally comfortable in jeans or a tuxedo.
They apparently also have a strong sense of composure, agreeing to meet Stewart for the first time on national television before taking her out on individual dates.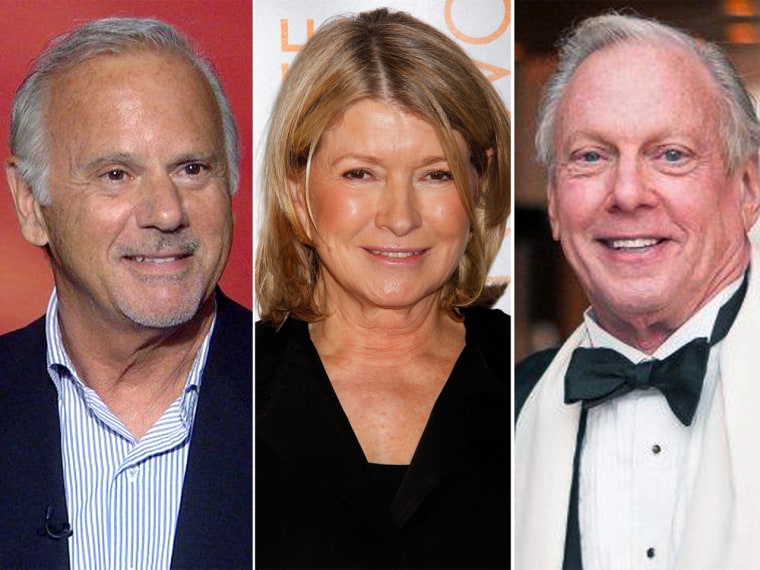 Larry, an executive in international steel trade, admitted it made him pause a bit because he feared it would make him look like an opportunist, "and that's not me."
He said he reached out to Stewart because he could relate to how she felt about online dating.
"When I read the profile, she expressed the same feelings that all of us this age have, a lot of trepidation and the fear of it – and we're usually not afraid of much," he told TODAY's Matt Lauer. "But then when she said the learning, curiosity, adventure: That's really what we're looking for."
According to his Match.com profile, Larry says he is a romantic, "above all." He loves movies, museums, Lincoln Center and holding hands. He enjoys traveling, swimming and feels comfortable in social settings but desires "the intimacy of a one-on-one relationship." He seeks someone who will let him know "how connected we are even in a crowded room."
Watch video: Martha Stewart on dating: 'I like PDA'
Stan is a filmmaker who shoots independent features and commercials, including ones that featured Stewart for Kmart many years ago.
"I always really liked Martha; how could you not?" he told Lauer. The commercials turned out great, but nothing romantic emerged from the experience. Asked if he would have liked to date Stewart back then, Stan admitted: "I might have."
Stan plays numerous sports, and enjoys gardening and meeting people in interesting places "spiced with fun," according to his online profile. He counts "To Kill a Mockingbird" and "The Magnificent Seven" among his favorite movies and says describing his ideal woman is a bit like describing himself. He calls himself a positive person "always looking at the creative side of the world" and seeks a partner with a "mutually shared connection."
Stewart selected the two men after they reached out to her through Match.com, where she signed up after admitting she needed help finding a companion.
"I have so many great things to go to. You want to take somebody with you, so that's one reason," she said. "Another reason is that I actually would like some day to find a match."
Stewart said she loves dating but misses being in a relationship with someone who can share her bed and breakfast table. She hoped Match.com would help find her "next Mr. Right," who has eluded her since her last long-term relationship ended several years ago.
Before meeting her two dates on TODAY,Stewart stressed that "this is real reality.
"None of these have been set up. None of this is fake. I just want everybody to know that because I want other women in a similar situation to mine to realize that it can be done," she said.
The response Stewart received to her online membership was "definitely atypical," Match.com chief executive, Sam Yagan, told TODAY earlier this week.
"There's no question that Martha is one of the most popular members ever to join Match," he said.
Following Martha's online dating adventure? You can also play matchmaker for her here at marthastewart.com.