/ Source: TODAY contributor
Mark Spitz ruled the pool in 1972. But now, he concedes, it's time for Michael Phelps to tie or surpass his record of seven gold medals in a single Olympic Games.
"Listen, this has lasted for 36 years," Spitz told TODAY co-host Matt Lauer on Thursday. "It's a long time. It's about time that somebody else takes the throne. And I'm very happy for him. I really truly am.
"You know, there's a lot of pressure that he's going to have on his shoulders over the next number of years. I think he'll weather it just fine, and I'm going to be rooting him on."
Phelps has already captured the 10th and 11th gold medals of his Olympics career, the most games golds of any athlete ever. Now he is trying to surpass Spitz's record of seven gold medals in a single Olympiad.
So far he has won five gold medals at the 2008 games, both by himself and with his team. And each medal has come in a world-record time — just as Spitz did it in Munich in 1972.
"Somebody once told me that greatness is a manner of measure which others judge themselves by," Spitz said. "And I think if Michael has judged his dreams by something that I have done, then I take that as a compliment — and I'm willing and ready, and so excited for him."
Like a broken record
In his glory years, 1968-72, Spitz set 33 world records. But times have changed since those days. In these Olympic games, his world-record times in the 1972 Olympics would be good for only 55th out of 58 swimmers in the 200-meter freestyle heats. He would be 33rd among the 44 swimmers in the 200-meter freestyle.
With 12 world records set in swimming so far in Beijing, there has been some criticism that high-tech swimsuits such as the skintight Speedo LZR amount to "technological doping." But Spitz said the issue was "all relative," because every swimmer has access to such suits.
"I've always said, if the suit was making the swimmers go fast, than I should buy Tiger Woods golf clubs," Spitz told Lauer with a laugh. "And you and I, if we just hold them, we're going to play like that. But that's not the case.
"I know that they had some studies about that suit about eight years ago, and they said [a swimmer] had to go faster than about 6 miles an hour to get the full effect. That would mean swimmers that were 50-meter swimmers would be the [only] ones who would benefit from it. Michael did not swim in that full suit in the first race in the 400 individual medley; he used a smaller version of it. So I think it's a personal choice."
Spitz, now 58, argued that Phelps, 23, just may be better equipped between the ears. "I really take my hat off to his concentration over the last four years," he said. "I mean, he really had a crack at breaking my record of seven gold medals [in 2004]. We talked about that four years ago, and unfortunately, one of the relays didn't come through for him, they didn't get the gold medal. So to stay focused for four years and to master all of the pressure that he's gotten is just remarkable."
The challenge aheadNBC swimming analyst Rowdy Gaines still believes it will be a "miracle" for Phelps to win eight gold medals.
Many believe Phelps will see his greatest individual challenge in the 200-meter individual finals against American teammate Ryan Lochte tonight. Lochte narrowly finished second to Phelps at the last Olympics, but had an 0.01-second advantage over his good friend in Thursday's semifinals.
Spitz, however, wondered aloud if thoughts of not winning the gold in the 100-meter butterfly on Saturday and the 4x100-meter medley relay on Sunday may have entered Phelps' head.
"I think I'm the only guy, certainly, that knows what he's going through — and right now, this is the hardest time," Spitz said. "This next two gold medals and the relay — he's probably second-guessing himself a little bit, perhaps, about, 'Boy, can I get out of not wanting to swim an event and look gracious about it and having a perfect score of maybe 7-for-7 and not having a loss?'
"And he's not thinking about times, either. I think he's thinking about not a world record, but just to get that gold medal."
From a distanceSpitz, now a motivational speaker and a stockbroker, spoke to Lauer from Los Angeles. There had been reports that Spitz was unhappy about not being invited to Beijing by the International Olympics Committee; AFP in Hong Kong quoting him as saying, "You don't go to the Olympics just to say, 'I am going to go.' Especially because of who I am … I am going to sit there and watch Michael Phelps break my record anonymously? That's almost demeaning to me. It is not almost — it is."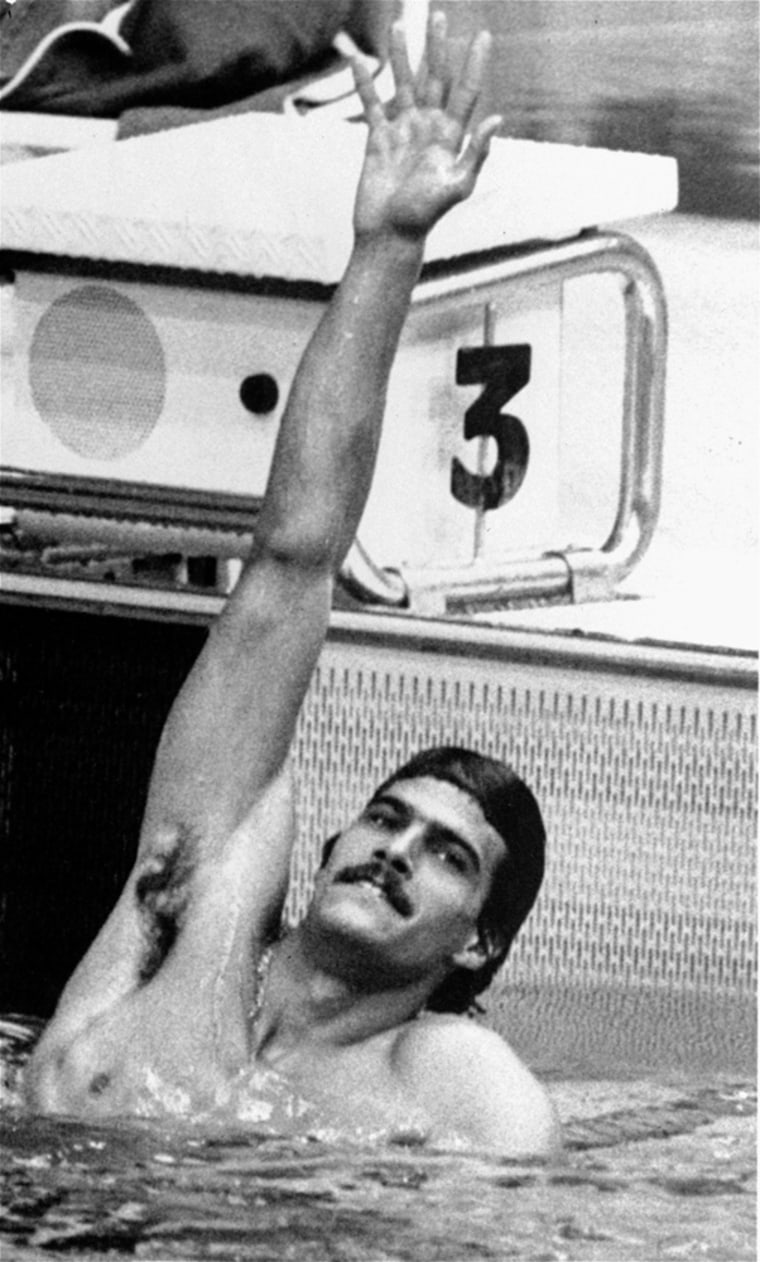 But Spitz clarified his statements with Lauer, saying that he was working for a corporate sponsor who elected not to bring its U.S. contingent over to China.
"[Some reporters] thought that I was supposed to be invited by some entity, and I told them that wasn't really the case, that doesn't happen that way," Spitz explained.
"I'm sort of disappointed that I wasn't there. But that interview somehow took a different turn. I've done hundreds and hundreds of them, and I've been true to form about the way I feel about Michael. He's doing a great job for the United States and inspiring a lot of great performances by the other [U.S.] team members."
Spitz said he was thrilled that if anyone could beat or tie his record for most gold medals, it's someone like Phelps.
"He is the single greatest Olympic athlete of all time now," Spitz said. "He will be probably the single greatest athlete compared to anybody in any century, the 20th, the 21st century — whatever.
"You know, you judge a person's character by the company you keep, and I'm glad I'm keeping company with Michael Phelps. I'll be happy to stand aside and let him carry the torch. He's just one great athlete, and it's very exciting to watch him."