Speaking out for the first time since her doping ban was reduced from two years to 15 months, tennis star Maria Sharapova says her initial penalty was unfair, labeling it "one of the toughest things" she's ever had to face as a professional athlete.
"For an honest mistake, a two-year ban, I don't think was correct," Sharapova told Matt Lauer on TODAY Wednesday.
The five-time Grand Slam champion will now be eligible for next year's French Open in April after the Court of Arbitration for Sport reduced her ban for testing positive for meldonium at the Australian Open in January.
Sharapova, 29, has already served eight months of a ban imposed by the International Tennis Federation, missing out on the Olympics in Rio de Janeiro in the process. The court ruled that she "bore some degree of fault," but that athletes should have been provided clearer notice about the use of meldonium, which was just added to the list of banned substances this year.
"The biggest lesson for me is that I don't think anything is handed to you in life that you can't handle,'' she said. "As an athlete, this is probably one of the toughest things that I've had to handle. You think why is this happening, what is the real core message, but at the end of the day it makes you stronger.
"I'm 29 years old and I have an incredible future ahead of me, and I just can't wait to get back on the court."
Sharapova, who had been using meldonium for 10 years under the brand name Mildronate, argued to the panel that she was not aware that it had been added to the list of banned substances. Players were notified in December 2015, but Sharapova claimed she neglected to click on the link explaining the change.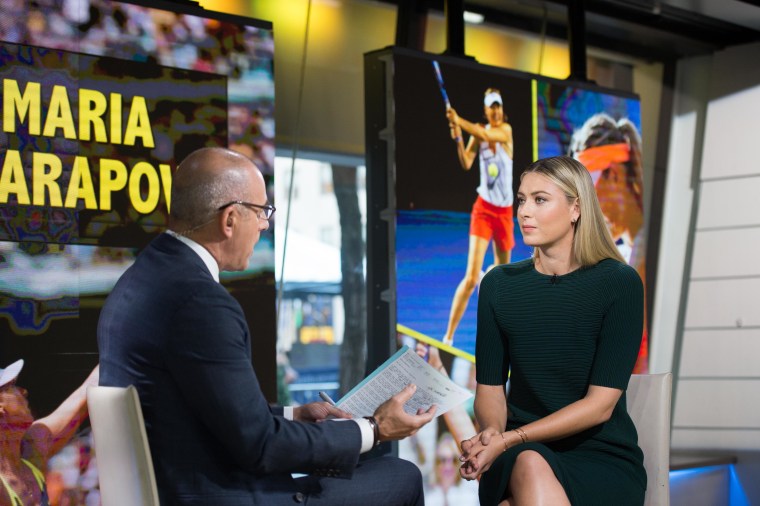 "I admitted my mistake,'' she said. "I also knew that there was a responsibility that the ITF and other organizations had to notify me of new prohibitive substances, especially when someone was taking a substance that was completely legal for 10 years and from one day to the next it becomes illegal and you have no notices, no emails, no direct communications such as other associations and federations did."
By ITF rule, the minimum ban Sharapova could have received was one year.
"I received 15 months because I didn't delegate the job to my agent well enough,'' she said. "I didn't check with him at the end of 2015 and make sure he was checking that list."
Meldonium, which helps athletes' oxygen uptake and endurance, is a popular drug in Eastern Europe that was created to fight heart disease but can be a performance-enhancing drug when taken in large doses, according to The Associated Press.
"I will look with my medical team for a substitute, for something that is legal, that is permissible to take,'' Sharapova said about performing without meldonium in her return.
She claimed she was taking it to help with health issues that included a magnesium deficiency and early indications of diabetes.
"The panel wishes to emphasize that based on the evidence, the player did not endeavor to mask or hide her use of Mildronate and was in fact open about it to many in her entourage and based on a doctor's recommendation, that she took the substance with the good faith belief that it was appropriate and compliant with the relevant rules and her anti-doping obligations, as it was over a long period of her career, and that she was not clearly informed by the relevant anti-doping authorities of the change in the rules," the CAS panel wrote in its decision.
Sharapova said she has received support from fans during her ban, but knows she could potentially face a negative reaction from those who view her as a cheater.
"I've faced boos before,'' she said. "I'm sure I'll face boos in the future for different reasons. That's part of sport, that's what makes it exciting and adds that extra pressure. I love it."
Follow TODAY.com writer Scott Stump on Twitter.