Former O.J. Simpson prosecutor Marcia Clark called a controversial documentary being developed that would exonerate the football legend "very offensive."
"It is nonsense, because there is no real logic, there's no evidence, there's nothing to back it up, nothing," the lawyer-turned-novelist told TODAY's Savannah Guthrie Tuesday morning.
Clark said "Hard Evidence: O.J. Is Innocent," which has the backing of actor Martin Sheen, takes the blame away from Simpson and places it instead on his son, Jason.
"That is to me the most hideous thing you can possibly do," she said, adding that she rejected the theory outright.
"Jason Simpson is the one they're saying is guilty, and he can't defend himself," she said. "What is he going to do? Say, 'It's not me, it's my dad.' What a hideous thing for them to do. I can't even tell you how awful it is. And it's baseless."
Simpson ultimately was found not guilty of killing his ex-wife Nicole Brown Simpson and a friend, Ron Goldman, during the "trial of the century" of which Clark served as lead prosecutor. The trial was portrayed in the popular FX mini-series, "The People v O.J. Simpson: American Crime Story," which concludes Tuesday night.
Clark has spoken positively about the show, especially praising Sarah Paulson's portrayal of her.
"I think she's a genius," she said, explaining she has watched the show with friends and focus on Paulson. "I try to just watch her, because she's fabulous. She's amazing."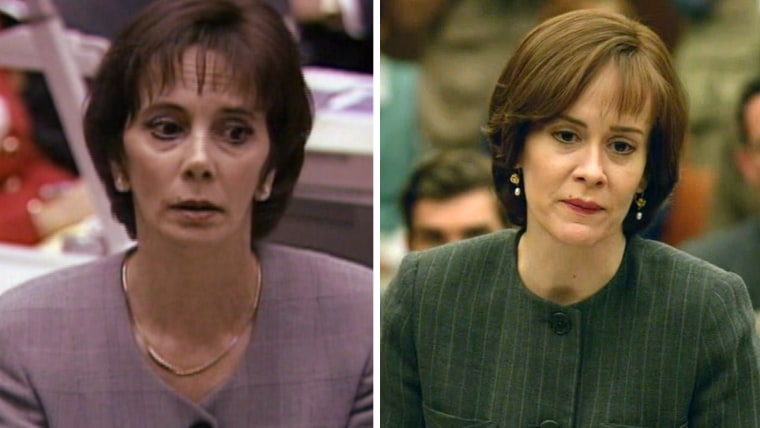 Clark says she received treatment that would be described as sexist today. She was criticized by the public for everything from her direct manner to her plain dress suits to her permed hair. On TODAY she spoke about how the comments she received from the judge in the case, Lance Ito, may have influenced jurists.
"He treated me like a second-class citizen, I was the one who got the roughest treatment," she said. "I had to work with the jury, that's who I need to impress. And I didn't think the jury really cared about the hair and makeup, I'm pretty sure of that even to this day. That was the problem."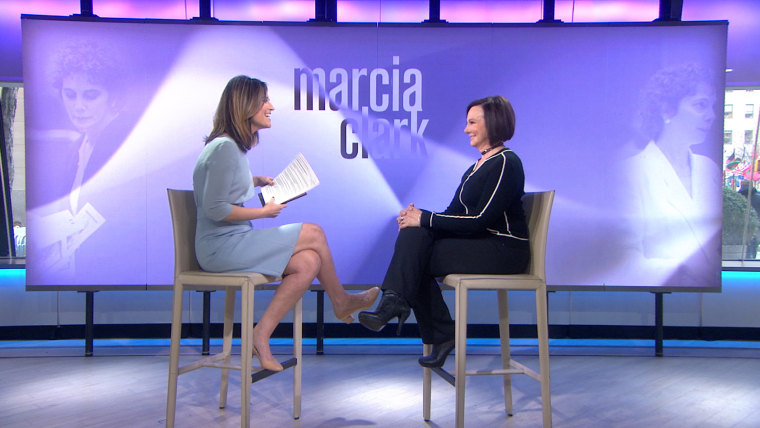 Clark also addressed rumors about whether she and Chris Darden, her co-counsel on the case, had a romantic relationship.
"We were the best of friends. We were trench mates," she said. "It was like living in a bubble. No one else could understand what it was like to live through that, but he could. We were certainly very close, but no, we were partners."
In 2008, Simpson was found guilty of armed robbery, kidnapping and other felonies. He currently is serving time in a Nevada correctional center.
More than 20 years later, Clark said she doesn't feel at peace with what followed Simpson.
"To say that I'm at peace with the verdict, no. No, justice was not sung."
Clark, 62, now works on court appointed criminal appeals for the state of California and writes mystery novels, including her latest, "Blood Defense," which will be published in May.
Follow TODAY.com writer Eun Kyung Kim on Twitter.