/ Source: TODAY contributor
They've been buddies since kindergarten, but if C.J. Wickersham needed any more proof Connor Bystrom is a friend indeed, he probably can quit searching.
At his own considerable peril, Bystrom jumped in the water to save Wickersham in his moment of need after nearly getting his leg torn off by the razor-sharp teeth of a massive, marauding bull shark.
The pair gathered with five other friends for some aquatic fun near the coast of Florida's Anna Maria Island on Sept. 24. While the gang was getting ready to head back to shore around 3 p.m. after a day of boating, diving and spear fishing, the unexpected happened, and in the worst way imaginable.
21-year-old Wickersham was bobbing in the water near the boat, when a nine-foot-long, 500-pound bull shark bit down on his leg. From the boat, Bystrom saw his pal flailing in the water, getting pulled under for a few seconds, then a pool of blood begin spreading out across the water.
Bystrom jumped right in.
"There was no time to think about, 'Oh man, there's a shark in there that's looking to bite you,' " Bystrom told Kerry Sanders in a report on TODAY Thursday. "It was just, 'No, he got bit — get in the water, get him back, stop the bleeding and get him in.'"
Wickersham told TODAY he was out in the water looking for one last catch with his spear gun — he had already bagged 12 hog fish that day. "I looked down and saw a shark on my leg," he said. "I let go of my gun, hit it off with both my hands.
"I can't remember how hard I punched it, but I must have punched it pretty hard because it let go pretty fast."
Wickersham's wound was severe, even life-threatening. As Bystrom pulled him onto the boat with the help of their other friends, Bystorm saw through a grotesque open wound, which exposed bone and severed arteries.
"The whole back of the boat (was) all just blood," Kiera Dunn, a group member who called 911, told TODAY. Added friend Oceanna Beard, "I thought for sure he wasn't going to make it."
While friends used anchor rope to fashion a tourniquet around Wickersham's leg, pal Max Gazzo drove the boat back to shore, "just hauling butt," as Bystrom told The Ann Maria Islander newspaper. They made it to awaiting paramedics in five minutes, and Wickersham was airlifted to Bayfront Medical Center in St. Petersburg, where luck seemed to be smiling down upon him.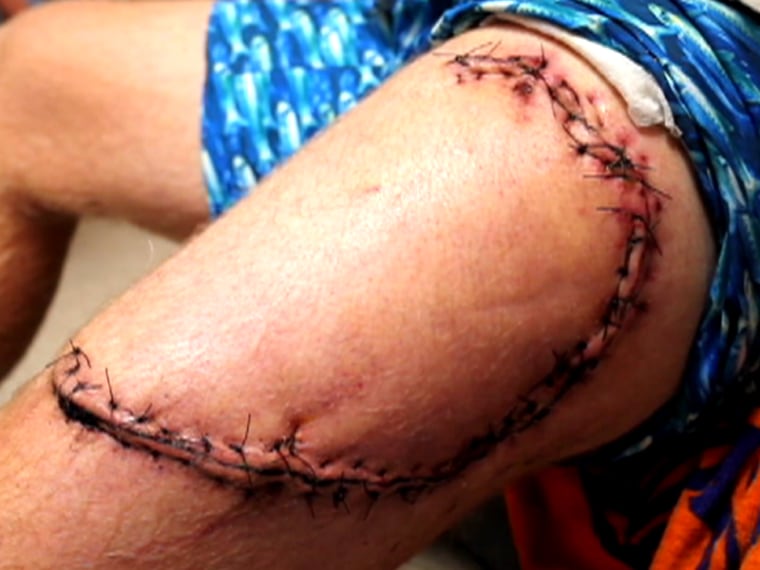 Even though his 12-inch by 12-inch wound caused him to lose half of his blood, the attending physician had recently returned from a tour in Afghanistan, and had the know-how needed to not only save Wickersham's life, but his leg as well.
Dr. Bob Heuter, director of Florida's Mote Marine Laboratory Center for Shark Research, said Wickersham can thank his lucky stars he's still alive.
"Quite often when you have a bite (like this), the shark gets the femoral artery, and the people bleed out before they can get medical help," Heuter told TODAY. "So this guy was really, really lucky."
Wickersham believes he was just as lucky to have lifelong pal Bystrom and a group of quick-thinkers at his side.
"My friends saved my life," he said.