Ed Zamora welcomed his wife back home from a trip abroad without saying a word. Instead, he played her a melody.
The retired band director used his trumpet to serenade his wife of 33 years, Melody Chatelle, as she entered the baggage claim area of the Austin-Bergstrom International Airport in Texas.
He played "What a Wonderful World," the Louis Armstrong classic that could melt even the coldest heart.
The song was a favorite of Chatelle's mother's, who passed away in 1999.
RELATED: Drivers stuck in traffic treated to string quartet performance
"We played it at her service, and whenever we hear it, we think of her," Zamora told TODAY.com. "We've traveled all over the world and every time we go someplace, someone is playing that song. It's become our song."
Yet, during her trip to Spain two weeks ago, Zamora said his wife noted she hadn't heard the song once. So he decided to play it for her upon her return.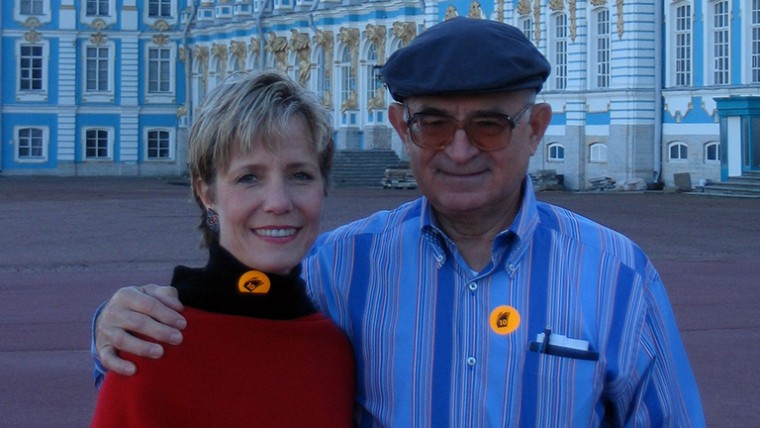 Chatelle said she was floored, especially because her husband rarely plays the trumpet anymore.
The timing couldn't have been better: Shortly before arriving home, she had learned that her father's health was failing.
RELATED: LAPD officers throw quinceañera for daughter of terminally ill woman
"So we went straight from the airport to my dad's bedside, and to have heard that song when I did, I was just floored. I was so touched," she said. "He gave us something to smile about."
Zamora's trumpet serenade was captured on video and posted on the airport's Facebook page. The couple said they have been tickled by the attention the video received and glad it has touched so many hearts.
"One of the takeaways is still be open to surprises after 33 years of marriage," Chatelle said. "For my husband to show up at the airport and do what he did was such a loving gesture.
"[I was] certainly in need of something uplifting, knowing where I was going and for what reason. It was a treasure that will always stay with me."
Follow TODAY.com writer Eun Kyung Kim on Twitter.