When wheelchair-bound Justin Skeesuck told his best friend, Patrick Gray, that he'd like to trek a 500-mile ancient route through the Pyrenees mountains and deserts of northern Spain, the idea seemed crazy. So too, perhaps, was the best friend's response.
"I'll push you," Gray said.
Skeesuck and Gray, both 39, are life-long best friends. Born 24 hours apart and raised in a small Oregon town near the Idaho border, they were best men at each other's weddings and still reside blocks from one another outside Boise. Even their kids — each has three — play together.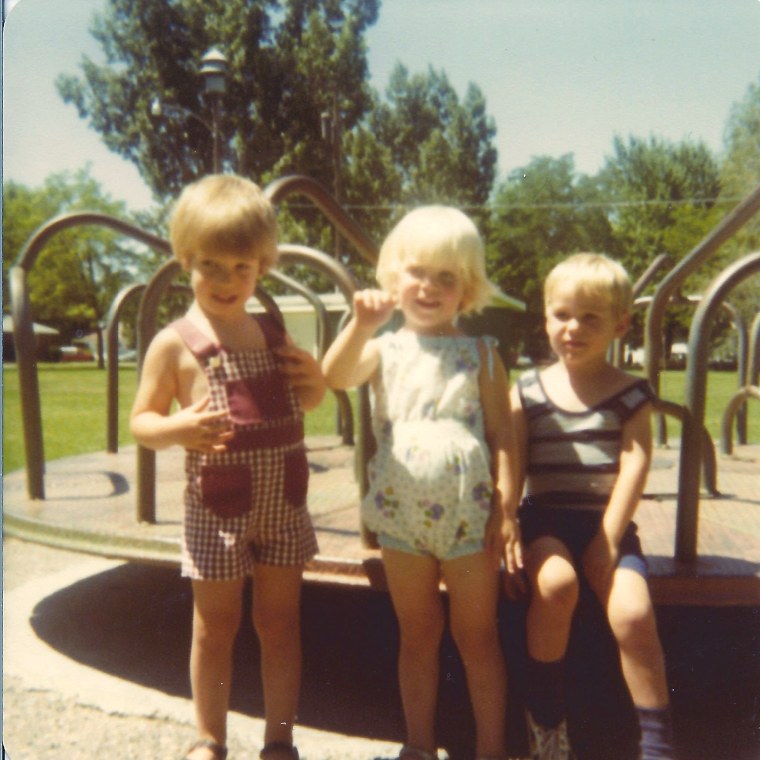 Despite all of life's adventures, nothing would have prepared them for El Camino de Santiago (The Way of St. James), the epic route across a region celebrated by Ernest Hemingway and for centuries traversed by pilgrims seeking renewal and redemption.

"It was insane," Gray told TODAY.com. "But we proved that even if you have limits in your life, they don't have to define who you are. Nothing is impossible."

Skeesuck, once a graphic designer for Fortune 500 companies, can no longer move. Over the years, an autoimmune disease triggered by a car accident has robbed him of his ability to stand, walk and, recently, to use his upper body. The disease attacks the nervous system, which responds by shutting down.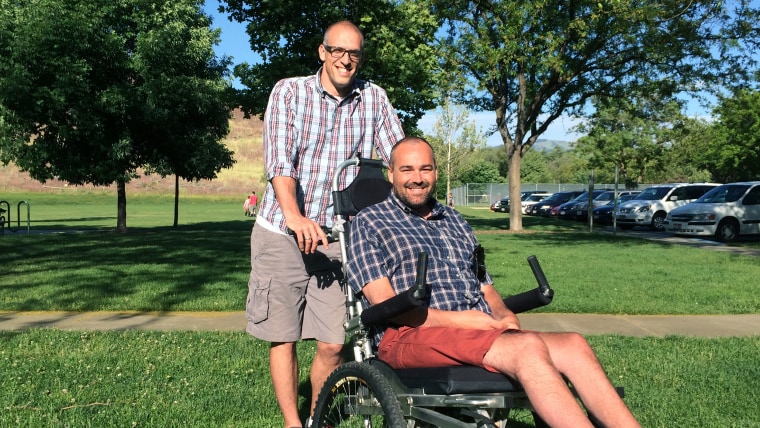 A self-described "positive person," Skeesuck felt himself sliding into a dark depression about two years ago when he lost the use of his arms and hands.
"It's very humbling to be in a position where you have to be bathed, you have to be helped going to the bathroom and having neighbors come over and pick you up off the floor when you've fallen down," he told TODAY.com. 
"You start to question the purpose of being here, and I could see that darkness and for the first time knew how people could get to that point in their lives and just live in that darkness."

One rainy, ugly day, a light went on. 
"I had the choice in my life to go down this road — or I could choose to make the best of it and reshape my life where I could still be an effective husband and father, where I could still achieve things," Skeesuck said. "I chose not to go down that dark road."
A life-long traveler, Skeesuck was wondering what to do with his life (now that he couldn't use his hands for design work), when a friend mentioned he should help disabled people learn to travel. So he set off on a "career change." The idea of hiking the Camino came after he heard about it on Rick Steve's travel show on PBS.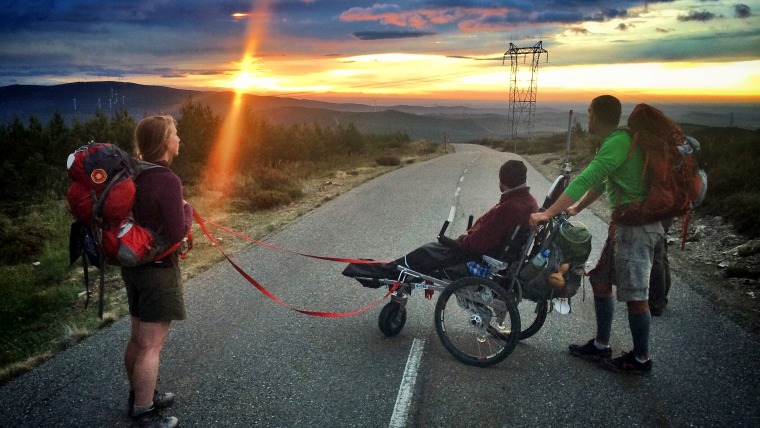 Skeesuck and Gray set up a website — illpushyou.com — to publicize their efforts and seek funding. Besides basics, they wanted money for a trailer in which Skeesuck could promote awareness for his disease and a four-person documentary crew to film their adventure. They hope to release a film some time next year if they can get additional funding.
Raw footage of the trek mixes with shots of Gray, and others met along the way, pushing Skeesuck across both easy terrain and hellish, muddy paths up mountains. The trip took five and a half weeks, ending July 12 in the northwestern city of Santiago de Compostela. The hardest part was on day two when they crossed from France over the Pyrenees into Spain. 
The 4,000-feet ascent climbs for 10 miles, much of it being rocky. Gray and Ted Hardy, a friend helping for the first days, had to carry Skeesuck for hundreds of yards. Finally, after reaching the top, "we turned a corner into a trail covered in mud," said Gray, a hospital manager.
"It was awful — the hardest thing I've done physically, mentally and emotionally," he said. "And then, the next day, the front wheel broke off Justin's wheelchair."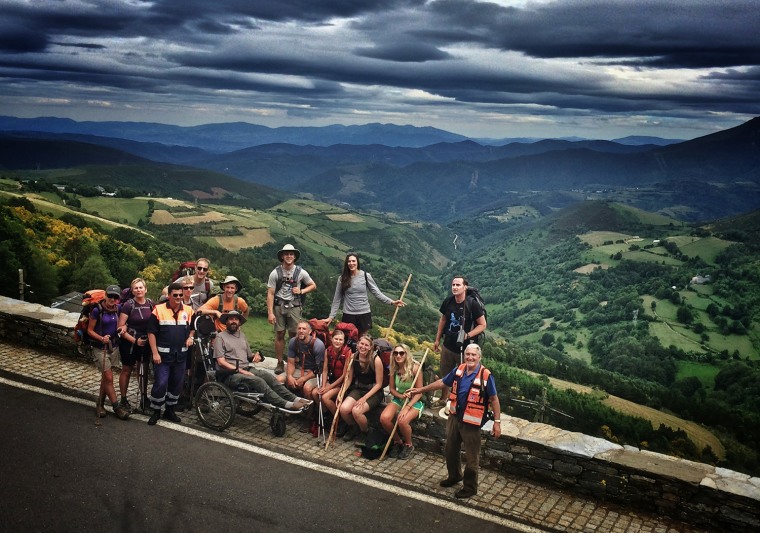 Like on many occasions on their journey, perfect strangers saved the day. A Spanish family helped them to a nearby village, where an old man served coffee and cookies while trying to find a welder to fix the chair. It was finally fixed in Pamplona and they returned to the trail.

"The whole point is these people didn't have to stop. They could have just kept on walking," Skeesuck said. "But our journey showed that if you jump out in faith, then with the help of community and with love, amazing things happen."
When they hobbled into the main plaza in Santiago at journey's end, they found not only their wives waiting to greet them — but a crowd of hundreds, many of whom they had just met along the way, applauding and cheering.
"Seeing my wife was like being reunited with my soul," Skeesuck said. "And it was so amazing at that moment, knowing that all these people loved me and supported me through this whole thing— complete strangers — and knowing we did it together."