When Tamara Bruzzo entered the hospital last week for her final round of chemotherapy treatments, boyfriend Lucas D'Onofrio decided to give her a second great reason to be excited about the future.
On June 5, D'Onofrio, 24, surprised his high school sweetheart with an engagement proposal right in her room at Florida's Boca Raton Regional Hospital. A friend shot a video of it, while another family friend, professional photographer Gio Morales, snapped beautiful photos of the emotional engagement.
"After the whole situation happened, around her second chemo session it hit me out of nowhere like an epiphany that it would be really great to propose to her on her last chemo session,'' D'Onofrio told TODAY.com. "I felt like it would mark the end of everything we have gone through together with the cancer and turn the page to a new part of our lives.
"She said she had a hint as soon as I started talking. I was super nervous and choking on my words and had to hold back tears, but she was very surprised and had no idea. It was perfect."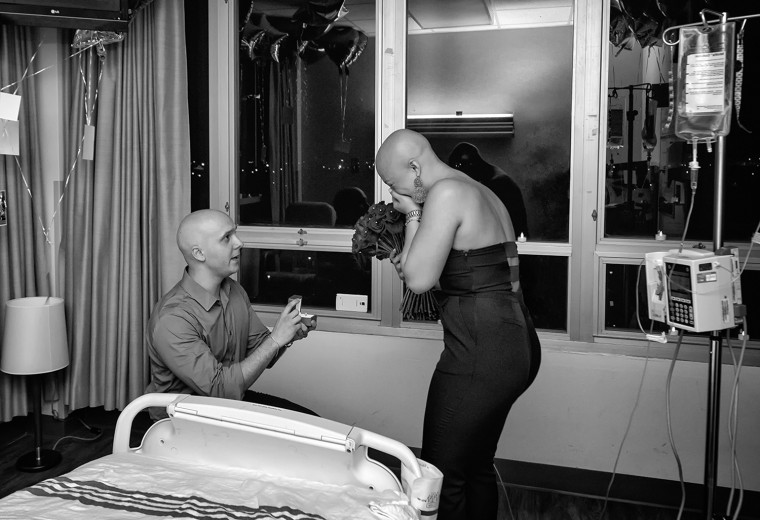 Friends and family initially had decorated Bruzzo's room for a Hollywood-themed night to celebrate her final 96-hour chemotherapy session. D'Onofrio had a friend and Bruzzo's sister run interference by convincing her to step outside her room for a few minutes to talk.
He and a group of about 30 people, including hospital staff, then transformed the room from a Hollywood theme to a romantic one full of 100 candles, 100 bouquets of roses and 60 balloons that he had stashed in an empty side room. He had planned the Hollywood theme on purpose because he wanted Bruzzo to be all dressed up for the proposal.
"Friday was going to be a Hawaiian theme, but he and my mom convinced me to do Hollywood night,'' Bruzzo said. "I fought with them for a while, but now I see why they wanted to do it. My first reaction was that he was just being romantic and wanted something intimate before my last chemo session. I had no thought of a proposal. I was shocked."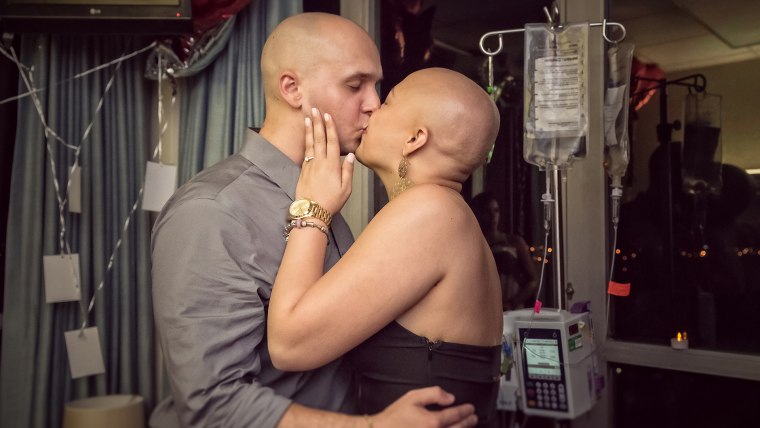 The couple has been together six years, since they were students together at Spanish River Community High School in Boca Raton. On Feb. 17, D'Onofrio's birthday, Bruzzo was diagnosed with non-Hodgkin's lymphoma at 21 years old.
"To hear the doctor confirm that, it was very heartbreaking and soul-crushing,'' D'Onofrio said. "There was nothing I could do, and that was the worst part. I tried to keep it positive the entire time, and it did bring us a lot closer together. It really showed our husband-and-wife qualities."
"We've had some ups and downs like every relationship does, but this was one of the toughest things to go through,'' Bruzzo said. "I went through so many changes in such a short period of time, but he didn't let that affect us."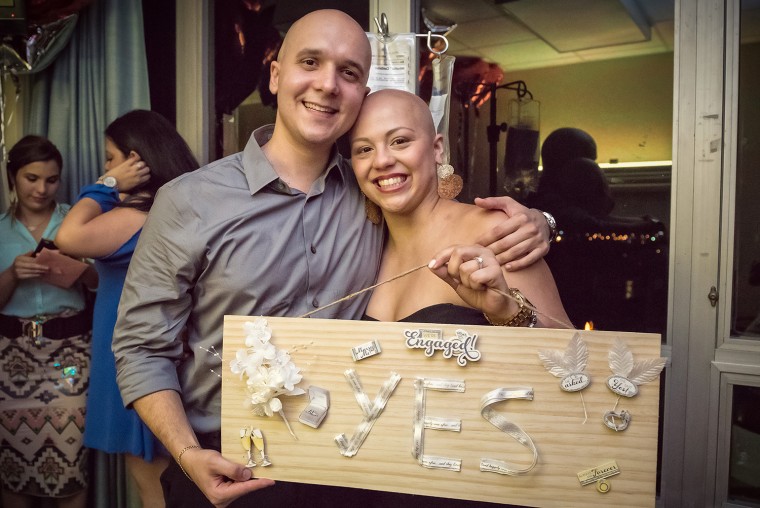 In March, Bruzzo's hair began falling out for her treatments, so she had some of her girlfriends over to buzz off the remainder of it for her. D'Onfrio then showed up with his head newly shaved as well.
"I wanted to show her that I was with her all the way,'' he said.
Bruzzo completed her last chemotherapy session on Wednesday. She said she has a positron emission tomography (PET) scan next week, but her doctors have told her they believe she will not need any more chemotherapy. She can now turn her attention to setting a wedding date and planning the big day after her memorable engagement. The couple hopes to get married around the end of 2016.
"I just felt so special and so much support from my family and friends,'' she said. "Everybody who has seen me has been like, 'When is your wedding?' It's just been an amazing time."