When Steve Mershon, 54, found a soda bottle with a letter inside on the beach near his Indialantic, Florida, home, he expected an everyday note from a friendly stranger.
"I thought it would have a name, an email address, a 'Hi to whoever is reading this!'" Mershon told TODAY.
What he found was far more personal and, for Mershon, emotional: a letter apparently from a fifth-grade boy named Jonothan, addressing a friend who had passed away.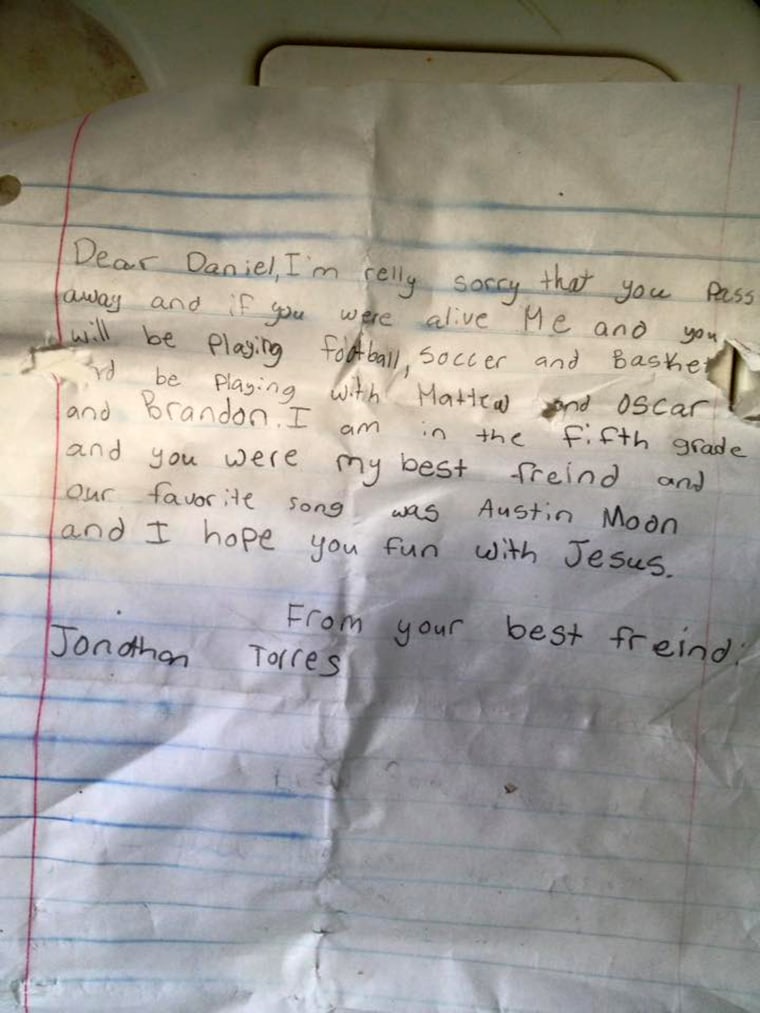 "If you were alive me and you will be playing football, soccer and basketball and be playing with Matthew and Oscar and Brandon," the letter read. "You were my best friend … I hope you fun with Jesus [sic]."
RELATED: Purple Heart on sale for $4.99 at Goodwill store reunites with veteran's family
"To see some little kid pouring his heart out to his buddy like that … It was bothering me all day," said Mershon. "I felt like I had to respond."
Given the lack of marine growth on the bottle, Mershon could tell that the letter was relatively fresh. He penned a response to Jonothan, sending his condolences and detailing plans to release the note back into the ocean, along with his own addition.
Mershon then posted the letter on Facebook, hoping his words might find their way back to the heartbroken young man.
"I don't need to find him, personally, but I want this letter to find him," Mershon explained. "To say, you didn't write that in vain. I found it, and now other people will too."
RELATED: 'Help me' plea found under multiple bottles of SoBe drinks causes concern
Mershon's reply has since been shared hundreds of times. Despite receiving some criticism for posting what appeared to be a deeply personal note, Mershon feels that he did the right thing.
"It didn't just touch me — it's touching everybody," he said. "I've gotten so many messages and friend requests … people have shown so much love."
Mershon thinks this response has been driven by a basic human instinct. "We like feeling connected," he said. "We like seeing that connection happen, even if it's not about us."
He plans to release the bottle back into the ocean on a cruise in mid-May, and hopes that he — and possibly Jonothan — will get to hear more of its journey.
"This is just getting started," he said.