/ Source: The Associated Press
Jessie Pullins is certain J.J. recognized him when the door to his dog cage swung open, reuniting them for the first time since Hurricane Katrina struck nearly four years ago.
A film crew was rolling when the head of a California humane society stepped off a plane and delivered J.J. to Pullins, who reluctantly left the dog behind when the storm chased his family out of New Orleans in August 2005.
"When he came out of the cage, he came straight to me," Pullins recalled Wednesday, two days after their reunion at Louis Armstrong New Orleans International Airport.
"J.J. is a part of me, a part of me that was missing for a long time," he added.
Pullins knew for more than two years that his dog was rescued from his home, flown to California and adopted by two sisters, but it took a court battle to reunite them. Pullins' quest to regain 5-year-old J.J., a male Labrador-shepherd mix, is portrayed in "Mine," a documentary that won an audience award at this year's South by Southwest film festival and is scheduled to be broadcast by PBS next year.
The film tells stories of animal lovers who streamed into New Orleans to rescue thousands of stranded pets after the hurricane. It also shows both sides of the ownership disputes that later cropped up between Gulf Coast residents and some of the hundreds of people who adopted pets.
In Pullins' case, the humane society official who oversaw J.J.'s adoption said she's happy about the reunion, but pointed out it involved a sad ending for the adoptive owners.
"This was just a situation that had no perfect ending. Somebody had to get hurt with it," Cheri Lucas said.
'Not a simple situation'Geralyn Pezanoski, the film's San Francisco-based director and co-producer, said she encountered about a dozen owners whose pets had been adopted by others and included several of those stories in the film. She also interviewed people who adopted Katrina victims' pets.
"I wanted people to see what I saw: It wasn't a really simple situation," she said.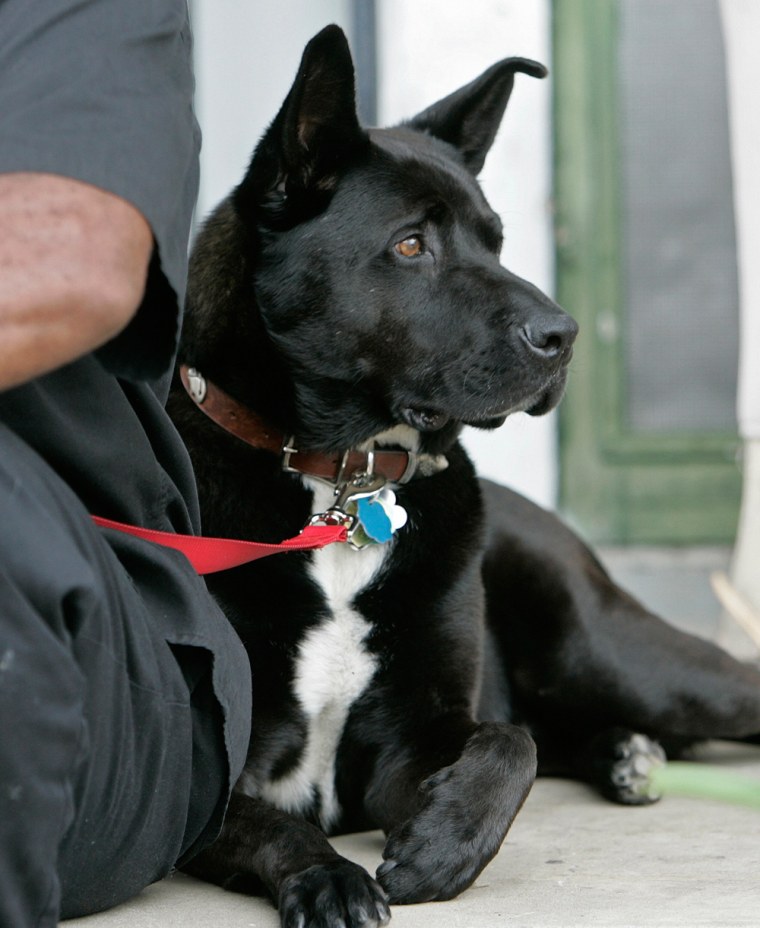 Pezanoski met Pullins in 2006, shortly after he had learned J.J. was in California.
Pullins, 52, told her about his background as a recovering drug addict who was homeless for years before he kicked his addiction and landed a job at a downtown hotel. And he told her how he found companionship in J.J., short for Jessie Junior, after his wife died of cancer.
Two days before Katrina made landfall, Pullins took his family to Baton Rouge and left J.J. with a healthy supply of food and water. Pullins said an evacuation order prevented him from returning for the dog.
"We didn't think we would be gone more than a day — two at the most," he said.
The city was still sealed off when animal rescue workers removed J.J. from the home about three weeks after the storm. The dog was flown to Los Angeles with other rescued animals.
J.J. and 28 other dogs wound up at the Second Chance at Love Humane Society in Templeton, Calif. Lucas, the society's founder, said she returned three of the dogs to their owners and waited several months before finding new homes for J.J. and others.
'No good guys or bad guys'
In the meantime, J.J. appeared on a television show about Katrina dogs waiting to be reunited with their owners. A woman in California who helped rescue Katrina pets and knows Lucas saw the show and realized she had the paperwork to match J.J. with an address.
Within days, Pullins found a note attached to his storm-damaged home that told him how he could find his dog. Lucas was notified that Pullins wanted to claim his dog, but the lawsuit that Pullins' lawyer filed in a California state court says she refused to help return him. The lawyer, Stephen Dye, volunteered to help Pullins sue the sisters and Lucas' organization.
"It was a year after Katrina, and he had already been placed," Lucas said.
After more than a year of legal wrangling, the sisters who adopted J.J. agreed to send him to New Orleans to be reunited with Pullins. Listings for the sisters, Robin Henningsen and Kathy Franco, couldn't be found in the hometowns given by Dye, and Lucas didn't immediately return a message seeking their contact information.
"They were super innocent in this," Lucas said of the sisters, who weren't interviewed for Pezanoski's documentary.
Pullins says he doesn't harbor any grudges.
"I need people to understand: There are no good guys or bad guys," he said. "It's only about me and J.J."