It isn't easy to avoid the chatter on the results of the presidential election, but somehow Joe Chandler has managed to find a way.
Chandler, of Brunswick, Georgia, has no idea that Donald Trump defeated Hillary Clinton in last week's election — seriously! He's been avoiding newspapers, TV and the internet. He's even gone so far as to wear headphones outside the house so he can tune out any political talk.
And just in case you're skeptical, know that Chandler has also been wearing a sign that reads, "I don't know who won, and don't want to. PLEASE DON'T TELL ME." He's not messing around!
"I divert my gaze from newspaper boxes … I don't venture out very often, and when I do I wear my headphones and my sign, and people have been very respectful of my decision," Chandler told TODAY in a Skype interview Saturday.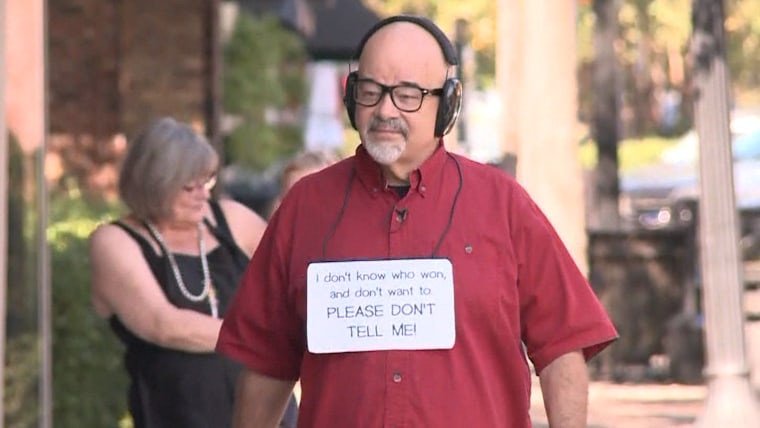 Chandler hadn't planned on doing all of this. He explained that he was invited to a gathering at a friend's house on election night. But Trump was declared the winner early the next morning and Chandler didn't hear the news.
"All I wanted to do is give myself 24 hours of blissful ignorance," he said.
RELATED: Experts weigh in: How to talk to your kids about the election results
"And I was talking to my daughter near Atlanta, and she said, 'You know, you may be the only person in the country, other than those in a cave or something, who still doesn't know.'"
Chandler said he won't reveal which nominee he was rooting for until he finds out who won. So, when will that be?
RELATED: Ellen DeGeneres delivers heartfelt election message: 'We all love our country'
"I don't really have an exact exit plan," Chandler stated, joking that he may eventually learn the results at an event similar to a gender reveal party — only, instead of revealing the gender of a baby via the color blue or pink, he'd discover the winning political party via the color blue or red.
Until then, don't spoil the election for him!
Follow Shane Lou on Twitter.