/ Source: TODAY contributor
For more than two years after he was cut in half by a train, Truman Duncan avoided media requests for interviews as he recovered from his injuries and went back to a full and productive life. Now, he's speaking out to let others, including soldiers who have suffered traumatic injuries like his, know that life is still very much worth living.
"Life is good," Duncan told TODAY's Matt Lauer Monday in New York. "Life goes on."
The 38-year-old from Cleburne, Texas, pronounced this from a wheelchair, the stub of his right thigh showing from his pants leg.
Duncan is breaking his media silence now, he said, "just to let people know how I'm doing. I had so many people inquiring. And to help soldiers who are having a little bit of trouble — they've lost their limbs — and let them know life is good, goes on, you know."
'I think I'm cut in two'
A video had just aired that recounted the horrific June 2006 accident that took the rest of Duncan's right leg as well as his left leg, pelvis and kidney. The railroad switchman fell off a moving train car at the Gunderson Southwest rail yard in Cleburne.
For some 20 seconds, Duncan hung onto the car, trying to run backward to escape being run over. But he fell underneath the car, got caught in the undercarriage, and was run over by steel wheels supporting 20,000 pounds of dead weight.
Remarkably, he remained conscious and had the presence of mind to call 911 on his cell phone. On the 911 tape, he sounds out of breath but remarkably calm.
"I need 911. CareFlite. I think I'm cut in two," Duncan says on the tape.
"Someone got run over?" the operator asks.
"It was me," Duncan responds. "I guess I'm going into shock. Hurry up, ma'am, because I'm about to pass out."
It took 45 minutes for responders to arrive and extricate Duncan from under the train. Despite massive blood loss, he stayed conscious and even managed to call his family while he was waiting to be rescued.
Duncan has three children. His eldest son, Trey, 19, recounted the conversation for NBC News: "I told him I loved him with all my heart, and he was the best dad I could wish for."
That best dad now plays catch with Trey, flinging a football with pinpoint accuracy from his motorized wheelchair.
'God had some hand'
Dr. David Smith of Harris Methodist Fort Worth Hospital is the surgeon who was on call in the emergency room when Duncan was airlifted in. He calls the cheerful man with the stylish goatee nothing short of a miracle.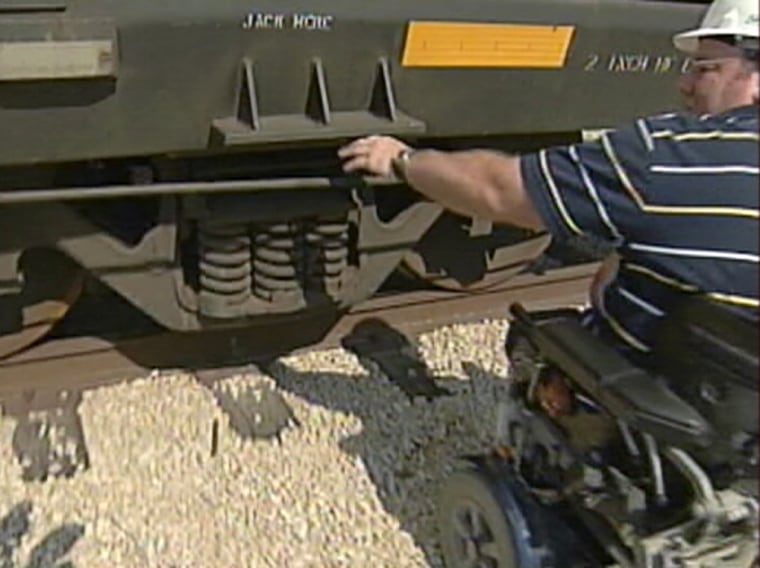 "When I first heard the report … I thought for sure I'd be going down to pronounce somebody dead," Smith, who came to New York with Duncan, told Lauer. "When I got there, he was critical, he was unresponsive and his blood pressure was quite low."
So, Lauer asked, what kept Duncan from bleeding to death before he got to the hospital?
"God had some hand in that, I'm sure," Smith replied without hesitation. "His physiology is remarkable, and possibly the weight of the train itself helped keep some pressure on his arteries."
Smith also said that Duncan's will to live had a lot to do with it. Duncan himself has said that during his ordeal, his Red Cross training told him he was going into shock and losing large quantities of blood. But he also said he never thought that he was going to die.
"I wanted to see my babies grow up, just like everybody else. I just wanted to live so I could see my kids grow up," he told Lauer.
Where did he get that incredible will, Lauer asked.
"I don't know. It's a good trait," he said, his soft, low-key voice redolent of his Texas home. "I guess from Dad and my mom. Mom's real strong-headed. Daddy is, too."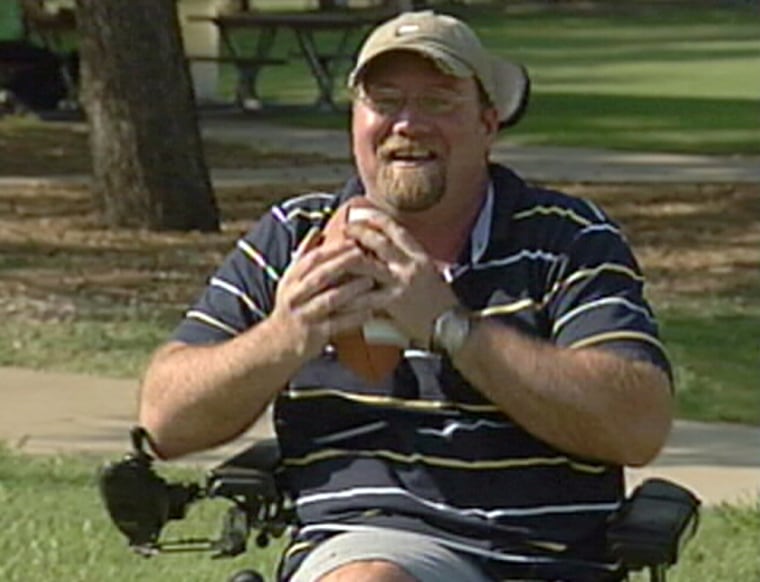 23 surgeries
Smith and other doctors spent 3 ½ hours saving Duncan's life and cleaning gravel, dirt and grass from his wounds. He was in a coma for three weeks and underwent at least 23 surgeries over the next four months before finally being released from the hospital.
Duncan's insurance paid for remodeling his house to make it wheelchair-friendly, and Duncan went back to work at his old company, which repairs and refurbishes rail cars.
Duncan told NBC that it now takes him longer to do some things, but he still does everything he used to do, including swimming and playing with his kids. He drives himself in a car equipped with hand controls. And he's looking forward to learning to get around with prosthetic limbs, a long process that he said will begin next week.
Lauer expressed amazement at Duncan's indomitable will and infectious good spirits. He concluded that there's just one reason that Duncan is still alive: "Surely, someone's got a plan for you."
"I guess so," Duncan replied.