She's growing up!

President Barack Obama shared in an interview on Friday that his oldest daughter, 15-year-old Malia, recently attended prom for the first time.
"Malia did have her first prom," the president solemnly said on "Live! With Kelly and Michael." "It's fair to say that the first time you see your daughter in heels is a bit jarring."
When asked whether Malia, a high school sophomore, attended prom with a boy, the president deadpanned: "This is all classified information."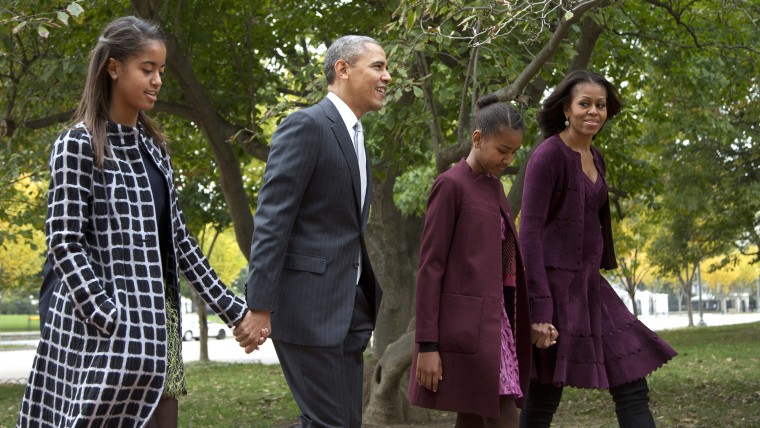 The high school tradition marks a milestone for the Obamas, who have had to juggle raising their two growing daughters in the spotlight. The issue of dating is one the president and first lady have addressed over the years.
"Dating, I think, will be an issue because I have men with guns surrounding them at all times, which I'm perfectly happy with, but they may feel differently about it," President Obama told Newsweek back in 2009. The following year, the president referred to then-12-year-old Malia as his "baby," and confessed he was grateful she had to wear braces because they made her look like a kid.
Fast forward to 2014: The first family includes a teenager who is growing up quickly, and her younger sister Sasha is about to turn 13 in June. 
In an exclusive interview with TODAY's Jenna Bush Hager in February, first lady Michelle Obama talked about the challenges of raising teenage daughters in the presidential spotlight. 
"We don't talk about weight. We don't talk about physical appearance," Michelle said. "We talk about health. We talk about what's on the inside. We spend so much more time talking to our girls about being kind and treating others well, and being passionate and respectful."
Earlier this month, the first lady heralded yet another looming milestone by issuing a humorous warning to motorists in Washington, D.C.: Malia plans to start driving for the first time this summer after she turns 16 on July 4.
The historic halls of the White House ring with the energy and enthusiasm of youth: presidential daughters Malia and Sasha. Here are images of their adventures over the years.