It's been 20 years since the "Magnificent Seven" became the first U.S. women's gymnastics team to win Olympic gold in a performance that still reverberates all these years later.
The team of Shannon Miller, Dominique Dawes, Dominique Moceanu, Amy Chow, Amanda Borden, Jaycie Phelps and Kerri Strug became part of Olympic lore with a heart-stopping win over Russia in 1996 in Atlanta.
The group that laid the foundation for a U.S. women's gymnastics team that has since become an international powerhouse spoke with Natalie Morales on Tuesday as part of TODAY's "Where Are They Now?" series
"I think that gold medal really changed the trajectory of all of our lives,'' Strug, 38, told Morales.
"It's surreal,'' Dawes said. "Twenty years later, it's good just to see that everyone's happy, everyone's healthy, everyone is married (and) either starting families or have families of their own."
RELATED: Dominique Moceanu: What life is like after you win Olympic gold at 14
The signature moment came when Strug stuck the landing in the vault to give the U.S. the win despite two torn ligaments in her left ankle. Coach Bela Karolyi carried her to the podium for the medal ceremony.
"That vault signifies a lot more than people understand,'' Strug said. "Because finally when all eyes were on me, I dealt with the pressure and now how I view myself and what I'm capable of is very different because of that vault."
RELATED: US women's gymnastics team primed 'to go to Rio and just dominate'
"That moment led us into who we are today,'' Phelps said. "So I'm very grateful I was able to be a part of it."
Miller, 39, remains the most decorated gymnast in U.S. history with a total of 16 medals between world championships and the Olympics. In Atlanta, she won gold in the balance beam competition to help the U.S. claim the team title.
"In some ways, it feels like yesterday,'' Miller said. "You close your eyes and you can smell the sweat and the chalk of the arena. But in other ways, it seems like a lifetime ago."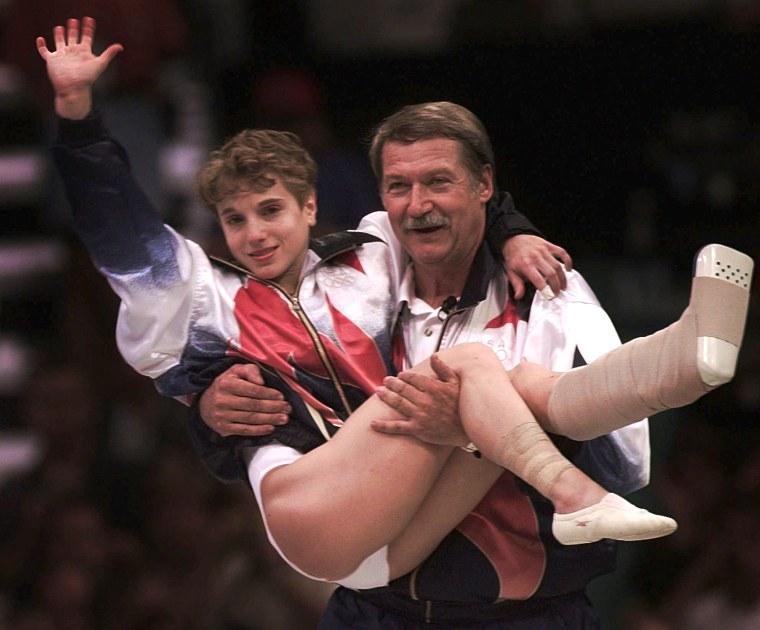 Miller is now a mother of two and an ovarian cancer survivor who underwent chemotherapy after being diagnosed in 2011.
RELATED: Gold medalist Shawn Johnson reveals her secrets to Olympic success
"I'm doing great,'' she said. "We celebrate the 20th anniversary of the '96 Olympic team, but I just celebrated five years cancer free, so I'm very blessed, very fortunate."
Since the inspiring performance of "The Magnificent Seven" in 1996, the U.S. has become a dominant force in U.S. women's gymnastics.
The Americans won the team gold at the London Games in 2012 and are the heavy favorites to defend their title next month in Rio de Janeiro. Simone Biles, 19, is also a strong favorite in the all-around competition.
"I am so proud to have this team to have been role models for the next generation, to be able to leave a legacy where people think back to our team and they smile,'' Miller said.
Follow TODAY.com writer Scott Stump on Twitter.