/ Source: The Associated Press
The son of disgraced financier Bernard Madoff swallowed a batch of sleeping pills in a failed suicide attempt four months before he killed himself on the second anniversary of his father's arrest in the biggest financial fraud in American history, according to a new book by his widow.
"The End of Normal: A Wife's Anguish, A Widow's New Life" gives an intimate account of Mark Madoff's two years of torment over the infamous swindle that wiped out thousands of his investors and — by his wife's account — left him a man broken beyond repair. The book vilifies her father-in-law "Bernie" while calling her husband an innocent bystander and "hero" for turning him in.
"There are people who never knew Mark Madoff, yet who gleefully point to his suicide as proof that he must have known of or participated in his father's epic crime," Stephanie Madoff Mack writes in the book that went on sale Thursday. "Nothing could be further from the truth. His death was proof of his pain."
Stephanie Madoff says she took the name Mack to try to deflect fallout from the scandal.
"I wish I could have changed my birthday as well," she writes. "I share the date with Bernie."
Elsewhere in the book, she writes, "I hated Bernie thoroughly and deeply from the instant Mark told me what he had done."
The elder Madoff, 73, was arrested on Dec. 11, 2008 — the morning after his two sons notified authorities through an attorney that he had confessed to them that his investment business was a multibillion-dollar Ponzi scheme. The following year, he pleaded guilty to securities fraud and other charges and was given a 150-year prison term.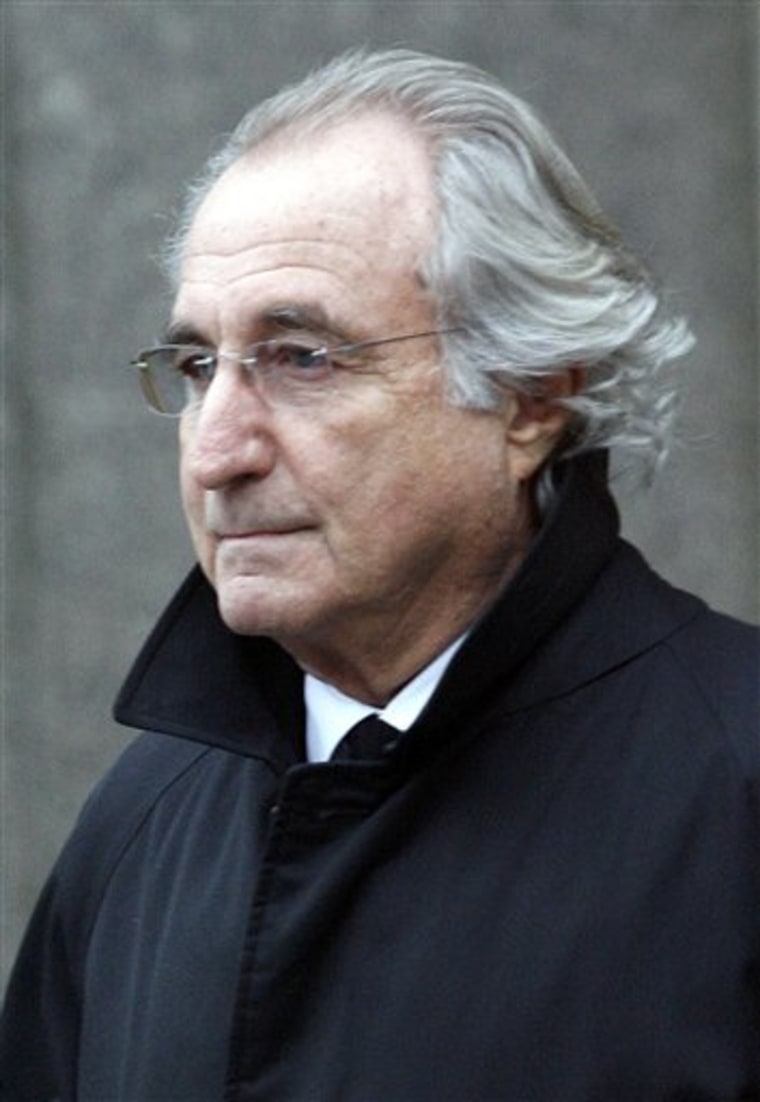 The former Nasdaq chairman has always insisted that his family was in the dark, and Mark Madoff, his brother and uncle — all executives for a broker-dealer operating under the same roof as the crooked private investment firm — have never been charged. But they have come under intense scrutiny by the FBI and by a bank-appointed trustee seeking to recover funds for burned clients.
Increasingly isolated
Before his death, Mark Madoff became increasingly isolated and obsessive about news coverage of the runaway scandal, his wife says. Two weeks after watching a "60 Minutes" segment on the case, he briefly vanished.
He surfaced in a fog at home several hours later. She says he told her he had just woken up after taking 30 sleeping pills inside a hotel room where he left a suicide note reading: "Bernie: Now you know how you have destroyed the lives of your sons by your life of deceit."
When Madoff appeared to stabilize after a hospital stay, she decided to take their daughter to Disney World in Florida, she writes. He stayed at home to care for their young son Nick in their Manhattan apartment.
Once away, the couple stayed in touch with a series of texts included in the book. She panicked when she read one with the subject line "Help" and the message, "Please send someone to take care of Nick."
Her father discovered his son's body hanging from a dog leash the victim had fashioned into a noose.
Madoff "had never known anything but privilege," his widow writes, "and he lacked the basic tools to cope with any adversity, much less a monumental one."
There was no immediate response to a message left Wednesday with Bernard Madoff's attorney.