/ Source: TODAY contributor
As a graduate student on a budget, Heather Greene found herself turning to whiskey — and not for the reasons you might think. Rather, it was a practical decision: a long-time wine drinker, she would often buy a bottle just to have a glass in the evening. But a few days later, she was left with a vintage gone stale — that is, if she hadn't drank the whole thing herself so as not to waste it. She figured out that a tumbler of Scotch at home only cost $4 — and she could just cork it for the next time. In the course of being frugal, she started to love Scotch.
Years later, Greene is the brand ambassador for Glenfiddich whiskey and is also on a mission to introduce the liquor to women — more of whom are becoming interested in spirits previously perceived as boys' territory. Twenty years ago it was unusual to find a woman at a bar ordering a cognac, bourbon, fine scotch or sipping tequila, but now women are leading a classic cocktail renaissance.
"Whiskey has become more accessible to both men and women — especially the younger generation," said Alan Shayne, president of the Scotch Malt Whiskey Society. "There are so many different styles now and a wide range of flavors and aromas — there really is something for everyone." That variety, Shayne says, has made more whiskey drinkers out of women. When his organization started in the U.S. 18 years ago, female membership was at 2 percent. Today, it has jumped to about 13 percent.
The LA Times recently reported that more women have been buying alcoholic beverages in general, from ordering at restaurants to at-home consumption. Gary Stibel, founder of the New England Consulting Group, told the paper that "women make 65 to 70 percent of the alcohol-purchasing decisions for at-home consumption."
And some experts suggest that women are actually more discerning about what they drink, and better able to appreciate the nuances of high quality liquors.
"Women have been becoming comfortable with wines for 20 years, and fine liquor is the next frontier," said Greene. "Whiskey, for example, has had over 400 aroma compounds identified, including pear, vanilla, honey, caramel, etc. Women's palates are actually better suited to taste and enjoy these profiles."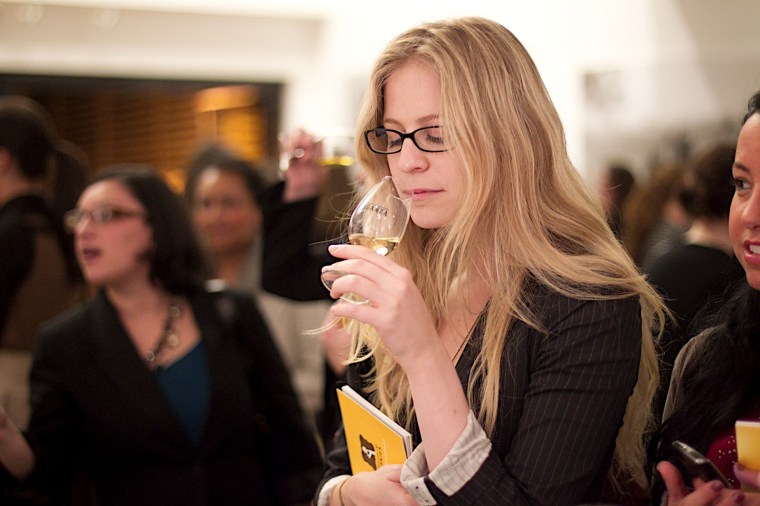 Rosa Choba, a 29-year-old librarian in Boston, said she jumped on the bandwagon when she discovered that many of her friends drank whiskey.
Whiskey is "so popular right now," she said. "A few people around me drank it so I figured I would try it … no one reacts, really, because they all drink it too."
The alcohol industry is happily seizing upon its emerging female market. Greene has launched a Women & Whisky campaign — a series of events with the goal of engaging women and spreading the word about single-malt Scotch.
Brooklyn resident Lindsey Trout, 24, said that she is treated much differently than men when ordering such drinks.
"Any time I lean over a bar and ask for whiskey neat, there's usually some sort of reaction — sometimes laughter," said Trout, who was introduced to whiskey by her boyfriend in college. "I've been given free drinks more than once just for being a small woman who orders something surprising."
Give these whiskey cocktails a try
To liquor companies, women are an appealing demographic, because their willingness to buck tradition suggests they're more open to other options. "Men have established a rapport with the Johnny Walkers of the world and the Jim Beams of the world — but women are interested in seeing what else is out there," said Jaime Salas, mixologist and brand ambassador for Milagro Tequila.
Women's evolving drinking preferences present opportunities for industry innovation.
"Spirits are a pretty conservative industry," said Colin Spoelman of Kings County Distillery. "More women are getting interested in whiskey at the same time as a lot of small distillers are bringing creativity and openness to a field that really hasn't changed much since just after the repeal of Prohibition."
While women may be helping to usher in a new era, many are still smitten with the idea of these liquors as a representation of old-school glamour. Greene attributes much of this trend to the media. "Consider what's on television these days — 'Mad Men,' 'Pan Am' and 'Boardwalk Empire,'" she said. The difference between then and now? When women order a Sidecar or an Old Fashioned, they're picturing themselves as more of a Don Draper than a Betty. "Tastemakers in media are women, so the trend is compounding upon itself," Greene added.
"I've always thought whiskey was sexy and sophisticated, but was always scared to try it — I had no idea where to start," said Melissa Browne, 29, who recently attended a Women & Whisky event. Since experimenting, she's gotten over the intimidation factor. "I've always enjoyed actually being able to taste my liquor — and a good whiskey doesn't need much."