Looking for a present that will delight your loved ones and make you feel good? Lucky magazine's favorite designers and retailers are teaming up with worthy charities for the holidays — and the results are stellar.
Bing Bang
Crystal Pyramid Studs
20 percent of proceeds from these graphic, on-trend rose-gold-plated and crystal earrings go to the Society for the Prevention of Cruelty to Animals International. $95, annasheffield.com
Mad Imports
Calabash ToteThe craftswomen in rural Kenya and Madagascar who handmake these beautiful, rustic bags are part of a fair-trade partnership, and 15 percent of online sales go toward building clean water wells and microenterprise development in their communities. $95, madimports.org
Red Flower
Ocean Purifying Body Wash
Made with organic and sustainable ingredients like biodynamic honey, this cools and purifies the skin on contact — plus, a portion of the proceeds goes to benefit The Blue Project, a group working to preserve the coral reefs in the Bahamas. $20, redflower.com
TOMS
Slip-on ShoesThese easy-chic styles are available in an amazing array of shades — from brown suede to metallic silver — and for every pair purchased, TOMS will give a pair of shoes to a child in need (any style). $65, tomsshoes.com
Tiny Wishes
"The Heal Charm" on Pink Silk CordPerfectly petite and easy to mix with other charms. 20 percent of proceeds of this necklace benefit the Share.Inspire.Heal Breast Cancer Foundation. $100, givingtreejewelry.com
Philosophy
The Recipe BoxThree bottles of Philosophy's famous shampoo/shower gel/bubble bath formula, in melon smoothie, orchard pear, and raspberry sorbet flavors. The adorable package includes very cute and doable recipes, and all proceeds support PBS KIDS and PBS. $18, philosophy.com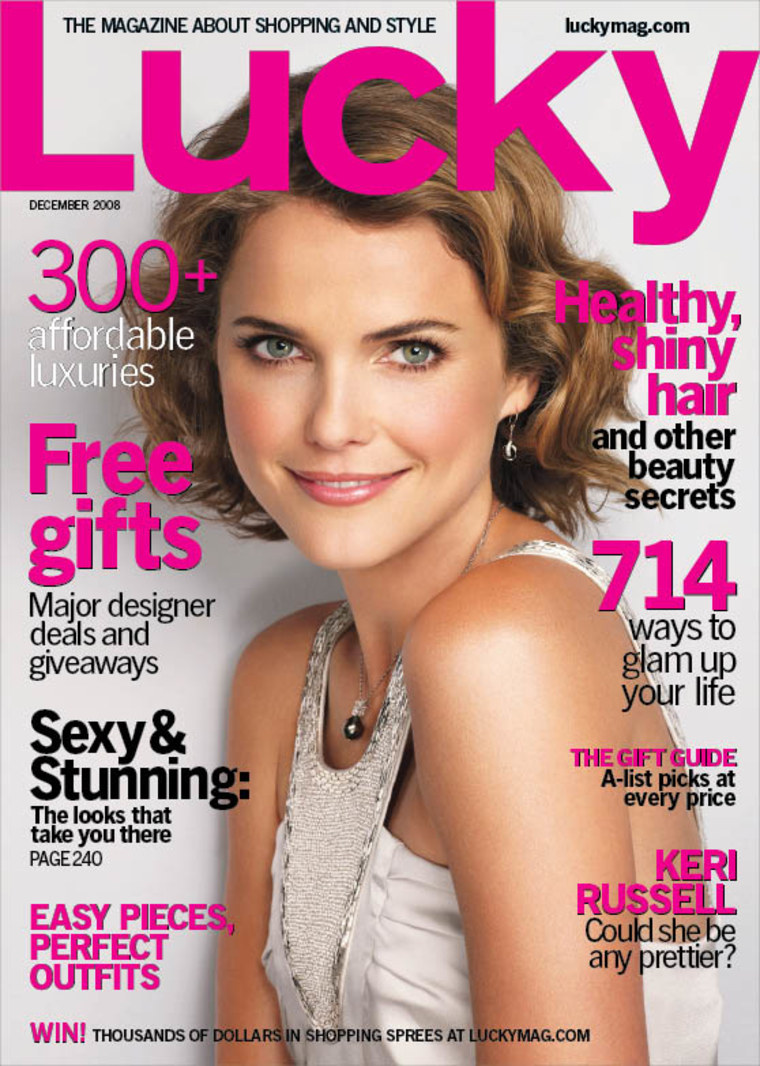 Perry Gargano
"Hearts on Fire" Cuff40 percent of profits from this statement-making, rough-hewn cuff, available in both gold and silver plated, benefit the Red Cross International Relief Fund. $125, perrygargano.com
Monique Pean
"Africa" Necklace
We love this graphic, sleek vibe of this pendant; 50 percent of proceeds go to Charity: Water to provide water and sanitation to disadvantaged communities. $465, moniquepean.com
Lutz & Patmos
"Omi & Opi" Sweater$20 from the sale of each of these perfectly chunky, winter sweaters — designed by actress Kirsten Dunst — goes to The Art of Elysium, a nonprofit organization that encourages artists to donate their time and talent to children battling serious medical conditions. $395, saks.com
Lush
Charity Pot Hand and Body LotionAlready known for being eco-friendly, now Lush is donating all proceeds from this creamy lotion to the Lush Charity Pot Fund, benefiting various groups, with a particular focus on animal protection and environmental conservation. $20.45, lushusa.com
A Peace Treaty
"Tira" ScarfThis line has an amazing collection of hand-loomed scarves that ranges from preppy to arty. 10 percent of sales go to Counterpart International to support international development projects (all scarves). $78, apeacetreaty.com
David Babaii for WildAid
Hydrating Shampoo10 percent of revenue from this eco-conscious line from renowned hairstylist David Babaii and actress Kate Hudson goes to global wildlife conservation through WildAid. $13.95, db4wildaid.com
Miriam Haskell
Chandelier Earrings
Sophisticated and organic, this artful pair is part of Miriam Haskell's time-tested collection (worn by everyone from Coco Chanel to Angelina Jolie). 20 percent of proceeds go to the Arthritis Foundation. $300, miriamhaskell.com
Botkier
"Gemma" Small Zip Wallet in Gunmetal BubbleBotkier is known for its flawlessly modern accessories — like this little wallet. 20 percent of sales will go to the Madison Square Boys & Girls Club, a group working to enhance the lives of needy New York City youth. $225, botkier.com
Whiteflash
"Mini Dreams of Africa" Pendant100 percent of the profits from this elegant, lacy, and conflict-free diamond pendant collection will be donated to the World Centers of Compassion for Children International. $1,275, whiteflash.com
Sephora
The Sephora Project Change Purse
This hot pink clutch is a steal for $5 — and three of those dollars go to Girls for a Change, a national organization that empowers girls to spur social progress. $5, sephora.com
Aid to Artisans
Uzbek Silk ScarfAll funds generated from the ATA store, which features an eclectic mix of worldly home decor and fashion items, like this colorful ikat scarf, directly benefit artisans in developing countries, who are paid fair-trade wages for their works. $42, aidtoartisans.org
Rock & Republic
"Kasandra" Rock The Cure Flares100 percent of the profits from this classic dark-wash, boot-cut pair directly benefit City of Hope and its work in stem cell and immunotherapeutics research. $245, rockandrepublic.com
Alexis Bittar
"Antique Cherry Blossom" NecklaceThis daring, vibrant jewelry line consistently puts out uniquely modern pieces, like this charity-driven Cherry Blossom series. 20 percent of proceeds from the collection go to The Hetrick-Martin Institute, a foundation dedicated to creating safe havens for all lesbian, gay, bisexual, transgender, and questioning (LGBTQ) youth and their families. $995, alexisbittar.com
(Product) Red
iPod ShuffleOne of dozens of (Product) Red items available online, this candy apple red iPod is a practical and stylish way to be charitable. A portion of the proceeds goes to the Global Fund to help eliminate AIDS in Africa. $49, joinred.com
Noodle & Boo
Believe Honey BarAll profits from this ultra-moisturizing bar for dry skin go to the Raise Your Hand Campaign to aid in supporting water purification systems for small villages, beginning in Ethiopia. $12.50, noodleandboo.com
Satya Jewelry
Butterfly Charm Necklace
All proceeds from this sweet collection of gold and silver butterfly pieces, codesigned by David and Courteney Arquette, go to the Epidermolysis Bullosa Medical Research Foundation, which aims to find a cure for this rare childhood skin disease. $24, satyajewelry.com
Lisa Hoffman
Variations Fragrance Collection
Each scent comes with four variations meant to be worn at different points in the day—lighter in the morning and rich and sensual in the evening. And all proceeds go to The Rainforest Foundation UK, a U.K.-based group aimed at long-term protection of rainforest land. $150, lisahoffmanskincare.com
Lauren Merkin
Studded Luggage Tag and Passport HolderPerfect for globe-trotting in style: All proceeds from this rocker-chic studded fuchsia duo go to the Young Survival Coalition, an organization dedicated to the unique needs of young women with breast cancer. $85 for the set, laurenmerkin.com
Kiehl's
Lip Balm #1
The perennial customer favorite, Lip Balm #1, will be available in a limited-edition tube with the red AIDS ribbon beginning on World AIDS Day, December 1. All net proceeds for the month of December will be donated to YouthAIDS, an organization aimed at stopping the spread of HIV/AIDS. $8.50, kiehls.com
Me & Ro
"Gold Joy" Disc RingSimple and streamlined, but with just enough movement to be noticed. 100 percent of proceeds from this playful ring go to the Joyful Heart Foundation, a group dedicated to aiding survivors of sexual assault, domestic violence, and child abuse. $1,050, meandrojewelry.com
50 holiday gifts under $25The season's coolest Web-shoppable picks — all of which look like they cost much more.
Charity
1.   Sweet Home Gingerbread House KitDancing Deer Baking Company, $22.9535% to the Sweet Home Foundation to help homeless families find jobs and homes. Dancingdeer.com2. Charity: Water bottleCharity: Water, $20One $20 bottle brings clean and safe drinking water to people in developing nations. Charitywater.org3. Mini Bundt CakeThe Great Spirits Baking Company, $9.50$1 from each bundt goes to Share Our Strength to end childhood hunger in America. & strength.org4. Nike Livestrong Drifit T-ShirtNike, $25100% of Nike's profits from the livestrong collection go to the Lance Armstrong Foundation to unite people to fight cancer.Fashion & beauty
5. Anya Hindmarch clutch for TargetTarget, $19.99Target.com6. Two-faced gift setSephora, $18.50Sephora.com7. No Boundaries sequin scarfWal-Mart, $7Walmart.com for locations8. "Luxe Noir" Bling Collection clutchesSephora, $20Sephora.com9. Hanky Panky ThongsHanky Panky $18Hankypanky.com10. Rubberband BallBumble and Bumble $20Bumbleandbumble.com11. Mini Nail Polish SetEssie, $15Essie.com12. Harajuku Lovers Fragrance in "G"$25Hlfragrance.com13. Philosophy Recipe Box of shower gelsSephora, $18Sephora.com14. Crystal headbandArmani Exchange, $24Armaniexchange.com15. Gold flower necklaceH&M, $1516. Korres Natural Products Sugar + SpiceKorres, $12Korres.comPersonalized
17. Doodle FrameUmbra, $13.99Amazon.com18. Custom I "heart" Tote BagsDahl & Dane $15/tote for 5 totesDahlanddane.com19. DIY Needlepoint iPhone CasesAMH Design, $25AMHDesignonline.com20. Voice Recordable Photo Frame Water GlobeTarget, $20Target.com21. Monogrammed Towel and Soap setZ Gallerie, $22.95Zgallerie.com22. Umbra huddle frame collageUmbra, $24.99Target.comHome
23. Vintage, Used, Rare BooksStrand Books, $15 - $25Strandbooks.com24. Wall-mount Fish BowlTarget, $24.99Target.com25. iHome Portable iPod SpeakersIhome, $24.99Ihomeaudio.com26. Luxury Bath BarsAgraria Home, $18Agrariahome.com27. Voluspa Snow Flack 3-wick Candle$18Candlesoffmain.com28. Card Society – letter press cardsPort2Port Press, $17 for one month29. Photograph PostcardsPort2Port Press, $10 for set of 330. A Year of Mornings: 3191 Miles ApartPort2Port Press, $19.95 for bookport2portpress.com31. Elf Candle HolderCB2, $5.95cb2.com32. Large Longneck VasesCB2, $3.95cb2.com33. Cheese Board and UtensilsCrate & Barrel, $20Crateandbarrel.com34. Ibiza Wine GlassesCB2, $1.95cb2.com35. Medium Bambu BowlsBambu, $17Branchhome.com36. Campbells Soup 1, 1968 Framed PrintCB2 $24.95cb2.com37. Magazine SubscriptionsCondenast.comKids
38. Connectagons Wooden PuzzleHearth Song, $24.98Hearthsong.com39. Wooden Tile Memory GameHearth Song, $13.58Hearthsong.com40. Felted Stuffed Animals made in NepalBranch Home, $12-$24Branchhome.com41. Hand-Knit Lion made in Rural KenyaBranch Home, $25Branchhome.com42. Felted Snake made in Nepal$18Branchhome.com43. Hand-Knit Finger Puppets$16 for 3Branchhome.com44. Vintage JengaAmazon, $21.99Amazon.com45. CandylandAmazon, $9.99Amazon.com46. BoggleAmazon, $13.99Amazon.com47. MonopolyAmazon, $10Amazon.com48. The Cat in the Hat, Dr. Seuss$8.99Amazon.com49. Green Eggs and Ham, Dr. Seuss$5.47Amazon.com50. Horton Hears a Who, Dr. Seuss$10.17Amazon.com
For more great holiday gift ideas, visit Lucky magazine online.