/ Source: TODAY contributor
The joke is as old as the hills: "Lost Dog: Three legs, blind in one eye, ear torn. Answers to the name 'Lucky.' "
But for a Petaluma, Calif., box turtle, that name held true and then some after he got his front legs chewed off by a raccoon.
Injured in July, Lucky came within a whisker of being euthanized after his unfortunate run-in with a masked turtle mauler. But thanks to the quick thinking and ingenuity of veterinary surgeon Robert Jereb, the turtle now happily skids his way through life on plastic sliders, stacked two high where his front legs used to be.
"[Dr. Jereb] was just wonderful," Lucky's owner, Sally Pyne, told Norah O'Donnell live on TODAY Thursday as she cradled her plucky pet next to veterinarian Alan Wolf, who helped rescue the injured reptile.
Masked marauderPyne said that Lucky and his gal pal, Lovey, live a life of ease in an enclosed pen in the backyard of her home. The turtles were in fine fettle when she and her roommate ran out for a spell, but when they came home, they found a horror story: Food left outside for their pet cat had drawn the attention of a marauding raccoon, and Lucky suffered collateral damage.
"My housemate Robert Ford saw that the turtles were outside the pen, which was kind of weird," Pyne said. "When we found the girl, she was OK, but [when] we find [Lucky], his legs were missing.
"We said, 'Oh, my God, the poor thing.' "
The pair rushed Lucky to an emergency animal hospital, where he was patched up and given pain medication and antibiotics. While Pyne didn't know how her beloved pet could go through life without front legs, she saw a fighting spirit that made her hesitant to have him put down.
"I was ready to let little Lucky go home," Pyne told the Santa Rosa Press Democrat. "But he was not ready to give up. His eyes were open, and he was shoving himself around on his two back legs. He was not going to quit."
So Pyne took Lucky to Jereb, who has made a name for himself by finding novel ways to patch up animals: He had previously repaired turtles' shattered shells with everything from Bondo to fiberglass. Missing legs was another matter altogether, but Jereb thought he had a good candidate for yet-to-be invented turtle prosthetics.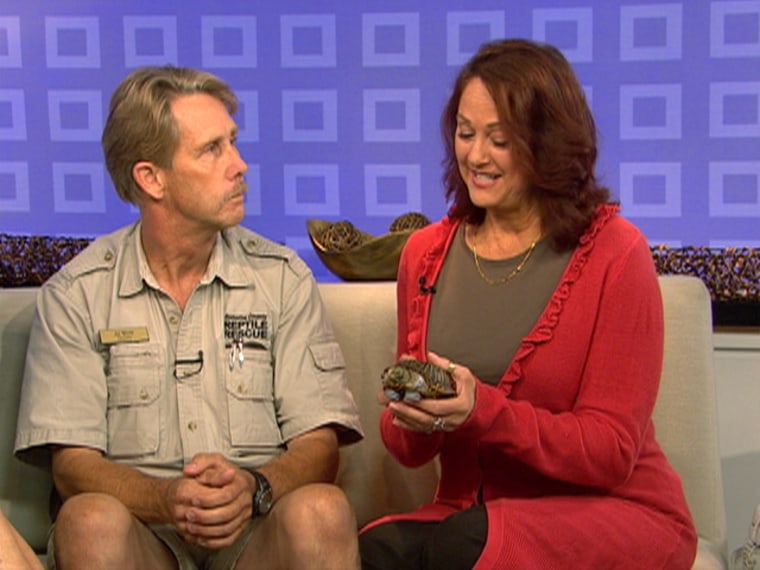 Pyne told O'Donnell: "I thought, 'Oh, my God, this is going to be awful for the turtle,' but Dr. Jereb said, 'You know, they live through many kinds of attacks.' "
Turtle powerJereb headed to the hardware store in search of suitable leg-replacement material. He ended up opting for the sliders that normally rest under tables and chairs — if affixed and stacked two high, they would balance Lucky's body and enable him to glide in the front while his back legs supplied the power.
It worked like a charm, and Pyne said Lucky is clearly reveling in his second shot at life. "He's just gone crazy," she told O'Donnell.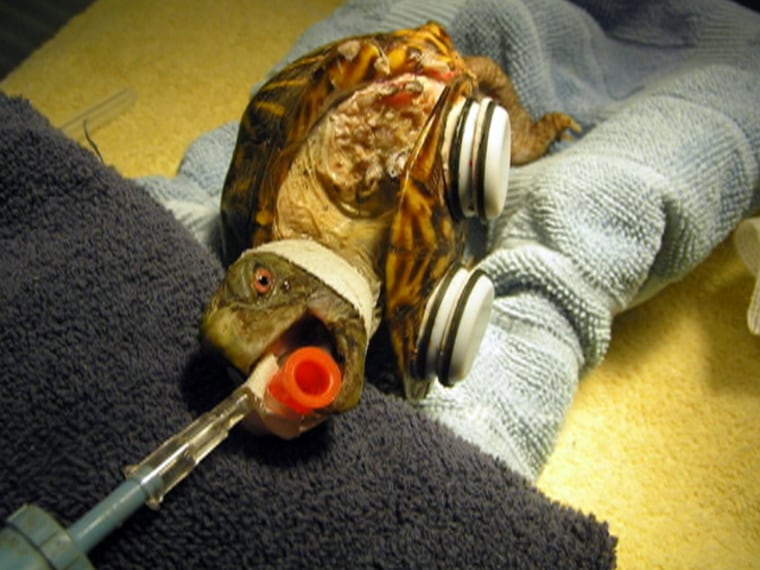 Lucky's coaster front legs may not be permanent. The turtle's activity makes the sliders wear down, making it problematic to keep them attached. He may require more surgery. Jereb is looking for new ideas.
But for the nonce, Lucky just keeps gliding along, looking as if he's ready for a game of air hockey in the front. Al Roker asked Pyne whether, with his new look, he's still a lady-killer to mate Lovey.
"She's not interested much in all the attention," Pyne replied with a smile. "So she just burrows, as turtles do."