The nearest grocery store is 55 miles away. A visit to the nearest movie theater requires a two-hour drive. But for those who live in Sky Village, the inconvenience is well worth it for one simple reason: complete and utter darkness.
The community in Portal, Arizona, which sits on approximately 400 acres under some of the darkest skies in the United States, is an astronomer's dream come true. It's home to a scant tally of about 20 mostly retired couples who love to stargaze.
"It's something you get used to," said Fred Espenak, a 65-year-old retired NASA astrophysicist who has been living full time in Sky Village since 2011 with his wife, Patricia. "I didn't choose to live away from conveniences, but it's a necessity. It's the only way you'll get a dark sky. You can't live near a Walmart and expect it to be dark ... It's worth it to us, and that's why we're all out here."
The community is the perfect retirement home for Fred, who lectures on eclipses and astrophotography and is nicknamed "Mr. Eclipse," and Patricia, a 74-year-old former high school chemistry teacher.
Fred has two observatories in his home, which is surrounded by the Chiricahua mountains. If the conditions are right, it's not uncommon for him to be in his observatory for five or six nights in a row for three or four hours at a time.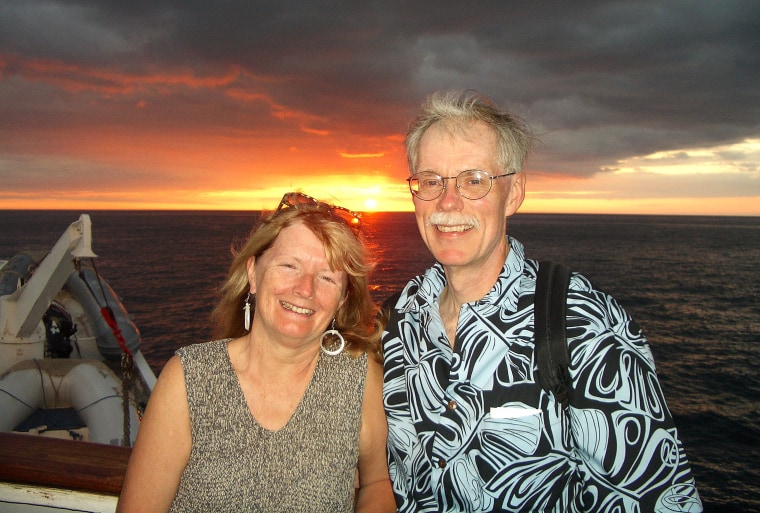 Fred said he was thrilled when he moved to Sky Village from Maryland.
"Something I've wanted my whole adult life is to live somewhere where the sky is dark, where I can go out and there's a dark moon and see the Milky Way and have my own observatory," he said. "Here I was finally able to have that and live in an astronomy community. I love the beauty of the desert and the darkness of it."
Sky Village is the brainchild of Jack Newton, a 74-year-old Canadian amateur astronomer who bought the 400 acres in 2002. He sold the lots for about $25,000 a piece.
"I wanted to organize a spot for astronomers to get together and have a really dark site," he said.
Newton explained that he got a light pollution map from space that NASA provided and super-imposed it on a U.S. road map to find the darkest area in the region. Newton spends about half the year running a bed and breakfast with his wife in Osoyoos, British Columbia, and the other half in Sky Village.
Newton said the mostly retired community is filled with former science professionals, many with Ph.D.s and M.D.s. Some have built warheads and nuclear power plants over the courses of their careers.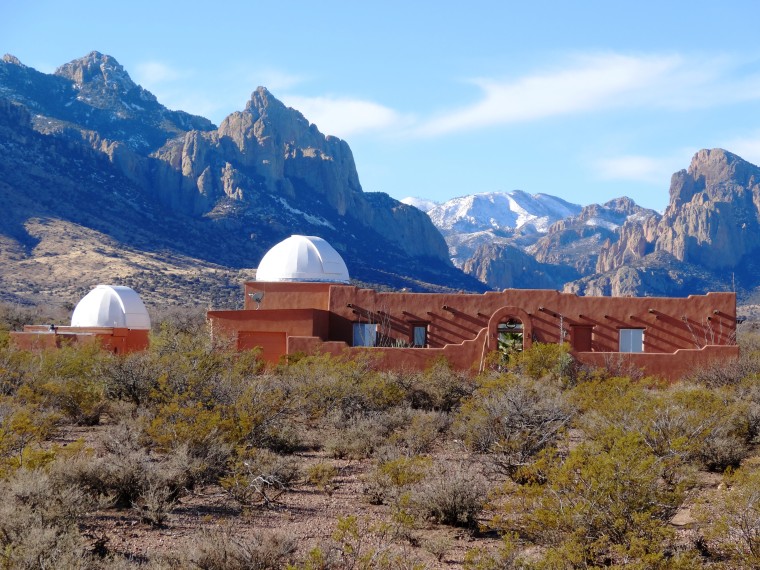 And there's just one rule in Sky Village — where the streets have names like Starlight Drive and Hubble Way.
"Turn off your lights," said Fred. "There are no street lights, all houses have dark shades. If anyone accidentally leaves a garage light on or don't pull shades down, we're not shy about contacting our neighbors and telling them. Everyone understands."
There's a thriving sense of community in Sky Village. Residents frequently get together for social gatherings and to look at the stars.
"We are party central USA," said Rick Beno, a former software engineer who moved to Sky Village from Florida in 2003.
After taking a 12-week cross-country trip that spanned 12,000 miles in search of the perfect place to retire, Beno and his wife found Sky Village. Beno wanted a place where he could explore the stars, while his wife is an avid bird-watcher, another popular pastime in the area.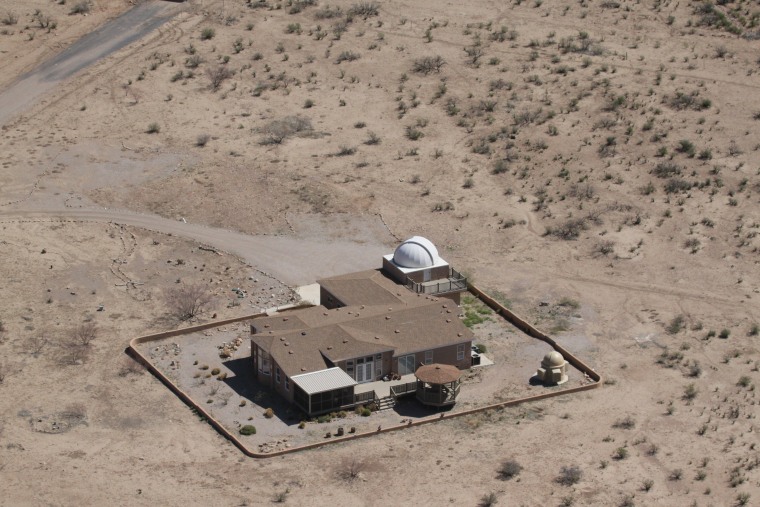 Newton described the Sky Village social scene as "incredible."
"You have cocktail parties and dinners all the time and everyone gets invited and everyone takes turns," he said. "Everyone's talking astronomy and you've got such a myriad of people who are outstanding and educated. It's a breath of fresh air."
And among this community of astronomy lovers, the solar eclipse on Aug. 21 is the event of a lifetime.
It's the first time a solar eclipse will be visible across the entire U.S. since 1918. It's also the first time Fred and Patricia Espenak will be apart watching a solar eclipse since they met. They don't want to stay in Portal because there will only be a partial solar eclipse, with the moon obscuring only about 60% of the sun.
"That's not enough. Ninety-nine percent isn't enough. Even with 99 percent, you have to use eclipse filters," Patricia explained.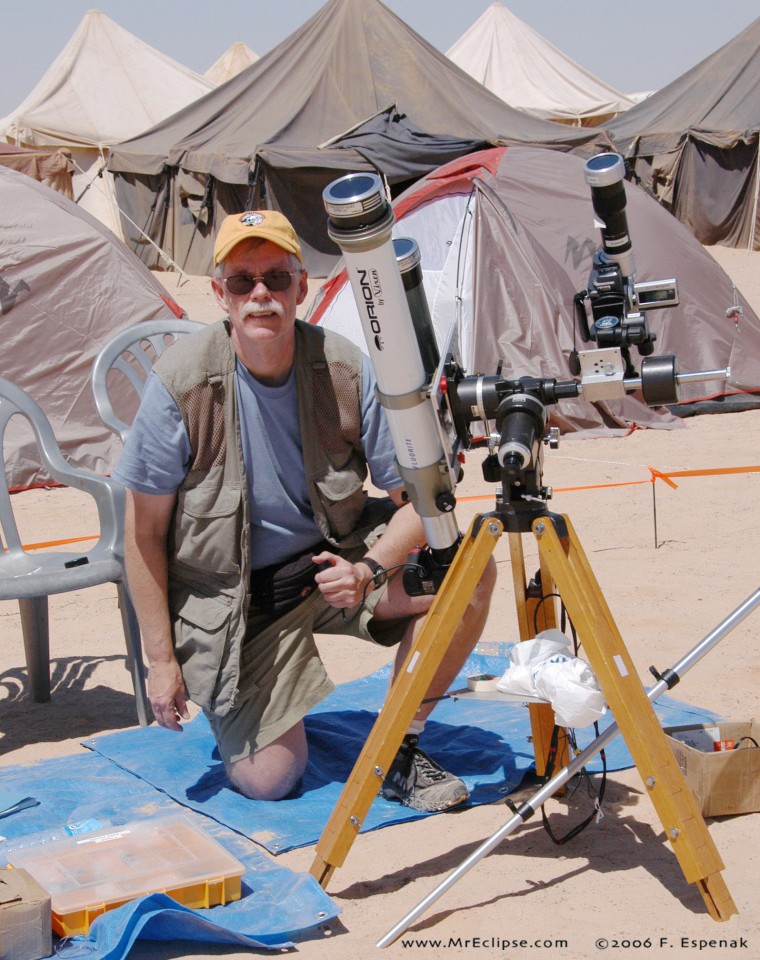 And so Patricia will be in Corvalis, Oregon, watching the eclipse from her daughter's backyard. Meanwhile, her husband plans to drive approximately 17 hours to Casper, Wyoming, where he'll be speaking about the eclipse at an astronomical convention.
"But where I'll be during the actual eclipse is up in the air. If the weather doesn't look good, I'm going to drive and it might be 800 miles east or west. I'm going to chase the weather," said Fred. "I could easily be in western Idaho or eastern Nebraska."
He'll pack his car with approximately 16 cameras, four telescopes and a dozen tripods. He'll also bring a tent and a sleeping bag so he'll have somewhere to rest if he's not is Casper.
It's a big deal for the Espenaks to be apart during the solar eclipse. After all, they fell in love over their mutual love for all things outer space.
The couple met in 1995 in Dundlod, India, where Fred was leading a tour group of about 30 people to see a total eclipse. "I think I was literally the only person on the trip who had never seen a total eclipse," Patricia recounted.
The two, who had both been married before, got to know each other on that trip and their relationship blossomed afterward, first over email.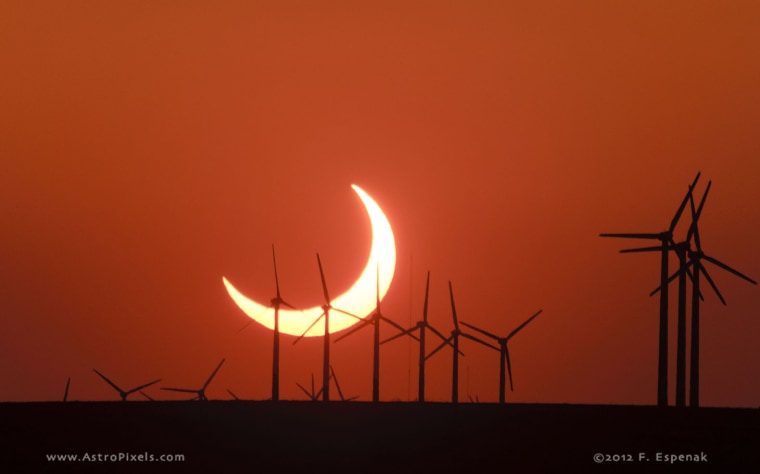 After the thrill of seeing her first total eclipse (which lasted a mere 41 seconds), "I knew I had to see more eclipses. I had been trying to see one for 25 years and all of a sudden it was over," said Patricia.
"I was the perfect enabler," said Fred.
Since their trip to India, the couple got married in 2006 and has traveled the world, planning their vacations around eclipses. They've been to South Africa, Zambia, Libya, Turkey and China, among other places.
So won't these star-crossed lovers yearn for each other as they look to the skies during the August 21 celestial event?
"I think we'll be so caught up with the eclipse that we won't be thinking about how we are separated. But we'll be so excited to get back together and share our stories," said Fred.
"But if one of us has cloudy weather and doesn't get to see the eclipse, it might be a different story," joked Patricia.