Doctors shared a grim prognosis for Rick Hoyt 51 years ago: The brain damage he sustained at birth was so severe that he would never be able to participate in mainstream society.
"They said, 'Forget Rick, put him away, put him in an institution, he's going to be a vegetable for the rest of his life,'" recalled Rick's father, Dick Hoyt, 72, noting that Rick was diagnosed with cerebral palsy after his birth. "Today he's 51 years old and we still haven't figured out what kind of vegetable he is — and guess what? That vegetable has been turned into a bronze statue."
Yes, both Hoyts — father and son — are about to be honored in April with a life-sized bronze statue at the starting line of the Boston Marathon. The statue captures them doing what they've done together nearly 1,100 times since the early 1980s: run in marathons, 5Ks, Ironman events and other triathlons as "Team Hoyt."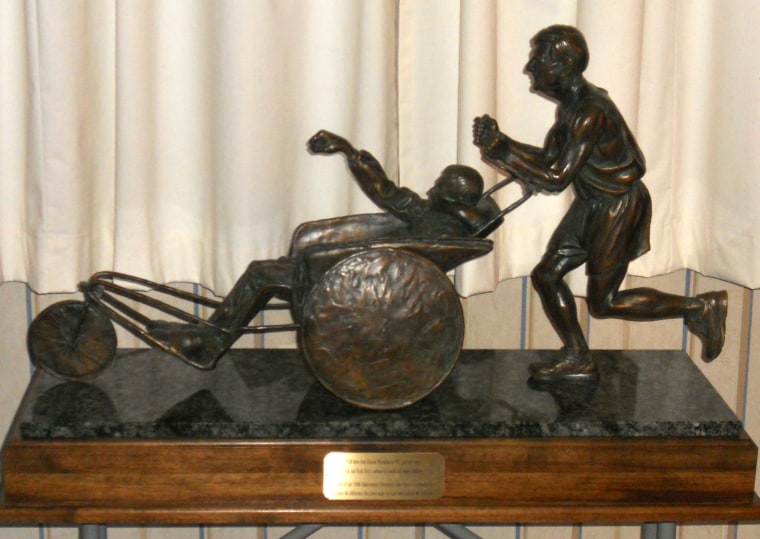 Rick's parents never listened to the advice about institutionalizing their son. Even though Rick couldn't speak or use his arms or legs, his mom and dad decided to raise him just like any other child. They took him camping, cross-country skiing and swimming at the beach with his two younger brothers, and they also enrolled him in public schools. Rick went on to graduate not only from public high school but also from Boston University. Today, with the help of personal care attendants, he lives independently in his own apartment.
His career as a celebrated athlete began when he was in middle school. Rick attended a college basketball game and heard an announcement about a student who had been in an accident and was paralyzed from the waist down. A charity road race was in the works to help the student pay his medical bills.
"Rick came home from that basketball game and he said, 'Dad, I have to do something for him. I want to let him know that life goes on even though he's paralyzed. I want to run in the race,'" Dick Hoyt said.
At the time, Dick was 40 years old and was not a runner. He saw how fueled up his son was, though, and he knew he had to do something. He decided to head out to the 5-mile race and try pushing Rick in a heavy, box-shaped chair with handles on top.
"We came in next to last, but not last," said Dick, who lives in Holland, Mass. "When we got home that night, Rick wrote on his computer, 'Dad when I'm running, it feels like my disability disappears' — which was a very powerful message to me. ...
"But at the end of the race, I was disabled. I could hardly walk for two weeks after that. ... I knew we needed to have a chair built."
The Hoyts did have a chair engineered for them, and they kept on running and training together. Before long, they also fashioned a special boat and bicycle so they could swim and ride together in triathlons. Dick tows Rick in the boat as he swims, then carries his son to the bike — which has a combined weight of 400 pounds when both Hoyts are locked and loaded. After they complete their bike ride, Dick carries Rick to the running chair and they tackle the run together.
To date, the Hoyts have finished 1,091 race events, including 252 triathlons (six of which were Ironman-distance), 70 marathons, 94 half marathons and 155 5K races. This year they will run in their 31st Boston Marathon.
Some people didn't understand what the Hoyts were up to when they first started doing this more than 30 years ago.
"I used to get letters and phone calls saying, 'What are you doing dragging your son to all these races? Are you just looking for glory for yourself?'" Dick Hoyt recalled. "What they didn't realize was that he was dragging me to all these races!"
After decades of competing in races and demonstrating just how much is possible for people with disabilities, the Hoyts are thrilled about the bronze statue in Boston, Dick said. He said they're both blown away by how much the statue resembles them. It even shows Rick raising his right arm into the air, something he makes an effort to do each time they cross a finish line. The statue will be unveiled on April 8, one week before the Boston Marathon on April 15.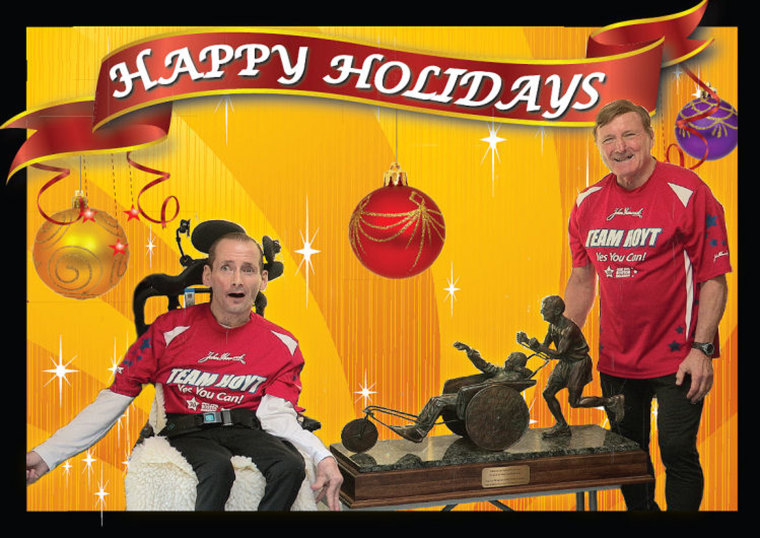 The Hoyts have signed up for about 25 races — mostly triathlons — in 2013. They're also being featured prominently in two campaigns this spring: a call for runners to share their personal stories through the #IMARUNNER hashtag on Twitter, and an "Every Runner Has a Reason" video series.
In the video produced about the Hoyts for the series, Rick communicates through a computer connected to a voice sensitizer and explains that he runs "to be an inspiration to others."
"It gives me a great feeling inside to see other families run with their family member with a disability, or for people without disabilities to push people who are disabled in races," Rick said.
"We run for the people who think they can't run."
To learn more about Team Hoyt, click here. To share your personal running story, use the #IMARUNNER hashtag on Twitter.
Need a Coffey break? Connect with TODAY.com writer Laura T. Coffey on Facebook, follow her on Twitter or read more of her stories at LauraTCoffey.com.
More: