Five people were killed and at least eight others were injured in a shooting at a bank in Louisville, Kentucky, on Monday morning, police said.
The shooter, identified as 23-year-old Connor Sturgeon who was an employee of Old National Bank in downtown Louisville, wounded two police officers, one critically, during the attack, Louisville Metro Police Department Deputy Chief Paul Humphrey said.
During a Monday afternoon press conference, LMPD Interim Chief Jacquelyn Gwinn-Villaroel confirmed that the police received a call regarding shots fired at Old National Bank at 8:38 a.m. local time. Within three minutes, officers arrived at the scene where Sturgeon shot at officers who returned fire and killed him.
The Louisville Metro Police Department identified those killed by the gunman as:
Thomas Elliot, 63
James Tutt, 64
Joshua Barrick, 40
Juliana Farmer, 57
Deanna Eckert, 57
Officials announced Eckert's death the evening of April 10. Prior to that, hospital officials had said nine people were injured, including three in critical condition.
Gwinn-Villaroel identified one of the officers injured as Nicolas Wilt. Wilt graduated from the police academy on March 31. He had brain surgery Monday and was described as in critical but stable condition afterward.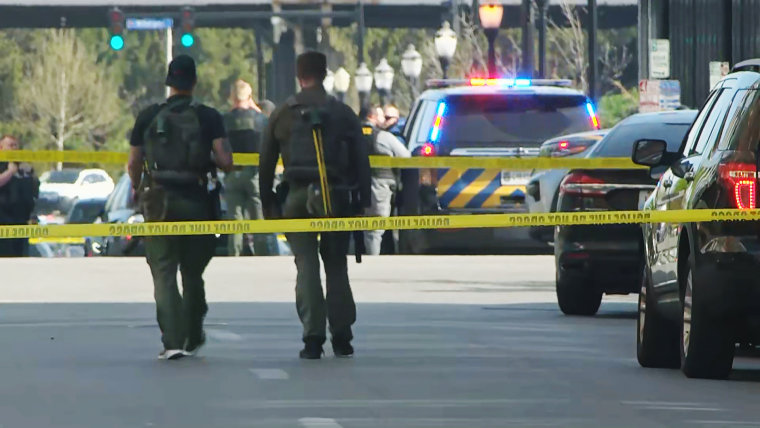 Authorities are investigating the shooting as a workplace violence situation, two senior officials briefed on the incident told NBC News.
It is unclear if the bank employed a security guard at the location the shooting took place, Humphrey said.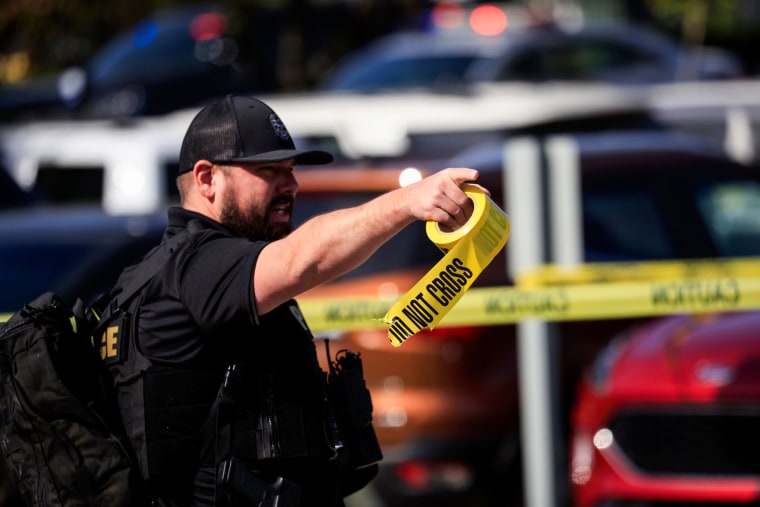 "The safety of Old National Bank employees and everyone we serve in our banking center locations is paramount," Old National CEO Jim Ryan said in a statement. "As we await more details, we are deploying employee assistance support and keeping everyone affected by this tragedy in our thoughts and prayers."
Kentucky Gov. Andy Beshear held back tears during a press conference Monday morning as he explained that he ran his campaign for state attorney general out of the bank building.
"This is awful," said Beshear, who knew one of those killed and two who were injured. "I know virtually everyone in it. That's my bank."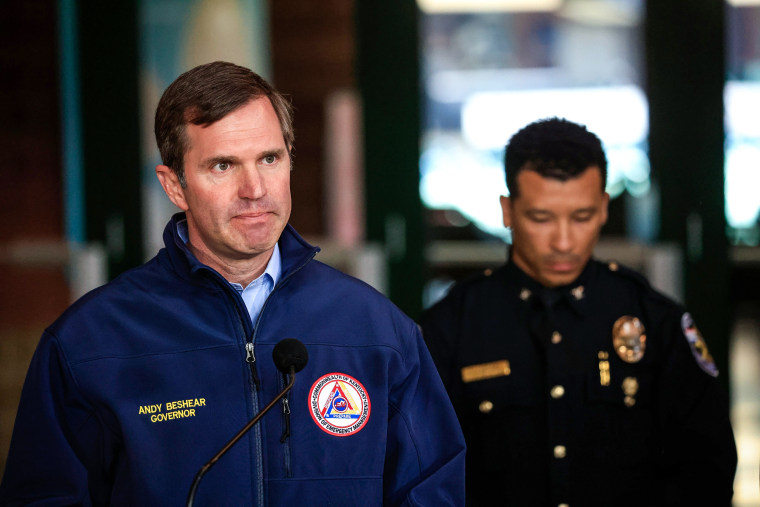 President Joe Biden said in a statement on Twitter that he and first lady Jill Biden were praying for the victims of Monday's shooting.
"Once again, our nation mourns after a senseless act of gun violence. ... Too many Americans are paying for the price of inaction with their lives," he said. "When will Republicans in Congress act to protect our communities?"
The Louisville Metro Police Department said in a tweet around 9:27 a.m. there were "multiple casualties" due to an "active aggressor" in the 300 block of East Main Street.
Police had earlier urged the public to stay out of the area due to the threat. There is no longer any active danger to the public, Humphrey said.
"LMPD has confirmed a shooting situation in downtown Louisville with multiple casualties," Beshear said in a tweet at 9:42 a.m. "I am headed there now. Please pray for all of the families impacted and for the city of Louisville."
The Louisville FBI office said in a tweet that special agents responded to the scene of the shooting and are assisting law enforcement partners.
Monday's shooting comes just two weeks after six people, including three 9-year-old children, were killed in a shooting at a private Christian school in Nashville, Tennessee.