Figure skater Ashley Wagner has a lot on her shoulders, with some saying the 22-year-old is the best bet for U.S. Women's Skating to make the podium in Sochi. But the two-time National Champion isn't letting the pressure get to her. "I've been focusing more on what I've been able to accomplish lately than what everyone is hoping I can accomplish," she told TODAY.com. "Having confidence in that pushes me through."

We caught up with Ashley while she was in New York City to skate at the P&G & Walmart Tribute to American Legends of the Ice event and asked the CoverGirl to share her fitness and beauty tips.
Typical fitness routine:
"Offseason, I really like to swim. I live in California so I do stand-up paddle board, which is a killer workout. I also run, about four miles every three days. When I'm training for competition, I do a lot of kettle bells for strength-training and a ton of plyometrics."
Best (but most hated) workout:
Tabatas, a workout born in Japan that emphasizes high-intensity interval training.
"I hate doing Tabatas — you do whatever you want at high intensity for 20 seconds, and then get a 10 second break and you repeat that for 8 minutes," Ashley explained. "So you can do jumping jacks for 20 seconds, you can do sprints for 20 seconds, etc. It's supposed to help you get your endurance up really fast. They are absolutely miserable but necessary to get fit fast."
Related: Look like an Olympian: Get thighs like Gretchen Bleiler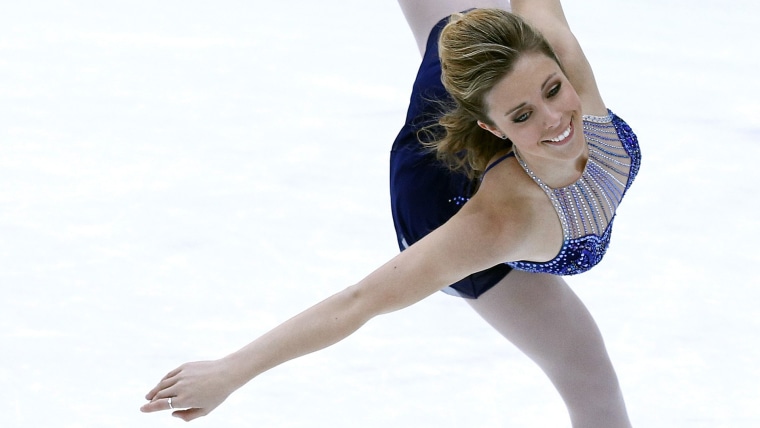 Diet tips:

"For me it's all about portion control. I love food and I never want to have to give up too much for my sport. I try to stay low-carb and high on lean protein. I'm lucky in that I love chicken and rice, it's one of my favorite meals. I steam some vegetables and top them with olive oil for some flavor."
Fave cheat meal:
"I give myself a cheat day where I annihilate my diet. I'm an all-American girl, so I go for a burger and fries and a shake."
Related: Get legs like Meryl Davis and Charlie White
Must-have beauty product:

"I am hooked on mascara — I just layer, layer, layer."
Biggest beauty challenges:
"My skin gets really dry so a good moisturizer is a must. Beyond that, I'm really, really pale. So it took me a long time to figure out how to put on bronzer without looking orange. You have to find the perfect color for you — the same bronzer doesn't work for everybody and I really learned how to shade everything. And blend, blend, blend!"
Favorite look:
"I love a coral red lipstick — something bold that can pair with a light smoky eye."