/ Source: TODAY contributor
Mauzy the giraffe isn't likely in the running for any Mother of the Year awards. The long-necked mammal that makes its home at Southwick's Zoo in Mendon, Mass., became a first-time mom last Monday — but the health of her newborn, Molly, was in crisis mode since birth.
The problem: Mauzy was unable to produce colostrum, or "first milk," vital for the newborn to fight against bacteria and viruses. In addition, zoo officials said Mauzy didn't seem interested in her young daughter.
Happily for Molly, veterinarians at Southwick's and at Tufts University School of Veterinary Medicine did take a keen interest in saving young Molly's life. And eight days after her trouble-plagued birth, Molly is nearly ready to go home to Southwick's, and to an eventual reunion with her mother.
Amazing turnaround
"She's doing very well, over the weekend especially," Dr. Daniela Bedenice told Meredith Vieira live on TODAY Monday. "We've been very pleased with her progress over the last couple of days."
Bedenice, along with Southwick's Zoo Director Betsy Brewer, introduced 5-foot, 86-pound Molly to the world live via satellite on TODAY, showing an animal that made a quick, amazing turnaround from her first hours of life, when her very survival was in question.
After Molly's birth on Feb. 23, vets at the zoo quickly noticed that mom Mauzy wasn't giving her daughter colostrum, and they began feeding her first milk obtained from a cow. But they realized Molly wasn't drinking much; her white blood cell count fell dangerously low and she was too weak to stand. She was transported to Tufts University to receive vital care.
Bedenice told Vieira the medical center is no stranger to large creatures, having regularly treated the likes of horses and alpacas, even camels. But a giraffe was a first. The veterinary center began a treatment of pushing antibiotics through a catheter in Molly's neck and hand-feeding her goat's milk through a bottle.
'Beyond the species'"In general, you look first beyond the species," Bedenice told Vieira in describing Molly's treatment regimen. "First of all, she's a sick newborn, so in that respect she's very similar to treating another newborn such as a foal or a newborn alpaca baby."
Vets at Tufts relied on advice from zoo director Brewer and their staff veterinarians as to typical giraffe feeding practices, but Bedenice said, "overall, from the medical perspective, it's treating a newborn with an infection."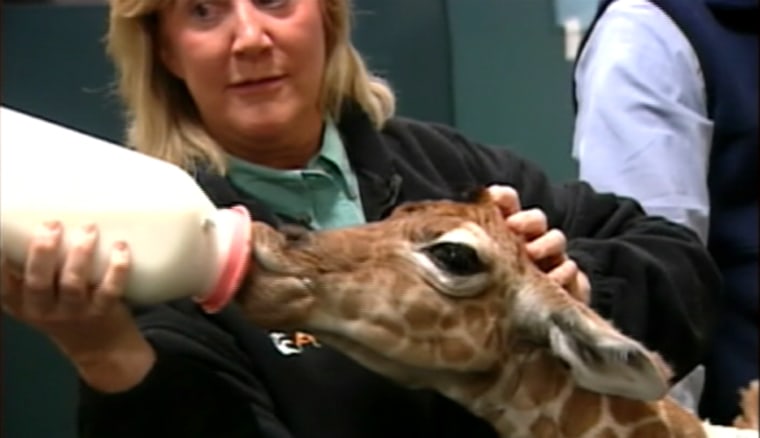 Still, it was a struggle to save newborn Molly's long neck. Even with around-the-clock care at Tufts, Molly didn't initially take well to the bottle. But she seemed to turn a corner on Sunday, eagerly taking a l-o-o-ong swallow four times during the day.
Now Molly is thought to be doing well enough to be transported back to Southwick's — New England's largest zoo — sometime this week. But a mother-daughter reunion may be some time in the offing.
"We will have to bottle-raise her for quite some time," Brewer told Vieira.
Molly will be kept in a separate enclosure from her mother, but will be within her sight. Eventually, she will reunite with her whole family at Southwick's — Mauzy, dad Geoffrey and her Aunt Dottie.
Bedenice added that Mauzy's mothering problems aren't unusual for a first-time giraffe mom. and she added that Molly has been "a wonderful patient" with a sweet personality.