Mo'ne Davis believes in the power of a second chance.
The 13-year-old star Little League pitcher is speaking out on behalf of a baseball player who slammed her on Twitter, asking Bloomsburg University to reinstate Joey Casselberry to the school's team despite his hurtful words.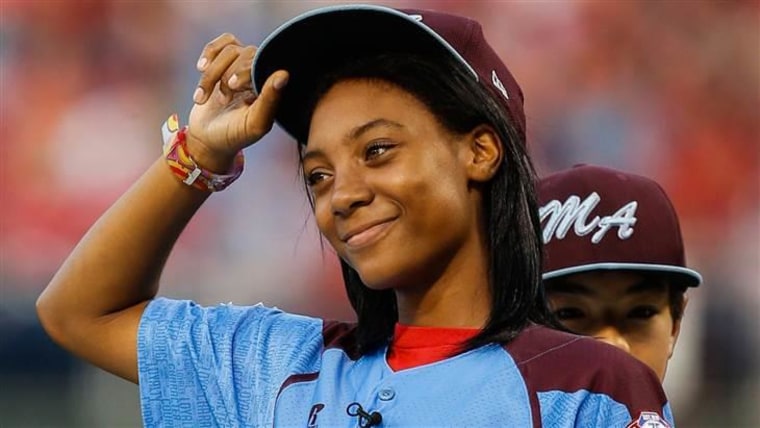 The controversy erupted Friday, when a post on Casselberry's Twitter account, @BigCass24, (which is no longer active), ripped Davis and plans to make a movie based on the Little League World Series phenom's life.
The tweet, which was deleted before Casselberry's entire Twitter account was removed, read, "Disney is making a movie about Mo'Ne Davis? WHAT A JOKE. That slut got rocked by [Nevada's LLWS team]."
According to Philly.com, the college sophomore later tweeted an apology, stating "one stupid tweet can ruin someone's life and I couldn't be more sorry about my actions last night," asking for forgiveness, and calling Davis "an inspiration."
Before and after that apology, however, many social-media users were outraged by Casselberry's previous post, leading to his dismissal from the team within hours.
But Davis, who knows something about playing on a Pennsylvania baseball diamond and intense media scrutiny, appears to be turning the other cheek.
Her plea began with a Sunday-night message to Bloomsburg's president, David Soltz.
"While I admit I was pretty hurt when I read [Casselberry's] comments, I felt sad that he was dismissed from the team," she wrote in an email shared with TODAY. "As many people know, my dream is to play college basketball and maybe even professionally. I know how much hard work and dedication it will take to get there, and to have that dream taken away would be heartbreaking. I am sure Joey Casselberry has worked very hard to get where he is and dreams of playing in the major leagues. For this reason, I'm asking you to please allow him back on the team so that he can continue to chase his dream. He made one dumb mistake. I'm sure he would go back and change it if he could. We all make mistakes and deserve to be forgiven. I hope you will give him a second chance and allow him to play."
Davis reinforced her stance Monday, when she appeared on ESPN's "SportsCenter" to discuss the matter.
"I mean, everyone makes mistakes, and everyone deserves a second chance," she said. "I know he didn't mean it in that type of way, and I know a lot of people get tired of just seeing me on TV, but sometimes you just gotta think about what you're doing, before you actually do it. I know right now he's really hurt, and I know how hard he worked, just to get to where he is right now. I mean, I was pretty hurt, on my part, but I know he's hurt even more."
She added that she sent Bloomsburg her plea for the first baseman's reinstatement because if she were Casselberry, "I would want to take that back."
In a Monday afternoon email to TODAY, Bloomsburg spokesman Tom McGuire commended Davis for her response.
"Her request demonstrates the type of person she is, her level of maturity and the empathy that her family and coach teach her," said McGuire. "Bloomsburg University stands firm on our decision; however, his consequences will be reviewed as is common in disciplinary actions like this."
Follow TODAY.com writer Chris Serico on Twitter.
This article was originally published Mar. 23, 2015 at 6:40 p.m. ET.