Mo'ne Davis made history in August as the first female pitcher to throw a shutout in a Little League World Series game — and the sixth girl to get a hit in the tournament's 67-year history.
And now the 13-year-old phenom is using her fame for a good cause.
Mo'ne has teamed up with the brand M4D3 (Make A Difference Everyday) to design a stylish, colorful sneaker line for girls. What's more, a percentage of proceeds will benefit the Plan International's Because I Am A Girl initiative, which aims to help lift 4 million girls in the developing world out of poverty.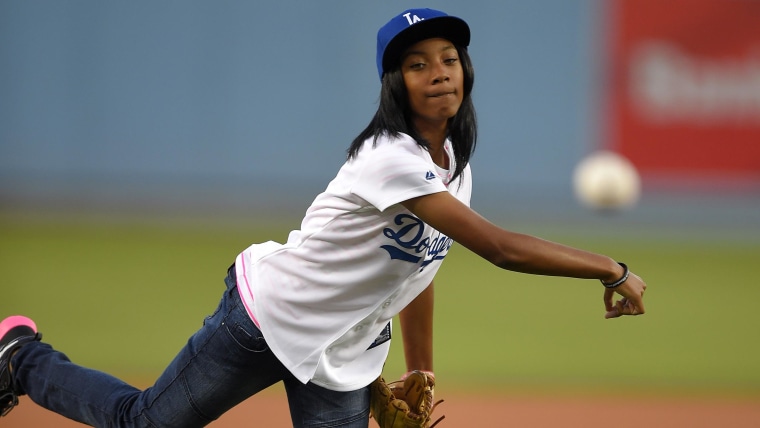 The shoes are currently available for pre-order on M4D3's website, at $75 a pair.
"I never thought at the age of 13 I'd be a role model, but having young girls look up to me is pretty cool!" Mo'ne said, via the company's Instagram account.
Footwear design is only the latest accomplishment on Mo'ne's growing resume.
In August, she became the first Little League player ever to grace the cover of Sports Illustrated magazine.
She was also chosen as Sport Illustrated Kids' 2014 "SportsKid of the Year" in December. First lady Michelle Obama made the announcement via Twitter, telling her, "You knocked it out of the park for girls everywhere."
And earlier this week, she released her memoir, "Mo'ne Davis: Remember My Name."
"When I joined an all-boys baseball team, my mom wasn't too happy," Mo'ne said in a statement issued in November through HarperCollins.
"I proved to her (and to me) that I could do anything I set my mind to. I'm just a girl that likes to play sports and I'm excited to share my story with everyone," she said. "I hope it encourages people to take a chance and play the sports they want to play and not just the ones people expect them to play."