It's hard to imagine sibling rivalry will be a problem in this family.
When 6-year-old Jake Dooley recently learned his mother was pregnant, his sweet and earnest reaction was captured in a video that is prompting tears to flow as freely as the ones the boy sheds himself in the clip.
"Jake is six and has been asking, wishing hoping and praying for a sibling for the last couple of years," his mother Teresa Dooley said in a Facebook message to TODAY.com
But the couple had problems conceiving after the stillborn birth of a second son three years ago. When they learned they were expecting another child, they decided to tell Jake through a series of index cards.
RELATED: Mark Zuckerberg, Priscilla Chan captured in pregnancy photo by Annie Leibovitz
"I'm sorry I took so long to get here," the boy says, reading the first card.
"But I am here now," he says in the second. "Look at your T-shirt."
Jake glances down at his shirt. Confused, he looks up at his mother in front of him, who is sitting off-camera holding up a T-shirt that says, "This guy is going to be a big brother."
Jake's mouth opens in surprise before he softly asks his mother, "You're pregnant?" He then runs to give her a big hug and breaks down in sobs. He continues to sob, wiping away his tears, as he holds up the shirt for his father to see.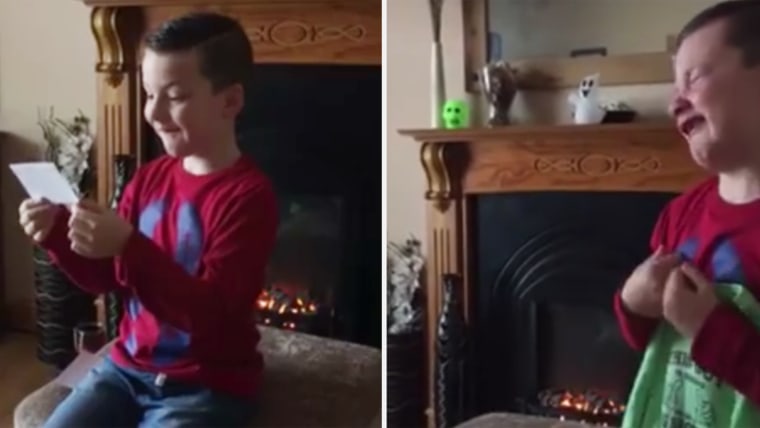 "He is soft but very outgoing," Dooley said of her son's personality. "We knew he would be overjoyed but NEVER expected that reaction. I don't think his dad or I really knew how much he wanted this."
RELATED: Family wins the Internet with 'Lips Are Moving' pregnancy announcement
Dooley said she and her husband videotaped the big reveal for family posterity. They also planned to use it as a way to share the news with friends on Facebook, where the video has been seen by more than 397,000 people since its Oct. 31 post.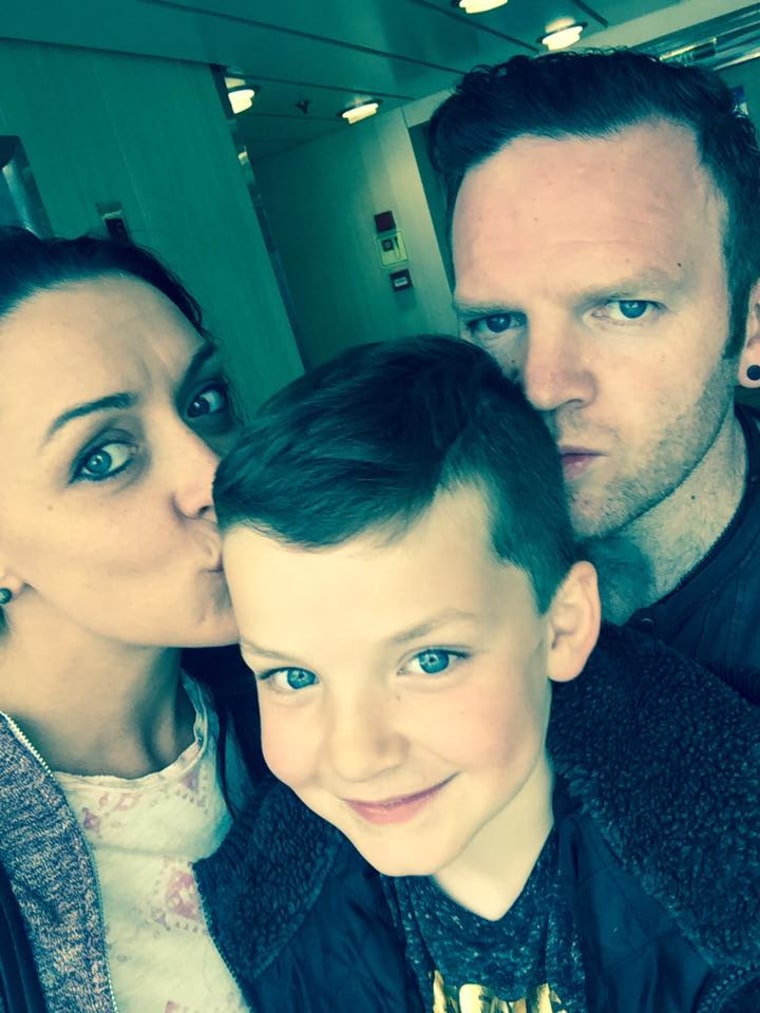 "We never expected it to go viral, but Jake is just so adorable in it so I can see how it has," Dooley said. "His dad and I are so unbelievably proud of him."
Jake officially becomes a big brother in May.
Follow TODAY.com writer Eun Kyung Kim on Twitter.