Don Kildow spent two years in South Korea building roads in the Army Corps of Engineers during the Korean War, learning the skills that helped him later construct the first ski hill near his home in Wisconsin.
Kildow's eldest granddaughter learned to ski on that 150-foot hill near Milton, showing her first glimpse of talent before she became U.S. skiing legend Lindsey Vonn.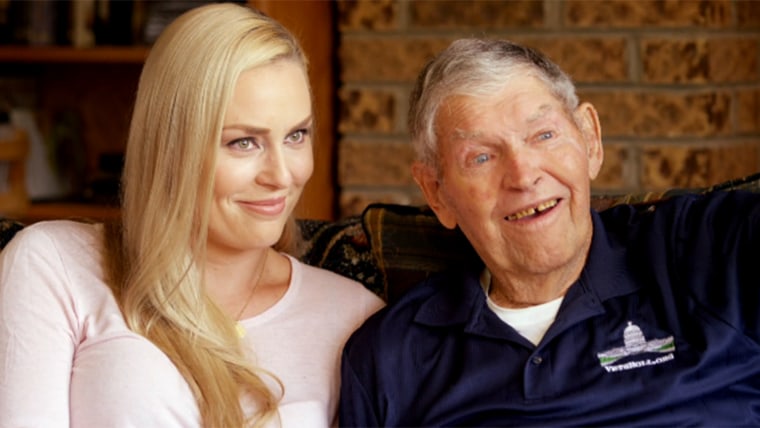 Vonn honored the memory of the man who helped foster her love of skiing by scattering some of his ashes near the men's Olympic downhill course in Pyeongchang earlier this week, leaving a piece of him in a place that meant so much to his life.
"I know it would mean a lot to him to be back here,'' she told The Associated Press. "A part of him is in South Korea, always."
Vonn's father, Alan Kildow, also scattered some of Don's ashes at various sites in South Korea.
Vonn had hoped her grandfather would get a chance to watch her in Pyeongchang, but he died at 88 in November at the family home in Milton with his wife of 70 years, Shirley, by his side.
Kildow had rarely spoken about his time in the Korean War in the early 1950s, but Pyeongchang being named the Olympic site had him opening up about it in the months before his death, Vonn told NBC Sports' Mike Tirico ahead of the Winter Olympics.
"It's nice for me to really be able to talk about these stories with him now,'' she said. "I've learned a lot about it that I didn't know before."
It's no surprise where Vonn gets her athleticism from, as Kildow was an All-State fullback and linebacker in high school as well as a Golden Gloves boxer, ski jumper, and alpine skier, according to his obituary.
After he returned from the war, he started his own construction business. The father of four also built a ski hill of 150 vertical feet in a cow pasture to create the first facility in the area.
As one of Don and Shirley's 14 grandchildren, Vonn's love of skiing grew during visits from her family's home in Minnesota to see her grandparents in Wisconsin. It led to a record-setting career as a four-time World Cup champion and the first American woman to ever win Olympic gold in the downhill competition in 2010.
She won a bronze medal in the downhill in Pyeongchang in what is most likely her final Olympics.
"I tried everything I could to win for him,'' she said. "I got a bronze, which to me was very special and I think he would be proud of that."
Follow TODAY.com writer Scott Stump on Twitter.