After numerous weather delays, Alpine skier Lindsey Vonn is anxious to strike Olympic gold again, this time when she makes her debut Friday on the slopes in Pyeongchang, South Korea.
"I feel like I've been a caged bull for the last week and a half, and all I want to do is be set free so I can get my energy out," she told TODAY's Savannah Guthrie in an interview. "It's going to be game on."
The highly-decorated racer had to wait eight years for this Olympic moment, after a devastating knee injury forced her to sit out the 2014 Winter Games in Sochi.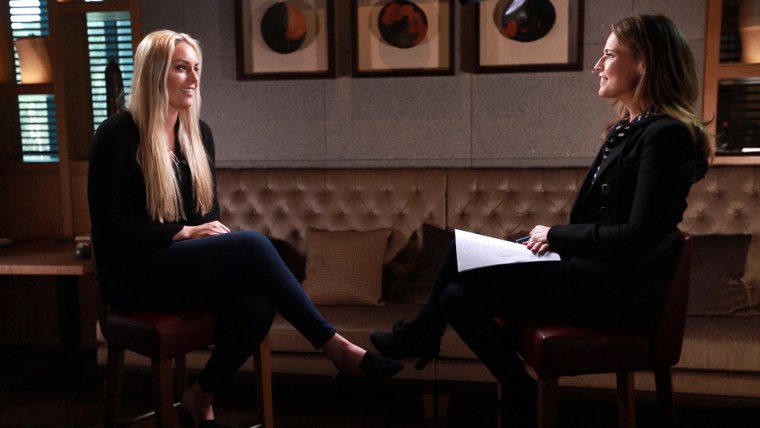 Now 33, she welcomes the challenge from a field of younger competitors who have less experience.
"I've been through this a few times, I've already won Olympic gold, so I'm not nervous, I don't feel the pressure," she said. "I know the routine, and I think being older gives me a pretty big advantage, so I'm not worried about the young guns just yet."
Vonn also is known for a mental toughness that has helped make up for "all the repaired parts and metal plates" that have worn down her body physically.
"I know what my body is capable of," she said. "And that kind of strength you can't quantify. That gives me so much more confidence when I'm on the hill because I have that belief in myself and my strength."
Among her injuries: She's torn her anterior cruciate ligament twice and ripped her medial collateral ligament right off the bone. Vonn has also fractured the tibia plateau on her right leg and sustained a few concussions. She even sliced her thumb on a champagne bottle while celebrating a World Championship gold medal.
"I was not even drinking!" she insisted.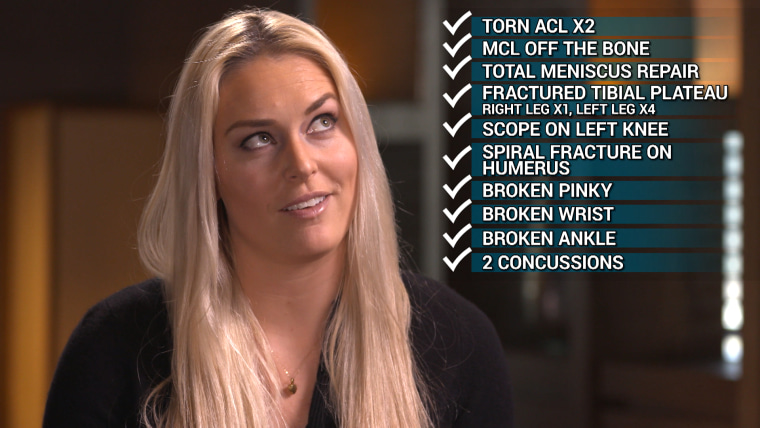 The injuries, however, have failed to outnumber the victories. Vonn has racked up 81 World Cup wins, allowing her to close in on the overall career record, which is held by a man.
Vonn said she learned how to persevere from her family.
"It comes from my grandfather, and my father as well," she said. "It's a certain grit, where there is no word quit. Failure is not in my dictionary."
Although Vonn has said in the past that South Korea will mark her final Olympics, she suggested she's not so sure anymore. "If my body holds up, I don't know — it's possible that I could go another round," she said.
There's also a chance that her fans may catch her somewhere other than on the slopes — like in Hollywood.
Vonn said some of her actor friends, including Dwayne "The Rock" Johnson, have offered to show her the ropes around Tinseltown.
"He said he's going to help me after the season and I can follow him around a little bit and see if it's really something that I would potentially be able to do," she said.
Vonn also said she wants to have a family, but for now, she's famously single: She set off a Twitter frenzy earlier this week when she tweeted that she was looking for a Valentine.
"I was just alone on Valentines Day in my hotel room in the middle of Korea," she explained.
While she's certain to find a sweetheart on her own, TODAY gave her a hand with one of its own — thanks to Savannah and a certain half-eaten container of chocolates!