Sen. Lindsey Graham called on his party's top two presidential candidates to stop the social media war over their wives and start talking about important issues.
"Talk about things that people really care about and knock this crap off because these are serious times, and you're not behaving like you want to be president of the United States," he said Thursday on TODAY. "You're behaving like you're on a reality TV show."
Front-runner Donald Trump earlier this week threatened to "spill the beans" on the wife of rival Ted Cruz in a tweet that blamed the Texas senator for an attack ad that featured a nude picture of his wife. Cruz responded that he wasn't responsible for the ad and called Trump a "bully." The two candidates continued to swap insults about their wives Wednesday.
Graham urged both sides to stop.
"It's a good year to be single," he quipped on TODAY. "The bottom line is when you think it can't get worse, hey guys, knock it off. The world is falling apart. Man up. You've got great wives and great families."
Graham has made it abundantly clear how much he doesn't like Cruz — and how unpopular he is among his Senate colleagues. He has famously joked that if Cruz was murdered on the Senate floor, "and the trial was in the Senate, nobody would convict you." But this week, Graham endorsed his former rival.
"It says a lot about Donald Trump doesn't it," he told TODAY's Savannah Guthrie and Willie Geist.
Graham said he supports Cruz because "he'd be competitive in the general election." Trump would be "a disaster for our country" and would only serve to destroy the Republican party.
"I think he'd a disastrous commander in chief. I think Ted and I have more of a world view than Mr. Trump," he said.
But Graham made it clear he would not vote for Democratic front runner Hillary Clinton "under any circumstances because it would be a continuation of what I think is a failed presidency."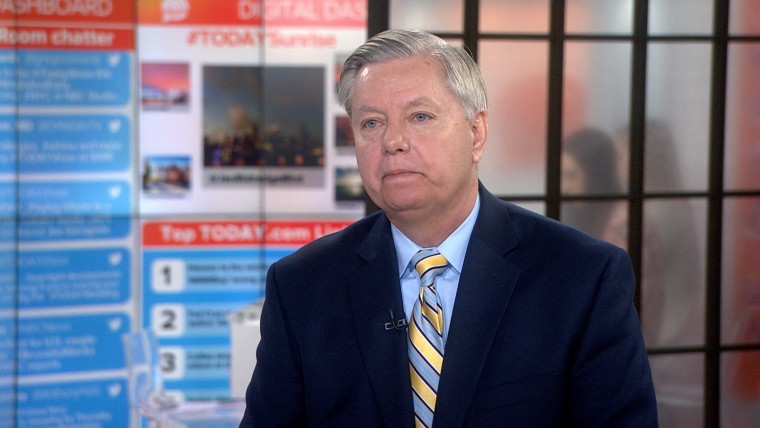 After dropping out of the Republican race, Graham originally endorsed Jeb Bush, describing him as the only candidate qualified to lead the nation. But Bush dropped out after failing to gain traction and Graham has been extremely frank about his dislike for both the top two contenders: Cruz and front-runner Donald Trump. Earlier this year he compared picking between the two could prove fatal for Republicans.
"It's like being shot or poisoned: What does it really matter?" he said earlier this year.
On TODAY, Graham said that Cruz is the better choice between the top two candidates in his party.
"I think Mr. Trump is not a Republican conservative. His campaign is based on xenophobia, race baiting, religious bigotry, bringing out the worst in us," he said. "I think it would destroy my party for generations to come. We can afford to lose an election, we can't afford to lose the heart and soul of who we are."