Updated at 5:43 p.m. PT:Lindsay Lohan was hospitalized briefly Friday after slamming her Porsche into the back of an 18-wheeler on the Pacific Coast Highway, TMZ reported. The accident occurred at about 11:42 a.m., according to the Santa Monica Police Dept.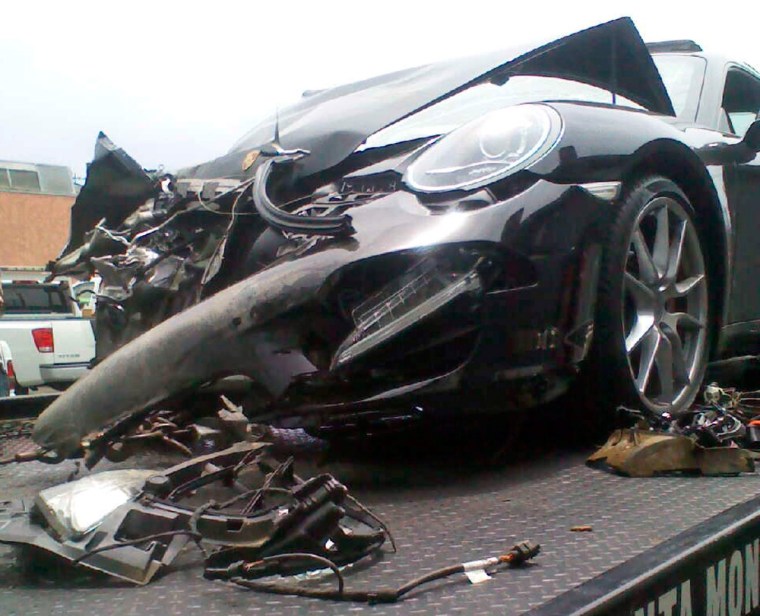 The Porsche is totaled -- the passenger window was shattered and the bumper was fully off the car. As for Lohan, TMZ reports that she was not taken to the hospital by ambulance, but that she went to an L.A.-area emergency room to get checked out. 
Sgt. Richard Lewis said in a press release that the cause of the accident is being investigated. He also noted that neither the driver of the truck nor Lohan and her assistant, who was in the car with her, were impaired. Police are still working to determine who was driving the Porsche when the accident occurred.
Lohan's rep told TMZ that the actress had no serious injuries and is fine. Lohan's passenger was not seriously hurt either. The actress has already left the hospital.
The cute child star grew into a Hollywood bombshell — with grownup problems of her own.
Lohan has a long history of car accidents. The most recent was an altercation in March when she allegedly grazed a paparazzo while attempting a three-point-turn in the parking lot of a nightclub.
Related content:
More in entertainment: