After days of drama leading up to Lindsay Lohan's latest court hearing (Is she sick? Will she show?), it took only minutes Wednesday morning to determine the next steps in her probation violation proceedings stemming from a June 2012 car crash.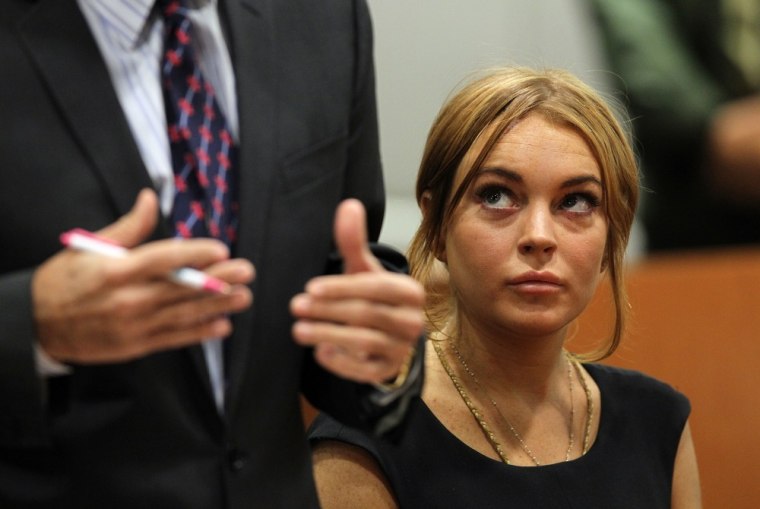 Wearing a conservative black dress, Lohan appeared before Judge Stephanie Sautner in Los Angeles Superior Court, where it was confirmed that the actress' probation remains revoked, and she'll stand trial on three misdemeanor charges on March 18. 
The charges stem from a June 2012 car accident in which the "Liz & Dick" star was allegedly behind the wheel of a Porsche that slammed into the back of an 18-wheeler. As a result of that crash and Lohan's actions immediately following, she was charged with obstructing an officer, lying to an officer, and reckless driving. Her probation -- part of a plea bargain involving the theft of a $2,500 necklace in 2011 -- was revoked pending Wednesday's hearing.
Judge Sautner confirmed that the probation violation charges will be addressed concurrent with the misdemeanor charges at the March 18 trial. Because of the different standards of evidence, it's possible that Lohan could be acquitted of the misdemeanor charges, but still found in violation of the terms of her probation.
Lohan's legal issues as they pertain to her probation and earlier troubles with the law were only part of the latest drama surrounding the 26-year-old. First, she dismissed longtime attorney Shawn Holley in favor of Mark Heller, the New York lawyer representing her in an alleged nightclub assault case. Then, she was nearly a no-show in court after Heller petitioned to excuse Lohan from appearing in L.A. because of an upper respiratory infection.
Shortly after that Heller's petition was filed, Lohan was pictured out and about in New York, healthy enough to be shopping and smoking. After the public scrutiny, Lohan and her mother Dina made opted to board a flight late Tuesday in order to make it to court Wednesday.
This was not lost on Judge Sautner, who during Wednesday's hearing quipped to Lohan, "Glad to see you're feeling better." Lohan smirked.
Related content: