Rapper Lil' Kim has always followed the beat of her own drummer when it came to style, and looks. But based on a picture taken in West Hollywood on Feb. 1, she's wandered off the path completely, and is virtually unrecognizable.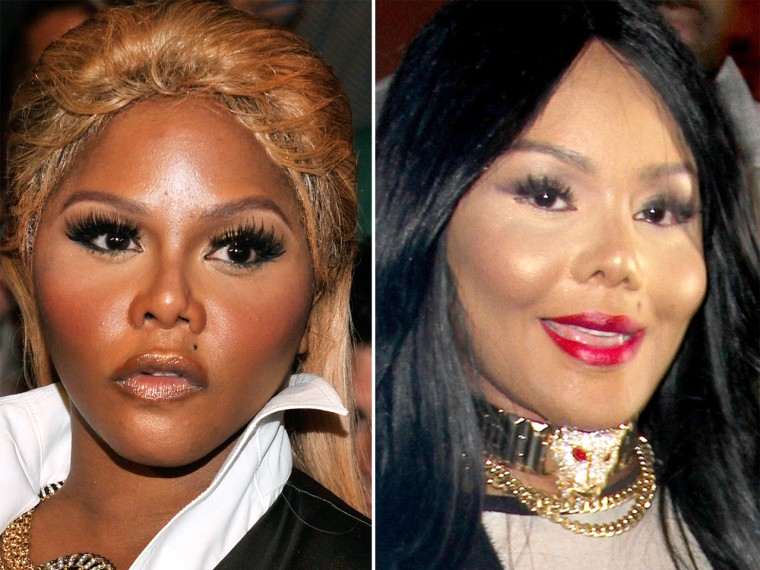 The singer's cheeks have been plumped up, her eyes elongated, her nose is smaller and her skin appears several shades lighter than it was. She's also gotten a lot more curvaceous, though surgery may have nothing to do with that look. 
Of course, as this collection of photos indicates, Kim has long been on the transformative road. She's worn wigs and used hair dye, but in the last five or six years, she's veered from being apple-cheeked to glamour puss, and her latest look gives the African-American an Asiatic look. 
Some fans are concerned. "This is so sad... Another beautiful face ruined by copious amounts of surgery,"  tweeted a representative of a UK modeling agency.
 "#LilKim has ruined herself by the looks of things," tweeted Luke Pennington.
Not that their comments matter; Lil' Kim (born Kimberly Denise Jones) appears quite happy with the way things look now, and so are many of her fans: She posted a photo of herself on Facebook Thursday, and it's already garnered over 9,000 likes.
Lil' Kim was best known in the late 1990s for her songs "Magic Stick" and her cover of "Lady Marmalade," and in 2006 she served a year of time in a federal detention center for lying to a federal grand jury about a shooting. She appeared in 2009 on "Dancing With the Stars," and her fifth studio album is due out later in 2013.
More in TODAY Entertainment: