Levi Johnston is now officially an aspiring actor and model. And according to his new manager Tank Jones, he is getting closer to a clinching a deal that will help him support the baby son he fathered with his former girlfriend, Bristol Palin.
"There's offers on the table for a little bit of everything — sitcom appearances, a reality show, some modeling," Jones tells PEOPLE. "We haven't signed anything, but there's offers." Jones declined to give specific details.
Johnston's interest in a show business represents one of the few viable careers open to him, Jones adds. A high-school dropout passionate about hunting and hockey, Johnston, 19, "is going to go and take the test and finish school and enroll in some college courses," his manager says. "[But] it's not like he can go and get a normal job now. Because of all the publicity. The whole interviewing thing, and red carpet and paparazzi — he still hasn't gotten comfortable with it, but what else does he have? Can he go work at McDonald's? ... He wants to take care of his son financially."
Ricky Hollywood
Jones, an Anchorage private investigator and press rep, is counseling his oft-rumpled young charge to think about a more glamorous look and has urged him to assume a playful new identity — a.k.a "Ricky Hollywood" — when it comes to style and attitude. "We came up with an alter ego," explains Jones. "As in, 'Ricky Hollywood would iron his shirt.' "
Last week, Jones accompanied Johnston — who has appeared on the Larry King and Tyra Banks shows and in GQ — on a trip to Los Angeles, where he was a special guest at the launch party of actress Jennifer Murphy's GoGirlWorldwide.com, which describes its mission as the empowerment of women.
"I thought this was a great opportunity for him to show that he supports women and the empowerment of women," Murphy says. "I could tell he was a little overwhelmed. He made a comment about how there were beautiful girls everywhere he looked and said, 'It isn't like this in Alaska!'"
L.A. shopping trip It was at Murphy's party that Johnston and Jones hit it off with Renata Espinosa, a columnist for The Daily Beast Web site who invited them on a June 12 shopping excursion through downtown L.A.'s wholesale fashion district.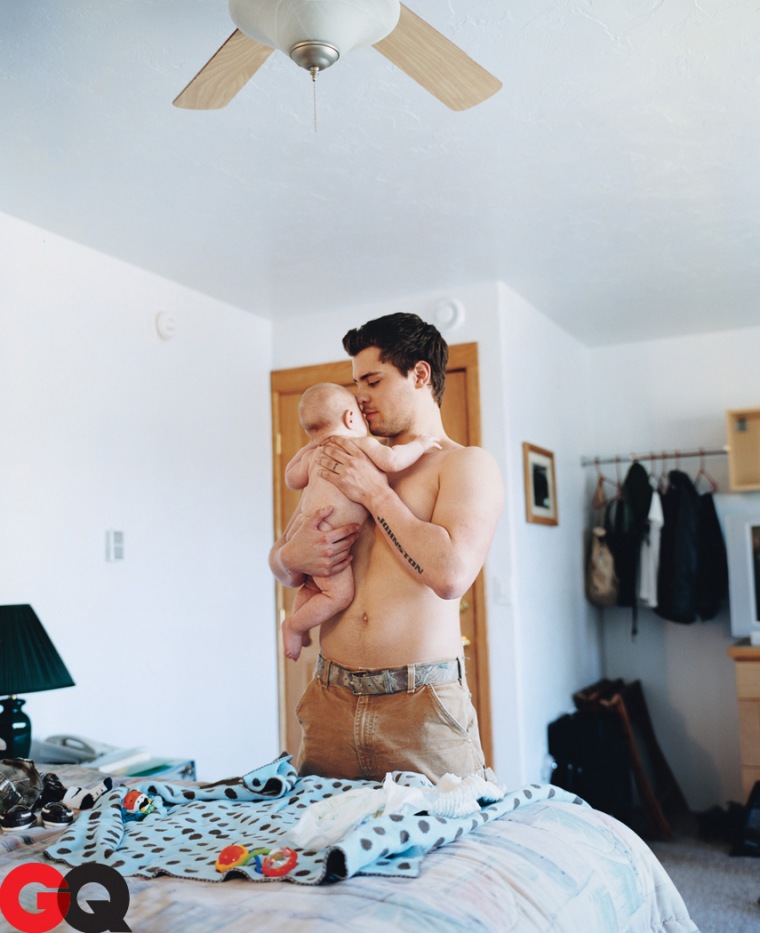 Trying on yellow sequined jackets and pink fedoras, Johnston told Espinosa, "My boys are gonna be so mad at me when they see me in this stuff. My dad is going to make fun of me."
Espinosa, a fashion writer, tells PEOPLE, "Obviously he's a kid who just wants to wear flannel and Carrhart work shirts. He was just a very casual, shy kid who's saying to himself, I'm getting this attention, so how do I use it to help support my family?"
Peace with Bristol
Jones tells PEOPLE that Johnston and his former fiancée, Bristol Palin, 18, have put their formerly bitter child support and visitation disputes behind them and are harmoniously working together to parent their 6-month-old son, Tripp. "All that stuff has been worked out," says Jones. "Levi goes and picks Tripp up and takes him places. All of that."
As for his relationship with Bristol, "They talk about the kid. As parents. There's no 'relationship' relationship."
Johnston told The Daily Beast that Bristol's feelings — and those of her younger sister, Willow, 14 – were his biggest concern in the recent dust up between Alaska Gov. Sarah Palin and David Letterman over his off-color jokes about the Palin family. "I don't think he was trying to be malicious. I just think the joke maybe went too far," Johnston said.
But, he added, "I don't like to see anybody hurt, especially if it got to the girls and their feelings were hurt."