Lester Holt's job as anchor of NBC Nightly News often takes him into areas devastated by war and natural disaster.
Traveling to places like earthquake-ravaged Haiti and seeing so much suffering has forced the award-winning journalist to ponder his faith and the impact of his work. Holt opened up about his faith and his role as a journalist in a candid first-person essay for Guideposts magazine.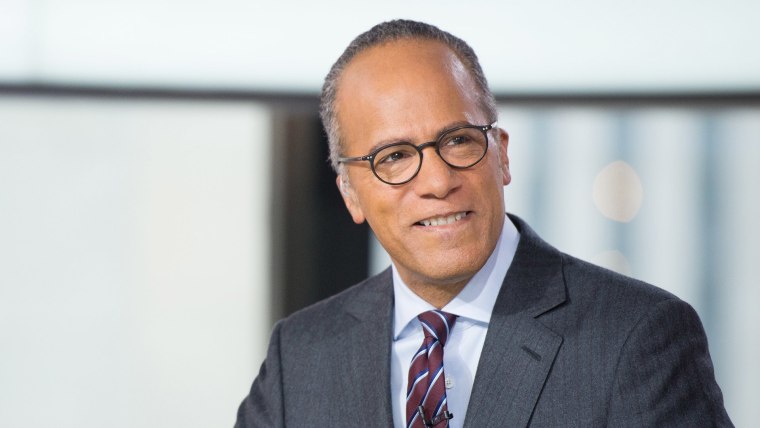 "It's a question any person of faith struggles with, not just a journalist or newscaster,'' he wrote. "You see misery in the world, terrible suffering, and wonder how it can be fair. How can you go on living your life of abundance when others suffer such deprivation? How can some have so little while others have so much?"
Holt started his career in New York in 1981 and spent 14 years as a reporter and anchor in Chicago before coming to NBC. He's reported extensively in troubled spots around the world, including Iraq and Somalia, but he was particularly shaken by the time he spent in Haiti following a devastating earthquake in 2010.
"My God, I thought, I don't ever want to be in a position of exploiting people's suffering,'' he wrote in the Guideposts piece. "Was that what I was doing? In journalism, there is always another story to cover. By necessity, we move on. But here the contrast between the life I had just witnessed and the life I knew was so great it haunted me."
Holt reflected on being raised in a religious household in Northern California where his family went to church twice on Sundays and had regular Bible studies. (The father of two is a regular churchgoer at a congregation in New York.)
Even after a career covering tough stories, Holt sought counseling after Haiti to help reconcile his feelings about his work in the midst of so much misery. The counselor asked him what would have happened if he hadn't gone there to cover the story.
"I thought back to all the donations people made and were still making,'' he wrote. "All those huge transport planes that landed at the airfield, even when we were still there, delivering medicine, food, water, clothes. What if no one had reported the story?"
"No one would know," he said. "This was my calling; this was what I was expected to do. To shine a light in dark places. To give a voice to the voiceless. To make the invisible visible. That light illuminates our condition as human beings."
Faith is something Holt uses to guide his life, but he doesn't wear it on his sleeve.
"As for my faith, it is not something I share on the air, though I hope it permeates what I do,'' he wrote.
Follow TODAY.com writer Scott Stump on Twitter.