The type of dedication shown by Monroe County Sheriff's Office sergeants Eric and Linda Mixon embodies the hard work of first responders who have helped Key West recover from the devastation of Hurricane Irma.
The husband-and-wife team worked 12-hour shifts for 18 days straight after the Category 4 storm hit the Florida Keys on Sept. 10 packing 130-mph winds. The storm destroyed 25 percent of the homes and caused major damage to 65 percent, according to FEMA.
"There was just so many first responders that lost so much and just kept going and helping people,'' Eric Mixon said on TODAY Thursday.
"It made us stronger. It made us closer to one another, and neighbors got out of their house and met neighbors that they had never met before prior to the storm, and now you have stronger communities."
Al Roker helped honor the Mixons and a host of other first responders from the Key West area on the final stop of TODAY's "Lend a Hand" series in which he visited communities working to recover in the wake of devastating hurricanes. Earlier in the week, he surprised families in need in northern Houston and delivered much-needed supplies to students in Puerto Rico.
He was joined by local residents at the Margaritaville Key West Resort on Thursday to say thanks to members of the Monroe County Sheriff's Office, Monroe County Fire Rescue, Key West Fire Department, Key West Police Department, Keys Energy Services, Florida Keys Aqueduct Authority and the Florida Fish and Wildlife Conservation Commission.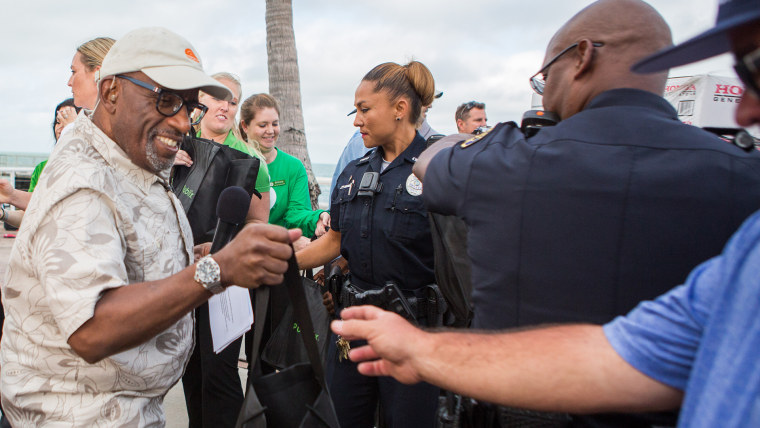 The first responders were each given a $2,000 gift card from Lowe's and a $1,400 portable generator courtesy of Honda. Also, just in time for Thanksgiving, the grocery chain Publix donated a turkey to each of them as well as a $50 gift card.
"We can't thank our first responders enough,'' Key West mayor Craig Cates said on TODAY. "They did an incredible job that brought the Keys back and made us capable of being open for visitors."
Rescue personnel like the Mixons went into the storm to help others while also having their own families and homes to worry about.
"First I was thinking about work and helping people, but also at the same time thinking about our house,'' Linda Mixon said on TODAY. "As far as the Sheriff's Office, they put a team together that came and moved everything out of yard. It was a huge job, and I was crying when they texted me the picture that they came and did that."
The Mixons were also worried about their daughter, Alex, a high school senior who had evacuated earlier. She eventually joined her parents in helping in a hard-hit area in nearby Cudjoe Key.
"This really showed me that I'm really proud to be their daughter and to have helped all these people,'' Alex said.
Follow TODAY.com writer Scott Stump on Twitter.