During Hispanic Heritage Month, TODAY is sharing the community's history, pain, joy, and pride. We are highlighting Latino and Hispanic trailblazers and rising voices. TODAY will be publishing personal essays, stories, videos, and specials throughout the month of September and October. For more, head here.
Dolores Huerta, 91, is a labor movement leader and civil rights activist who worked with César Chávez to co-found the National Farm Workers Association. Huerta was the first Latina inducted into the National Women's Hall of Fame and is still working as an activist and civil rights leader today.
What are your earliest memories of being an activist?
Dolores Huerta: I remember when I was eight years old, I put a bumper sticker on a car for Franklin Delano Roosevelt. I don't know where I got the stickers or whose car I put it on. In my family, the idea of being informed about what was happening in the world was just part of our growing up.
When I was 21 years old, my mother took me to vote, and that was very important. I was a Girl Scout for 10 years of my life, doing a lot of community work, and during World War II, part of our contribution to the war effort was to sell war bonds. In high school, I got an award for selling the most war bonds.
Organizing people ... is like finding the pot of gold at the end of a rainbow.
Dolores Huerta
We also gathered scrap metal and newspapers as our own war effort. I began to learn how to organize. That was a whole different animal (than the labor movement) but I learned how to organize people, to get them together, so they could change their lives and could change the conditions that they were living under.
Your mother, Alicia Chávez, owned a hotel where she rented rooms to labor workers for low prices and had a reputation for activism and community support. How did that impact you growing up?
Huerta: My mother always said that you had to help people that were in need, that you should not wait for anyone to ask you to help them, that if you see someone that's in need, then you have an obligation to help them.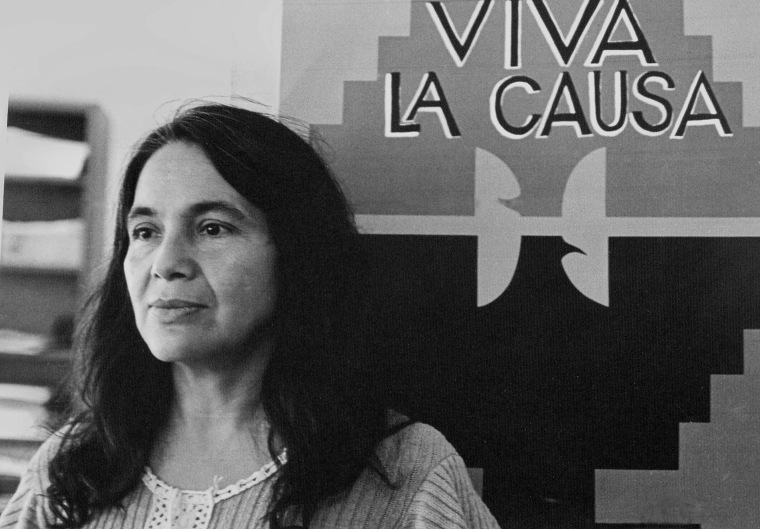 The other thing she said was "Don't ever expect any kind of compensation when you help somebody else." My mother, like many people in Mexico, is a big devotee of St. Francis of Assisi. The way she would say it is, "You take away the grace of God if you expect any kind of gratification for something that you do."
My father was also in the state legislature in New Mexico. Although my parents divorced (when she was three), he sent us a picture when he got elected. My dad was a very active union man; he was one of the founders of a union for farmworkers. He was active as a volunteer for the mineworkers' union. Wherever my father went that they didn't have a union, my dad organized one.
How did the culture that you were raised in impact your journey as an activist?
Huerta: I was very blessed to grow up in a very diverse community. I like to tell people that I learned from the people I grew up with. Next door was the Smith family, the neighbors on the left side were Chinese immigrants, we had Greek immigrants across the street, and Filipino friends as well. We grew up together and that was just really, really wonderful, and that really prepared me for the world.
I wouldn't say that I was raised in a Hispanic culture, but a lot of culture we kind of bought into it. My family goes back 14 generations in the state of New Mexico, and we moved to California when I was six years old. We celebrated Mexican Independence Day, but my mother and I didn't visit Mexico until I was 17 years old. We celebrated Catholic and Latino culture. At Christmas time, we prepared tamales and biscochitos.
When would you say you began to really identify yourself as an activist?
Huerta: Growing up, I was kind of an activist in a way. I was in the choir and did community service and I was really socially involved. But I didn't know how to organize until I met Fred Ross Sr., (a community organizer). I always wanted to learn to really change things, but I didn't know how.
At a meeting for the Community Service Organization (a California Latino civil rights group), Mr. Ross explained to us how in Los Angeles, they had organized people in East L.A. and they were able to make changes and elect the first Latino to the City Council. He showed us newspaper clippings of police reform efforts. I was so excited that people could do this. I wanted to belong to that organization.
So Mr. Ross started doing a lot of meetings and I set up a lot of meetings for him because I had a lot of friends from all my social activity. We were able to form a chapter of the Community Service Organization in Stockton, California. With that, we were able to pass major legislation in California. We were able to get driver's licenses and ballots in Spanish. We were able to pass a law that if you were a legal resident with a green card, you qualified for public assistance. We passed voting law that is still in effect today.
Learning how you could do this, organizing people to come together and put pressure on the politicians and introduce legislation, I say, in some ways, is like finding the pot of gold at the end of a rainbow. It's miraculous.
What achievement are you most proud of?
Huerta: It was founding the first successful farmer's union in the United States of America (the National Farm Workers Association, known today as the United Farm Workers.) There's been so many attempts in the past.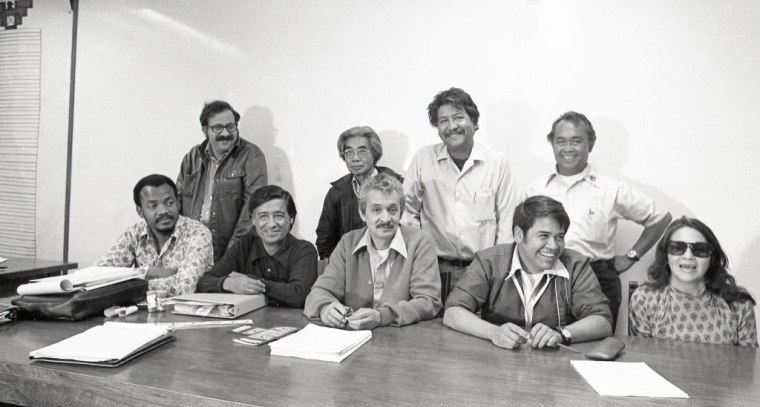 This might sound trivial, but when you talk to farmworkers, they always come up to me and say "Thank you, thank you, because now we have toilets in the field." That was one of the things farmworkers were deprived of and you can imagine how humiliating and degrading it was, especially for the women. For decades, there were no bathrooms, no potable clean water, no drinking water, and of course, not the appropriate wages for the work they were doing.
So I think when I look back, I think that's one of the important things: bringing humanity to people. When you know that people are really benefiting from the work that you do, it's very important.
A really important part of culture for many is traditions that are passed down. You said that you learned a lot about activism and organizing from your parents, and you have children and grandchildren who have gotten involved in politics and activism themselves. Would you say that activism is a family tradition for you?
Huerta: I do agree with that. Activism is passed down in families.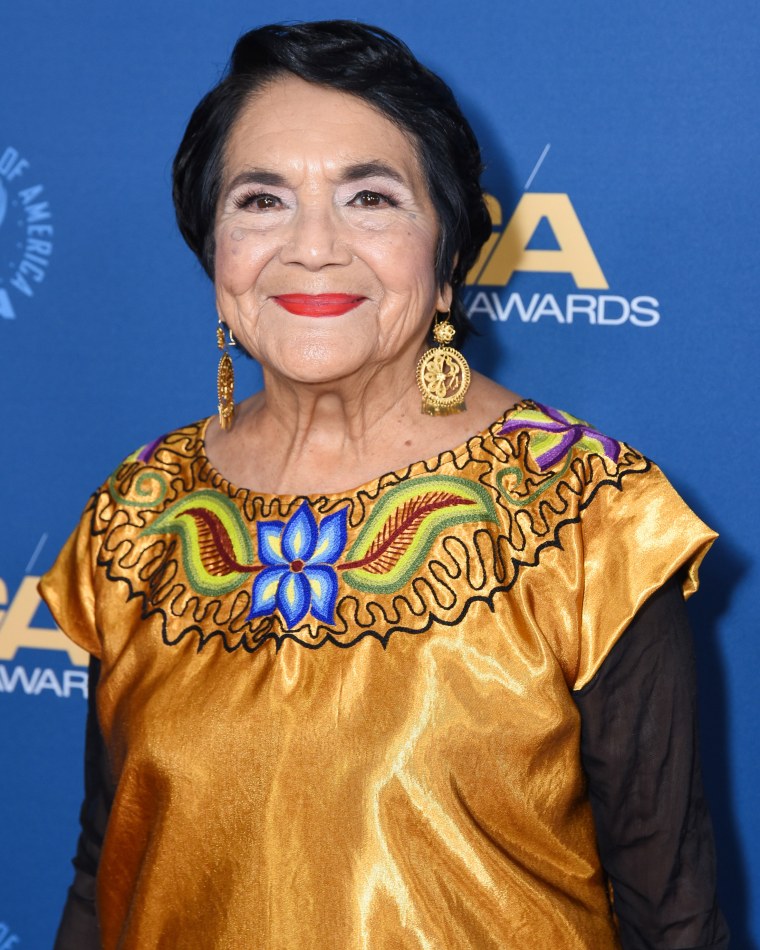 What advice would you give younger activists?
Huerta: You have to do the work and get involved, because that is the way we learn. There will be elections coming up next year. Get involved at the grassroots level. Go out there and pass leaflets. Get involved through phone banking, calling people up, going door to door, getting people out to vote, and volunteering. There are so many organizations that are active right now. You can do it in person, you can do it online. This is what we have to do.
What we need right now is civic action. We can't have a democracy if people do not engage and we all have a responsibility to engage. Just before he was assassinated, Senator Robert Kennedy (who was standing on the same stage as Huerta when he was shot) said, "We all have obligations and responsibilities to our fellow citizens" and that is so true.
And that also applies to what we're all going through right now, the pandemic. We're doing vaccine clinics, we're doing vaccine outreach and going door to door and getting people to sign up. We're doing food banks. These are things that everybody can engage in, so if you haven't done it yet, it's never too late.
For more of our Hispanic Heritage Month coverage, tune into TODAY All Day's special, "Come with Us: Celebrating Hispanic Heritage Month," hosted by Tom Llamas. Watch Wednesday, Sept. 29, at 12:30 p.m., 4:30 p.m. and 8:30 p.m. EST at TODAY.com/allday.
Related: