While being honored along with his Miami Heat teammates for their NBA title at the White House on Tuesday, LeBron James took a moment to reflect on the woman who helped mold him into a champion. 
The NBA superstar was raised by a single mother, Gloria James, whom he called his "champion" in a touching essay he wrote for "The Shriver Report: A Woman's Nation Pushes Back from the Brink." Spearheaded by TODAY's Maria Shriver, the Shriver Report describes helping women overcome challenges, which has been the theme of the #DoingItAll series on TODAY this week.
Shriver and James met at the White House on Tuesday, where she asked him about the influence his mother has had on him. 
"I don't know if she read about it, or she just heard about it, but from day one, I always had that mother and father inside my mother, so I never was a kid that was kind of like, 'Where is my father?''' James said. "She gave me strength to a point where I never even had to think about that, and I have no idea where she got it from. To this day I still won't even ask her, but she's definitely the champion." 
Sen. Wendy Davis recalls struggle 'making ends meet' as teen mom
Gloria James had LeBron when she was 16 years old. The two lived with Gloria's mother in Akron, Ohio, until her mother died of a heart attack when LeBron was 3 years old. Gloria and LeBron then moved 12 times over three years before Gloria decided to send LeBron, then aged 9, to live with his youth football coach for a year until she found stable housing. 
"Just how much responsibility that comes with being a single mom every single day, you don't have that other half or that helping male influence in the house that can — especially in my case, being a son — that can give you that fatherly love or that fatherly guidance,'' James said. "My mother figured [that] out." 

James hopes his mother's story of perseverance can help other struggling single mothers. 
"Hopefully they can use my mother's experience and my mother's strength throughout everyday challenges or obstacles that comes with being a single parent,'' he said. "Definitely those were times we didn't think we were going to make it to the next day, but we believed that the man above had a calling for us as a family, and my mother just never accepted the 'no it can't happen.'
"I know so many single parent mothers out there that feel like there's no tomorrow, and hopefully they don't just give up. I know kids have dreams, but also adults have dreams, too, and hopefully the single parents in the world can understand their dreams can become a reality if they just [stay] strong not only for themselves but for their kids as well." 
James is now a married father of two boys, LeBron Jr., 9, and Bryce, 6, and tries to use his mother's example as a parent. 

"It doesn't matter what you have, you can make something out of nothing,'' he said. "The most important thing that you can give a child is love and attention, and that's what my mother gave me. I never worried about anything else. I couldn't imagine me raising my kids by myself even financially stable, so I have no idea how my mother did it by herself being in a situation where she struggled a lot."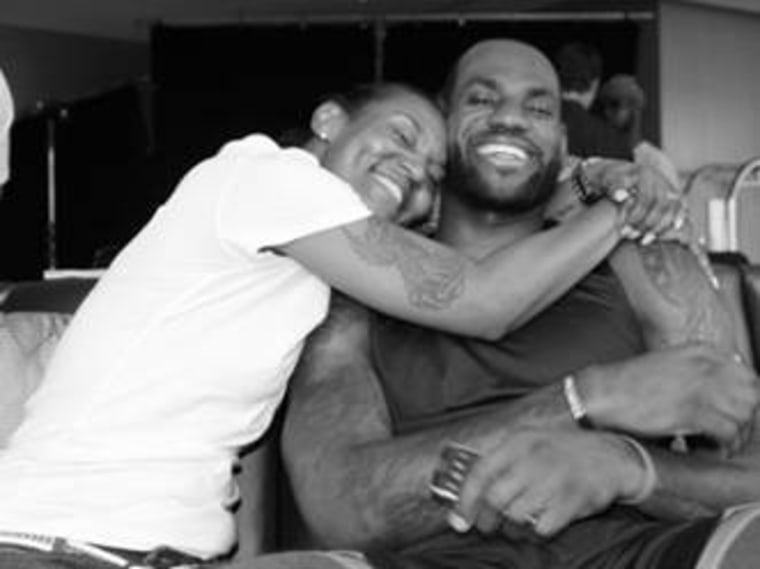 Shriver noted how much of an important role fathers play in the lives of young girls. 
"I think the most important thing you can do is give attention, and I try to be there,'' James said. "When I'm home I give all the attention to my boys, helping them do their homework, [playing] video games, playing outside with them, or whatever. I don't have a daughter, but I can imagine it's even deeper than that."